Worldwide Activities of Krishna Consciousness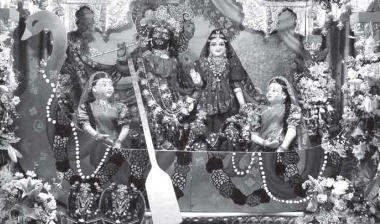 25th Anniversary of Govinda's Island
Dublin, Ireland: Devotees from all over Ireland and abroad gathered this July 15–17 to celebrate Sri Sri Radha-Govinda's 25th anniversary, on the twenty-two acre wooded island in County Fermanagh once known as Inish Ratha—and now called Govinda-dvipa, or Govinda's Island. The Deities were installed in 1986.
ISKCON at the Hong Kong Book Fair
Hong Kong: ISKCON devotees set up two booths to sell English and Chinese Krishna conscious literature during the Hong Kong book fair between July 20 and 26.
Mid-day Meal Kitchen to Feed 65,000 in Jharkhand
ISKCON Food Relief Foundation (IFRF) has partnered with the State Government of Jharkhand and local Fortune 500 Company Tata Steel to build a new centralized state-of-the-art kitchen, which will deliver nutritious, sanctified meals to 65,000 underprivileged school children in Jharkhand's East Singhbhum and Saraikela-Kharsawa districts.
Ratha-yatra Celebrations
Secunderabad, AP: ISKCON Secunderabad celebrated its Ratha-yatra on July 2. Almost a kilometer-long procession poured unto the main thoroughfares of the city during the parade.
Leicester, UK: The 14th annual Festival of Chariots was celebrated here with three 30-ft chariots carrying the Deities of Lord Jagannatha, Baladeva and Subhadra. Organiser Nimai Devi Dasi said: "Today is about getting the chance to show other people what we're about. It's a nice, jovial time and we're not restricted to the temple, which means we can get a lot more people involved people who may not have come across us before."
Singapore: On August 24, more than 2500 devotees took part in the Jagannatha Ratha-yatra festival. A huge 15-feet high silver ratha (made out of 4500kg of silver) was initially meant to be used for the Ratha-yatra. However, owing to its height this silver ratha could not enter the Toa Payoh stadium. The devotees then made another cart suitable for stadium and improvised a new program.
Contributed by Madhava Smullens, Sankirtana Dasa, and Sahadeva Dasa.