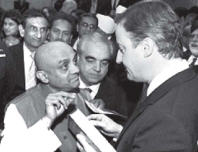 British PM Receives Bhagavad-gita
London, UK: At the recent Divali function held at 10 Downing Street in London, Srutidharma Dasa, the President of Bhaktivedanta Manor, presented a copy of Bhagavad-gita As It Is to the British Prime Minister David Cameron.
On receiving the Bhagavad-gita the Prime Minister said, "I remember coming to Bhaktivedanta Manor, and I enjoyed my visit immensely. Thank you. I shall keep this book in 10 Downing Street."
Bhakti Hits UK Bankers
Canary Wharf, UK: On 11 November over 200 bankers and traders assembled 512 feet high in Barclays skyscraper for an evening event to celebrate the message of Divali with Bhakti Caru Swami. Most of the attendees were from non-Indian origins or affiliations. Ashika Patel says, "By providing spiritual concepts from the Vedas, our European, American, Afro-Caribbean and wide range of western attendees highly appreciate the thought provoking Vedic versions for both inside banking and in their own lives too."
Faith Dialogue with Catholic Bishops
Washington, USA: ISKCON representatives, recently attended Generations of Faith, an event sponsored by the US Conference of Catholic Bishops that reached out to religious leaders from the Jewish, Muslim, Buddhist, Hindu, and Sikh traditions. Held on 19 November at the John Paul II Cultural Center, the event was intended to raise awareness of why and how each tradition has come to see the need for interreligious dialogue leading to mutual appreciation, respect and cooperation in our increasingly pluralistic society.
Anuttama Dasa, Dr. Ravi Gupta (Radhika Ramana Dasa) and Vineet Chander (Venkata Bhatta Dasa) represented ISKCON in this event.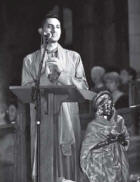 Bring ING East and West Together
Princeton, New Jersey, USA: Over 500 people attended Princeton University's third annual Divali celebration on Saturday, 13 November 2010. In August 2008, Princeton celebrated its first official Divali in the magnificent Princeton University Chapel, the first time the church hosted a non-Christian service in its eighty-year history. The celebrations included kirtanas and dance performances.
ISKCON Devotees Offer Prayer on BBC Radio 4
London, UK: From the 30 October till 5 November, Saunaka Rishi Dasa, the Director of the Oxford Center for Hindu Studies, offered daily contemplations and meditations on UK's prestigious BBC Radio 4 Channel. This program is usually being followed by millions of listeners.
Contributed by Madhava Smullen, Radharamana Dasa and Radha Mohana Dasa.