Bhaktivedanta Hospice Opens in Vrndavana
Vrndavana, UP: On 26 August 2010, Bhaktivedanta Hospice was inaugurated in Vrndavana. The hospice will serve ISKCON devotees who have terminal diseases and who wish to leave their bodies in a vibrant spiritual atmosphere. Besides caring for ISKCON devotees, the team will also serve the local Vrajavasis.
Giriraja Swami and other senior ISKCON leaders oversaw the opening.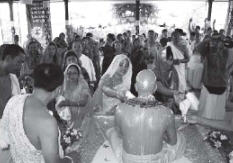 Prabhupada Murti Installed in Bali
Bali, Indonesia: Sri Sri Jagannatha Gauraìga Ashram is an ISKCON temple in Denpasar, on the Island of Bali, Indonesia. The temple recently celebrated a 24-Hour Kirtan, which also included a ceremony for the installation of Srila Prabhupada's Murti form.
UN Invites ISKCON to Attend COP16
The Eco-Valley Foundation and Sustainability Sciences Research Institute a non-profit organization run by ISKCON devotees in Hungary received an invitation from the United Nations this September 20 for the COP16 Climate Summit from November 29 to December 10 in Cancun, Mexico. The COP summit the largest meeting of the Conference of the Parties, the supreme body of the UN Framework Convention on Climate Change is held once a year.
The Eco-Valley Foundation (EVF) collects and propagates knowledge about economic, environmental and social issues, and helps people to start and maintain sustainable communities. Chairman Radha Krsna Dasa is also part of Hungary's most successful eco-village ISKCON's Krsna Valley.
"We want to create a universally adoptable blueprint for living," he says. "At the heart of this is developing the understanding that we are part of God's creation, and not the ruler of it. Doing this will inspire us to live in harmony with our surroundings, and to embrace sustainable living."
Durban's Temple Turns 25
Durban, South Africa: Over 2,500 devotees from all over the South African province of KwaZulu-Natal flocked to Durban on October 16-17 to celebrate the 25th anniversary of the Sri Sri Radha Radhanatha Temple of The temple, with its magnificent architectural design, is a renowned tourist attraction, and over 2 million guests pass through its doors each year.
Contributed by: Dina Bandhu Dasa, Madhava Smullen and Antony Brennan.