Protest Against Cow Slaughter Hyderabad, AP: On November 15, 2009, the streets of Hyderabad were painted with saffron color when people took to the streets demanding a total ban on cow slaughter and a declaration that the cow be named as India's national animal. The vehicle rally was headed by Bhakti Raghava Swami, who was recently appointed the Minister for ISKCON's varnashrama based Rural Development Ministry in India.
Swami stated that unless and until people realize the importance of cow protection and make a collective effort to protect the cows, we should not expect peace and prosperity in today's troubled world.
Vrinda Kunda Temple's Seventh Anniversary Celebrated Nandagrama, UP: From January 27 through February 14, 2010, a special program of pilgrimage walks to the holy places of Vraja dhama, India, will be held to commemorate the seven year anniversary of ISKCON's Vrinda Kunda temple. Vrinda Kunda is situated in the fields near Nandagrama, where Krishna and Balarama lived with Nanda Maharaja and Mother Yasoda.
Cambridge Installs Tamala Krishna Goswami Memorial Bench
Friends and colleagues joined ISKCON devotees to inaugurate a memorial bench in honor of Tamala Krishna Goswami, on the grounds of Cambridge University's Clare Hall this November 25th. At a rather emotional event, many from the local community said a few words of remembrance and appreciation for "Goswamiji," often citing him as a "people person" who truly cared about others.
Some of the guests who spoke were: College President Sir Martin Harris; Julius Lipner, Professor of Hinduism and the Comparative Study of Religion, and Ph.D. supervisor to Tamala Krishna Goswami during his years at Cambridge; College Tutor and Librarian Rosemary Luff; GBC of ISKCON U.K. Praghosa Dasa.
Spanish prisoners come closer to Krishna Consciousness through prasada Ceuta, Spain: On December 4, Krishna Krpa Dasa and his wife Radhapriya Dasi (disciples of H. H. Bhakti Charu Swami) cooked and served prasada to 400 people including inmates as well their guards, and some reporters.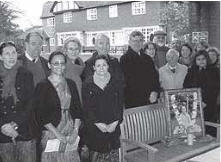 Tihar Jail Inmates Chant, Dance, Feast and Read
New Delhi: Devotees from ISKCON New Delhi held a program at Tihar Jail on December 2 with a one hour kirtana chant, raising inmates to their feet to dance and sing along. Director General Shri B.K. Gupta praised ISKCON Prison Ministry's international activities, and requested inmates to read Bhagavad gita and chant the Hare Krishna maha mantra. Miss India 2009, Ekta Chowdhury, was the special guest.
Contributors: Rajarama Dasa, Madhava Smullem, Vrajendra Nandana Dasa, Varsana Devi Dasi and Ananda Caitanya Dasa.