Dipavali in White house
Barack Obama has become the first US President to attend a celebration of Dipavali, at a ceremony held in the White House on October 14. Obama acknowledged this in a video on the site www.whitehouse.gov, saying, "Divali marks the return of Lord Rama from exile when small lamps lit his way home. The lighting of these lamps continues today, marking the celebration as a time of reflection on the year gone by, and a time to pray for a good year to come."
ISKCON Sannyasi honored
by Hungarian Government
Sivarama Svami received a Golden Cross state award of the Hungarian Republic from Dr. Karoly Manherz, state secretary for higher education and research, in appreciation of his charitable, humanitarian and value-creating work. The memorable dinner in the Museum of Applied Arts was also attended by Zoltan Balogh, chairman of the parliamentary commettee for human rights, minority, civil and religous affairs, and His Excellency Ranjit Rae, Indian ambassador. (www.sivaramaswami.com)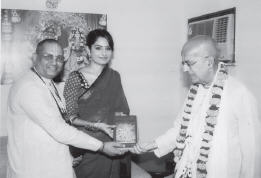 Miss India visits ISKCON Delhi
New Delhi: On November 3, Miss India 2009, Ekta Choudhary, visited Sri Sri Radha-Parthasarathi Mandir, New Delhi. She took darsana of the Deities and did arati. She also saw the paintings and visited the Vedic Expo and spent about twenty minutes there. She said that she was seeing such things for the first time and she appreciated ISKCON for using the latest technology in educating the Vedic Culture and Bhagavad-gita.
His Holiness Gopala Krsna Gosvami Maharaja presented her a copy of Bhagavad-gita As It Is.
ISKCON helps Flood Victims
Tirupati, AP: In a major initiative to resurrect devastated lives, the Tirupati unit of ISKCON has announced to meet the basic needs of 1,000 families in the flood-ravaged Kurnool district. ISKCON dispatched 1,000 sets of essentials including rice, groceries, vegetables, bed sheets, clothes, notebooks, school stationery, worth in all Rs. 10,000,00.