AIDS CONFERENCE IN BANGALORE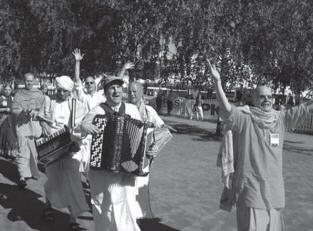 ISKCON was invited to participate in a two day conference, "Faith in Action A Hindu Leaders caucus on HIV/ AIDS," organized by UNAIDS in Bangalore. Sarvabhauma Dasa in his speech pointed out how modern medicine treats only the symptoms but not the real disease, and that AIDS is a symptom of a deep underlying disease lack of God consciousness. He highlighted the role of Srila Prabhupada, who successfully weaned the hippies away from their degraded lifestyle of illicit sex and intoxication by the positive alternative of Krsna consciousness.
FREE MEDICAL CAMP IN PANDHARPUR
Maharashtra: A team of doctors and assistants from the Bhaktivedanta Hospital in Mumbai provided free medical facilities to pilgrims who visited Pandharpur to get darsana of Lord Vitthala on the Deva-Sayani Ekadasi Many of the pilgrims were dehydrated and injured after walking bare feet in the heat for more than fifteen days. Mangesh Chitale, chief of the Pandharpur Municipal Corporation, expressed his gratitude to ISKCON and requested the devotees to return next year.
RATHA-YATRA CELEBRATION
BARODA, GUJARAT : On July 4, ISKCON Baroda observed its annual Jagannatha Ratha-yatra. The mayor of Baroda, Mr. BalKrishna Shukla, inaugurated the Ratha-yatra by sweeping the road in front of the chariot.
MAKATI, PHILIPPINES : For the first time in history, devotees celebrated Lord Jagannatha's Ratha-yatra festival in Makati in the Philippines.
PARIS: On July 6, 2008 Jagannatha Rathayatra was held in Paris, France. His Excellency Mr Ranjan Methai, Indian ambassador in France, spoke very nicely about the festival. Ratha-Yatra was also celebrated in Budapest, Hungary, Chicago, Illinois, USA, Mira Road, Mumbai, Kolkotta, Ludhiana, Bhuvaneshwar Ahmadabad, etc.
SUMMER SANKIRTANA IN FINLAND
Devotees in Helsinki, France are steadily increasing their book distribution and prasada distribution for the past few months. They are regularly invited to various festiva is where they do harinama sankirtana and distribute prasada. In the end of May they participated in World Village erno festival in Kaisaniemi park, in Helsinki centre, while in July they were invited for the "Kihaus" folkmusic festival in east Finland. More than 90,000 visitors atte nded these festivals.
METRO YOGA IN PARIS
A unique form of sankirtana called the Metro Yoga, initiated by Candrasekhara Acarya Dasa, happens daily in the underground Metro rail system in Paris. A group of devotees go inside the train and sing sweet bhajanas followed by a presentation. Free prasada is then distributed to all the passengers.
With inputs from Deena Bandhu Dasa, Gaura Knew Dasa, Jaya Gopala Dasa, Srinatha Dasa, Muniraja dasa, Janananda Goswami.