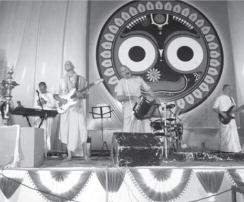 RATHA YATRA.
Solapur 6 April: The first Jagannatha ratha yatra was celebrated by the devotees of Solapur. They were joined by devotees from other parts of Maharashtra, Belgium, USA, Denmark, Poland, Switzerland, and Russia. Thousands packed the streets. At the conclusion of the yatra, there was a beautiful stage program with bhajans, Bharat Natyam dance, and talks by His Holiness Lokanatha Swami and His Holiness Radha Ramana Swami. A concert of the Gaura Hari Ban who sang the Hare Krsna maha mantra with a western flavor brought the audience to their feet to dance the night away.
(Ekalavya Dasa)
PREACHING IN PRISONS
Preaching to prison inmates is being actively done in prisons around Delhi. The programs included kirtans, mantra meditation, and discourses on Bhagavad Gita. Programs were held in following prisons: Ghaziabad: 3500 prisoners, Lucknow: 2500, Patna: 2400, Tihar Jail New Delhi: 1000, Agra: 3000.
(Vrajendra Nandana Dasa)
Utah, USA : Holi, the Festival of Colors, was celebrated at the Radha Krsna temple in Utah, USA. An estimated 10,000 people gathered. The festival, with the exuberance of colors, and the burning of a demon gave celebrants, Eastern and Western, a time to come together.