RATHAYATRAS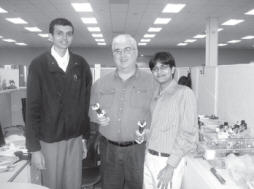 Kannur, Kerala 7 Jan 2008: The first ever Lord Jagannatha Rathayatra was a huge success with three thousand devotees pulling the carts in a colourful procession with three elephants, and a South Indian drum party. After a preliminary stage program in a traditional Siva Temple, Rathayatra started rolling at 5:20 pm. His Holiness Jayapataka Swami, His Holiness Bhakti Vrajendranandan Swami, and Sarvaisvarya Dasa were the main guests.
Juhu, Mumbai 11 January: The cosmopolitan city and financial capital of India beheld the wonderful cart parade on the busiest and most glittering streets. Nearly 10,000 devotees from around the world enjoyed the two day long festival.
Nigdi, Maharashtra. 22 January: ISKCON is planning a temple in this small industrial town. The main attraction of the rathayatra festival were the beautiful ratha and the Deities that had been carved by the local devotees. 6000 devotees blissfully danced and welcomed Lord Jagannatha in the streets which were beautified by colourful rangoli patterns.
Belgaum, Karnataka. 2 February: 40,000 devotees attended the twoday Lord Jagannatha Rathayatra festival.
HARE KRSNA STUDENTS EXCEL IN ACADEMICS
Damodar Priya Dasa recently won the 'Mondialogo Engineering Awards', an international competition jointly organized by UNESCO and Daimler Chrysler. The award encourages participation of engineering students to meet the Millennium Development Goals, especially poverty eradication and sustainable social development through out the world. Damodar Priya Dasa is currently pursuing a Bachelors degree in Chemical Engineering from Mumbai University Institute of Chemical Technology (MUlC T, formerly known as UDCT). He is an initiated devotee in ISKCON and chants 16 rounds of Hare Krsna mahamantra daily.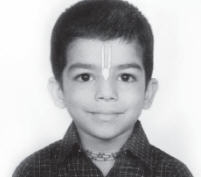 Students from 89 countries and a total of 809 teams took part in the competition . A team consists of two groups: one from a developed country and the other from a developing country. They had to select a particular topic from the given fields, for example, Health, Poverty reduction , Food Processing, etc. depending on which problem is most severe in their country. An international jury was selected to assess the top entries. Damodar Priya's team in India was joined by the students of National University of Singapore (N U S ).
They worked on the topic 'Economic lmprovement of Indian farmers by solar processing of agro products' .Damodar Priya Dasa proposed a model of 'Solar Pond Dryer ', an innovative technology that employers renewable energy resources for food processing using drying operation. They also won first prize in the competition organized by 'Agilent Technologies', a world leader in test and measurement (T&M) instruments across communications, electronics, life sciences and chemical analysis.
Mumbai: Shriram Prasad, the eight year old son of Srivasa Thakura Dasa and Dr. Lila Manjari Devi Dasi achieved a rare academic feat. A national level competition called 'Cyber Olympiad Exam' is held for students of standard 3-10 to test their mental abilities, reasoning power, computer skills, and English language. Over 61,000 students appeared for the test nationally. Shriram scored 96% and 4th rank in standard 3 in the whole country. In computer skills and reasoning he scored 100% and top rank for standard 3 in whole of India. Both his parents are initiated devotees. His father is a purchase consultant and mother, a chief consultant pathologist.