A NEW SITE ON HIGHER-DIMENSIONAL SCIENCE
THE SPIRITUAL SCIENTIST.COM offers empowering insights into life and living by combining the spiritual tradition of India and the scientific methodology of West. TSS is an e-zine tun by VOICE (Vedic Oasis for Inspiration' Culture and Education), an educational wing of ISKCON, Pune. Read more then hundred issues online, many of which have been published in leading Indian newspapers like The Times of India. The articles are categorized under Science and Spirituality, Vedic Insights, Self-help, and Festival meditations. To subscribe, register on the website:THESPIRITUALSCIENTIST.COM
CELEBRATING THE WORLD HOLY NAME DAY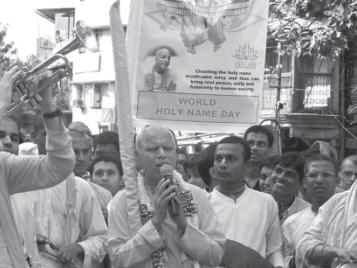 World Holy Name Day was ce lebrated th rough out the ISKCON world on 17 September, the anniversary of Srila Prabhupada's arrival in the USA in 1965 to commemorate his delivering the gift of the Holy Name to the world. A brief report: Delhi: About 2500 d evotees fr om Sri Sri Radha Parthasarathi temple, Sri Sri Krsna Balarama temple , Panchsheel, Noida, Ghaziabad, and Faridabad participated in a grand Nagar sankirtana which started at 4 P.M. under the leadership of His Holiness Gopal Krsna Goswami Maharaja. Karol Bagh is one of the biggest and busiest bazaars in Delhi and the day being Sunday, a lot of general onlookers witnessed and joined the Nagar sankirtana. Banners, placards, bill boards displaying mahd-mantra, and Srila Prabhupada's huge size photographs, and two carts with giant dioramas of Caitanya Mah aprabhu and Nityananda Prabhu accompanied the procession which ended at Ajmal Khan Park, one of the biggest parks in Delhi. A big pandal program was held after the sankirtana.
Pune: 250 devotees of Sri Sri Radha Kunjabihari Mandir led by His Holiness Lokanatha Swami Maharaja did a harinama in the town. World Holy Name Day Posters and banners, and placards showing the maha-mantra, pictures of Srila Prabhupada and Sri Sri Gaura N itai made the event colourful. 3000 pamphlets describing the glories of Holy Name and Srila Prabhupada's books were distributed.
Mayapura: Over 7000 people including lecturers from various colleges and school teachers, Government officers, University students, and social welfare workers attended the harinama process ion in the evening from Ballaldighi to ISKCON Mayapura.
Radhadesh, Belgium: Fifty one devotees from Radhadesh temple did Harinama in Antwerp. People seat ed in res taurants, clothing stores, and cafis looked on with amazement as the devotees strolled by waving decorative flags, handing out flyers, bags of prasadam, and books. There were devotees from Brussels, Den Haag, Amsterdam, and Antwerp.
Amritsar: Under the guidance of Indranuja Dasa and Raghunandana Dasa, a holy name seminar was arranged for the congregation members on 16 September. Th e next day, ten stalls were set up at prominent holy places in the town where free chanting kit was given to anyone who promised to chant at least one round daily. More than five thousand kits and eight hundred books were distributed. World Holy Name day was also celebrated in Argen t in a, Bali, Black Sea Fest, Boston, Ludhiana, Naida, Pandharpur, Sydney, Vrndavan a Gurukula, and Venice.
AGRA PRISONERS DANCE TO HARE KRSNA KIRTANA
Every year, ISKCON Vrndavana conducts a special Janmagami program in Agra Central Jail. This year Janakinatha Dasa , (in-charge, prison preaching), invited His Holiness Radh a Govinda Maharaja, His Holiness Radharamana Maharaja, Sregha Dasa (co-President, Vrndavana ), and Aindra Dasa and his kirtana party to accompany him for the festival.
When the devotees arrived the prisoners led such an ecstatic kirtana that the jailers, prisoners, maharajas, and devotees all began to dance together. The prisoners maintain a small Sita Rama Mandir on campus, where they daily perform Guru Puja, kirtana, and even a Bhagavatam class.
His Holiness Radha Govinda Maharaja said in his address to the prisoners : "Just like Vasudeva carried Krsna from the jail and all the doors automatically opened up. In th e same way if you will carry Krsna in your heart by chanting His Holy Name, then what to speak of the bondage of prison life, the bondage of this entire blazing samsara will disappear for you!" Aindra Dasa the n led a tumultuous kirtana in which the Chief Jailer and five deputy jailers were dancing together with two tho u sand prisoners. The Chief Jailer Sri S.K. Saxena could not contain himself and exclaimed , "Today I have experienced beyond ananda, nay, beyond paramananda, nay, even beyond that!"
The event got wide coverage in the media
With reports from Dinabandhu Dasa, Ekalavya Dasa, and Caitanya Carana Dasa