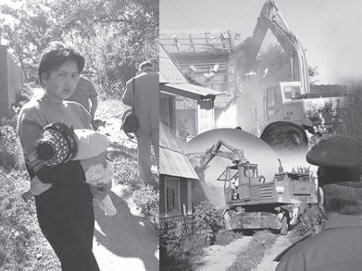 CRISIS WORSENS FURTHER IN KAZAKHSTAN
June 15: Continuing its persecution of innocent Hare Krsna devotees, the government of Kazakhstan demolished twelve more homes belonging to devotees leaving several families homeless. Witnesses to the demolition descr ibed a gris ly scene, with labourers breaking windows and tearing down walls even while residents – including several women and children – cried and pleaded for them to stop. Officials ordered workers to continue the attack and to throw the homeowners' possessions in to the street.
The Sri Vrndavana-dhama Hare Krsna commune, located in Karasai district originally had 66 Hare Krsna-owned homes, plus the 47.7 -hectare (118 acre) farm. The a uthorities bull dozed 13 of the 66 homes in November 2006 and have repeatedly threatened to resume demolitions. For more information about the persecution of Hare Krsna devotees in Kazakhstan visit: www.KazakhKrishna.com
FIRST BACHELOR'S DEGREES IN VAISNAVA THEOLOGY
June 22: In a milestone in history of ISKCON, six students of Bhaktivedanta College, at Radhadesh, Belgium, received 'Bachelor of Theology' degrees from the college, in partnership with the University of Wales, Lampeter. Yadunandana Dasa, principal of the college, pointed out that this was the first time that students were receiving a Bachelor of Theology degree for studies in Vaisnava theology; till now, this sort of degree had been reserved for studies of Christian theology.
ATMA GYAN
A new HARE KRSNA Program titled "Atma Gyan" will begin on Sadhana TV channel from 2 July 2007 from 7.30 A.M. to 8.00 A.M.