FESTIVALS
GAUR PURNIMA : 3rd March 2007: The annual Gaur Purnima festival was celebrated all over the world with much fan-fare. In Mayapur Candrodaya temple, the world head-quarters of ISKCON in Sridhama Mayapur, Calcutta, around one lakh devotees participated in the festival.
FOURTH ANNIVERSARY OF VRNDA DEVI TEMPLE at Vrnda Kunda was observed in second week of February. During the festival there were parikramas from Krsna Balarama Mandir to the different holy places of Krsna's divine pastimes. On 11th February there was annual Kalasa Yatra, a sankirtan procession in which ladies carried water pots on their heads from Nandagrama to Vrnda Kunda. Situated in the quiet fields near Nandagram, the place where Krsna and Balarama lived with Nanda Baba and Yasoda Maiya, Vrnda Kunda is increasingly becoming a favourite site of pilgrimage for the devotees, attracting them with the beautifully carved sandstone temple, an exquisite deity of Vrnda Devi, and a peaceful atmosphere with gardens of wonderful trees and flowers.
FIRST BTG SNEHA SAMMELAN HELD IN PUNE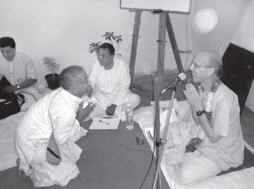 The Back To Godhead team arranged the first ever Sneha Sammelan – literally meaning "affectionate meet", for devotees serving for the Marathi edition viz. "Jau Devachiya Gava" at Pune on Sunday, the 11'" of February.
Around 35 distributors from all over Maharashtra met with the publication and editorial staff and exchanged their views and offered suggestions for further improvement. The meeting was addressed by His Holiness Jayadvaita Swami Maharaja. Maharaja was extremely delighted to be present at such a meet. His talk boosted the morale of all the participants further and later Maharaja distributed gifts to all the participants. Similar meetings will be held in other parts of India in the near future.
ISKCON YOUTH Forum, Delhi has launched an e-magazine called the 'Higher Taste '. It aims to systematically propagate spiritual knowledge to society at large & to educate the youth in the techniques of spiritual life. Features include Vedic views, scientific to pics related to Krsna Consciousness, and question and answers.
For subscription mail at:
the-higher-taste-subscribe@yahoogroups.com or visit IYF-Delhi Blog at www.delhiiyf.blogspot.com and leave your email id in the subscription box on the side bar of the blog.