A successful professional finally decides that…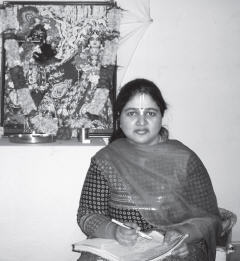 Being born and raised in a Hindu family in New Delhi, I used to go to various temples and offer prayers before all gods. However, two questions would always spring to my mind: Why do we worship so many demigods, and who is the real God? As I never got answers to my questions, I considered all the gods equal, and since my teenage years all religions and faiths became one for me. Be it Hinduism, Jainism, Buddhism, Sikhism, Islam or Christi-anity all pointed toward one God. But I could not find out who this God was. During my school days when I badly needed the help of God, I would cry for Him but no name would come to my lips. Sometimes I wondered whether God has any name. Gradually I began to feel that God had no form or name and it was a supernatural power a powerful light which we cannot see but only feel. Then I questioned who it was that we are actually worshiping in the temples. This query remained unanswered until the I reached ISKCON.
How I came to ISKCON
After graduating in Microbiology, I completed my degree in Law and Masters in Company Law. Soon I started working for an MNC in Delhi and got married. My office was about two kilometres from the ISKCON temple, but I never happened to visit. Later I bacame pregnant, and being my first pregnancy, I was advised bed rest for a few initial months.
Upon leaving the job, one of my colleagues, an ISKCON devotee, gifted me Bhagavad-gita As It Is by A.C Bhaktivedanta Swami Srila Prabhupada. This was the first time I had ever read the Gita. As I could not understand the scripture I kept the book in my study, and it was left untouched for the next seven years.
As soon as my daughter was one and a half, I restarted my career. Motherhood made me more patient and tolerant. As my daughter was growing up, I could see her love for visiting temples and Gurudwaras.
March 2008. Like every other Tuesday, I, along with my daughter, was visiting the local Hanumanji temple in the evening to say our prayers. While coming out of the temple, I saw Hare Krishna devotees standing with pamphlets in their hands. Out of eagerness, I went up to them and inquired.
"We are conducting a six-day Bhagavad-gita program in April," the devotees informed me. The venue was at a short distance from our residence.
"This is a life-changing program," the devotee emphasized and requested that I should get the registration done at the earliest. I took the pamphlet containing a list of contact numbers.
"I will check with my husband and come back to you shortly," I replied.
My husband has a very hectic job. His day starts at 9:30 in the morning and continues until 11:00 in the night. Because of this, he had been pretty disturbed for the last two or three years. He was looking for peace and happiness which he could not find even after best salary package. Because of the late arrival of my husband I could not discuss about the program for the next ten days. But unknown to me he had read the pamphlet, and had made up his mind to attend this program.
I called up the devotee and checked the availability of a seat for my husband. The devotee mentioned that few seats were still available and advised me to attend the course with my husband. I made all sorts of excuses for not attending the program like where would I leave my daughter while attending the course and in case I brought her along with me she might disturb the program. But the devotee convinced me to attend and even bring my daughter for all the six days.
The next morning the devotee visited our residence and registered us for the course on payment of a nominal fee. I was very excited to attend this course, and discussed it with one of my colleagues in the office. My colleague encouraged me saying this course would make a change in my thinking and approach with others.
The program was to start from 12th April 2008 till 17th April at 7:30 pm. everyday. However on the morning it was due to start, I picked an argument with my husband, and I lost my temper and became highly irritated. Because of this I did not want to attend the course with my husband. I decided to attend the course at a later date, and planned to go to my mother's house for a few days. However I was still confused as within my heart I still wanted to attend the course.
At 5'o clock in the evening I called the devotee, "Please cancel my registration". The devotee was surprised with this last moment development. "What is theproblem?" she asked. I made all sorts of lame excuses, but she would hear nothing of it. She finally convinced me to attend.
I, along with my husband and daughter attended the course, and it changed my life altogether.
ON THE COURSE TO CLARITY
On the first and second day of the seminar, I was full of confusion, but slowly my doubts were cleared. Eventually I got answers to all my queries as to who is God, and who are the demigods. I was amazed to know that though God was always there in front my eyes I could not recognize Him, His form and name. Even though I was born in a Hindu family, it took 36 years of my life to know that Lord Krishna is the Supreme Personality of Godhead. He is the cause of all causes, the Supreme Controller, and the demigods are the controllers of different departments of the cosmic management.
The devotees argued that the powerful light cannot even control a traffic signal, which requires a human brain to do so, then how can a powerful light control this universe? I was impressed with the logic. My notions about God changed and soon I realized that it's only Lord Krishna, full of six opulences all power, fame, beauty, knowledge, wealth, and renunciation who is the original God.
Whenever myself and my family were in distress, we would worship one demigod or the other to counter the ill effects. We would go to the temple with a long list of demands before them. But in ISKCON I appreciate that we are taught to become a pure, selfless devotee and surrender unto the lotus feet of Lord Krishna. This is pure devotion, which we often miss otherwise, and instead get entangled in the vicious circle of birth and death.
By the end of seminar, the devotee advised us to chant the holy name and gave us the formula of A-B-C-D:
A: Association of devotees
B: Books of Prabhupada
C: Chant the holy name
D: Diet should be only Krishna-prasada, vegetarian food cooked for and offered to Lord Krishna.
After completing the six-day seminar, my thoughts were clear. It seemed as if a layer of dust had been removed from my eyes and I could see clearly. I started going for weekly classes and read Bhagavad-gita. Vicitra Krishna Dasa, our teacher, would lay stress on the A-B-C-D formula and advised us all to start chanting the holy name. I was not totally convinced with the idea of chanting and hence did not start it immediately. Instead I preferred to read small books written by Srila Prabhupada and associated with devotees every Sunday. However, one day I read Chant And Be Happy where the famous singer George Harrison gave a candid interview of how chanting changed his life and saved him once in an air crash. I was totally moved by his story and understood the power of chanting.
I took up chanting one round a day, and gradually increased it to 6-7 rounds. But I always used to lose track of the number of rounds I chanted. I contacted a senior lady devotee, Syama Krpa Devi, who mentioned that we need to tie counter beads to our bead bag so that we can keep track of the number of our rounds. She immediately removed the counter beads from her bag and tied it to my bag. These beads were so powerful that from next day onwards I started chanting 16 rounds a day.
Later we had also begun to attend the Sunday programs. We were served delicious lunch prasada after the programs. I wanted to help the devotees in cooking, but a condition was laid that only those who chanted 16 rounds were eligible to cook. This was another reason to increase my chanting to 16 rounds: helping the devotees to cook bhoga for Lord Krishna.
Very soon I was given a service of tele-calling all the participants for the Sunday program, which I enjoyed a lot. It gave me a chance to speak to various devotees and have feedback on their progress in Krishna consciousness. Many a times I was motivated by them and then realized how important it is to associate with devotees.
From 76 to 67
Krishna consciousness also brought me an unexpected but much-desired side-benefit. After the delivery of my daughter in November 2002, I gained almost 10 kilos and weighed 76 kg.
Due to being overweight, I started having high blood pressure and swelling in my legs. So I thought of going for morning walks. I began walking but discontinued as I needed to make my daughter ready for the school by 7:00 am. After that I would have to get ready and leave for office. So my plan to lose weight failed.
In June 2007, I requested the CEO of my company to install a treadmill in the office. The CEO agreed on the spot. We bought a treadmill, cross trainer, and a weighing machine.
I was the happiest person with the installation of these equipments as now I could foresee my dream come true. Slowly and steadily I started losing weight with regular workouts. In 11 months I lost 9 kgs and reduced to 67 kgs.
The gym, however, was illegal and in May 2008, the municipal corporation squad sealed the gym as it was against the permissible laws.
I was very upset and started missing my exercises and workout. But one morning I awoke around 4:45 a.m to find a big lizard stuck to the ceiling of my room. Lizards make me eerie, so I immediately sat up and tried to shoo it away, but it did not budge an inch. Sleeping peacefully was out of question. Finally I resigned and got up. The early morning weather was pleasant, and since I was missing my workouts, I decided to go for a walk.
I believe that lizard was intentionally sent by God to make me go out, as something special was waiting for me. I had taken my bead bag for chanting, and in the park I saw two devotees dressed in white dhoti-kurta with tilaka on their foreheads. While taking the first round, we crossed silently, but on the next round the devotees approached me. I told them that I was just a beginner in Krishna consciousness. They informed me that all their family members were initiated devotees for eight years, and they regularly visited the new ISKCON temple at Ghaziabad for the maìgala-arati.
Ever since, I have been regularly going for the morning walk and get a chance to hear from them. Recently Jita Mitra Dasa (a regular contributor to Hindi edition of BTG) was invited to their residence, and I got an opportunity to hear Bhagavad-gita from him.
Because I need to arrange the breakfast and mid-day meal for my daughter as well as prepare her for the school, now I get up at 4:30 am in the morning, bathe, perform tulasi-puja and leave for my walk by 5:15 am and chant 6 rounds. After returning I wake up my daughter and prepare for her school. My daughter chants one round a day and when we visit Vrndavana she chants more than 16 rounds. I definitely feel that due to Bhagavad-gita which I received during my pregnancy I was blessed with a Krishna conscious daughter. Though it took me 36 years to realize who is Supreme Lord and chant His holy name, my daughter started chanting when she was five-and-a-half years old.
Today, by the mercy of Lord Krishna and guidance of senior devotees of ISKCON, I am able to chant 16 rounds and follow the principles laid down by Srila Prabhupada. I regularly attend Bhagavad-gita classes organized by Vicitra Krishna Dasa. I read various books printed by BBT and have subscribed to Back to Godhead. I am thankful from my heart to that devotee who at every step insisted that I attend the program. I am highly obliged to all those who are guiding us to understand our relationship with the Supreme Personality of Godhead as well as the mission each of us has in our life to return back to Godhead.