Realizing that nothing can save this world except Srila Prabhupada books, she has dedicated her life to distributing them to whoever she meets.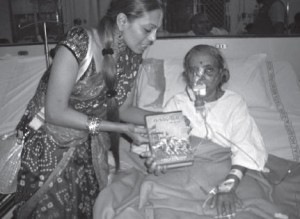 "Mumbai's Bhaktin Radhika breaks world Book Distribution records" ran the headlines in ISKCON News last year. The report said:
This young woman had broken all women's book distribution records and many overall records too for the past six years. So what makes her tick? How did she achieve this distinction? A brief chat with this unassuming young lady brought answers to the question on everyone's lips : HOW?
Bhaktin Radhika Mehta remains an enigma for most. Ever since she began in 2007, she has distributed more than half a million books of Srila Prabhupada. According to BBT's World Sankirtan Newsletter, in the past six years, she has distributed more books than any other male or female distributor since 1982 and also distributes lunch or dinner or laddus. What an amazing solo achievement!
From 2007 onwards, she has consistently occupied top slot out of all book distributors internationally, men and women. In 2012, she stood second in the world due to her bad health. For five years, from 2008 to 2012, she has received the World Book Distribution Award from ISKCON sannyasis at ISKCON's headquarters in Mayapur, West Bengal, for being the number one book distributor in the world.
So how did it all start? How does she go about it? And what is the trick behind it all? How does she manage all this single-handedly? This is how she narrated her story:
vande gurun isa-bhaktan
isam isavatarakan
tat-prakasams ca tac-chaktih
Krishna-caitanya-samjnakam
"I offer my respectful obeisances unto the spiritual masters, the devotees of the Lord, the Lord's incarnations, His plenary portions, His energies and the primeval Lord Himself, Sri Krishna Caitanya."
I have heard many times in classes how Lord Caitanya Mahaprabhu urged all Indians to share the message of Krishna with everyone. Yare dekha, tare kaha 'Krishna'- upadesa: "Instruct everyone to follow the orders of Lord Sri Krishna as they are given in the Bhagavad-gita and Srimad-Bhagavatam." I felt a fire burning within me to reach out to hundreds and thousands of suffering people in this world and tell them that Krishna is our supreme Father and Mother, so please chant the holy names of Krishna. I wanted to give them the wisdom of the Bhagavad-gita and feed them maha-prasada. I was always praying, "O Krishna, please speak through me to touch and change their hearts."
Every day I visit the ISKCON temple at Chowpatty in Mumbai, chant my japa, take the blessings of all the devotees, and then leave for book distribution. I feel completely insignificant, unqualified. I pray to my Deity Gopala, "What do you want me to do today ? Where should I go ?" And Gopala guides me every day. Based on His inspiration, I just enter a residential complex with some boxes of Bhagavad-gita, Krishna books, mahaprasada (2000 to 3000 laddus), laminated frames of Radha-Krishna, harinama stickers, and my notebook. The security guys sometimes come to my help and take me to the top floor, and I go door to door starting from the top till the ground floor, begging people to chant Krishna's holy names and giving them maha-prasada. Though I am a complete stranger to them, they feel happy to see me and even invite me inside their homes, chant Krishna's names with me, and take Srila Prabhupada's books. I request them to accompany me to orphanages, BMC hospitals, and municipal schools to distribute books and Krishna-prasada. Most of the time, they are unable to come due to their many responsibilities, but many times they give me enough money so I could distribute books on their behalf. It is miraculous to see how much love and faith they have in a complete stranger like me. I am in ecstasy to become a beggar for Srila Prabhupada! I understood that one needs to first give love in order to receive love.
In this way I go door-to-door, building-to-building, office-to-office, on the streets, small shops, begging them to chant Krishna's holy names. For hours and hours, I am out in the hot sun with heaps of boxes of Gitas, flyers, stickers and maha-prasada. People are many times kind to me; they help me lift the boxes and deliver them to others.
Book distribution gives you a higher taste that enables you to easily give up bodily needs and material enjoyment. Often I skip my meals when I am out distributing books. Upon returning late in the evening or at night, I offer milk to my Gopala and put Him to rest. I have to sit late into the night, finalize the accounts, process the new orders, and find ways of delivering the books. Since I don't eat at night, I just have two glasses of water and then almost collapse into deep slumber. Then I prepare for the next day. Each day passes like this it is so blissful.
I am in anxiety every day until I clear the accounts with the temple authorities. In this way, I do book distribution throughout the year. If one door of opportunity closes, Krishna opens ten others doors for me. While I am traveling or waiting for an appointment with an official, I chant Hare Krishna or read the Bhagavadgita. I have also made it a point to read a Gita Sloka before giving it. Krishna's holy names are giving me all the strength and revealing to me where to go and what to do. The holy name is Krishna.
Once we got permission to go to various municipal and government-aided schools. I had the boxes of books and maha-prasada ready, but there was no one to help me to carry them down the ten floors of the building and load them in a vehicle. I would just pray to Gopala, O Lord, we have to go, please do something." Miraculously, some people arrived, they got a vehicle, helped me load everything into it, and off I went. Miracles became a daily occurrence. I understood that this is the mercy of Srila Prabhupada and the Vaishnavas. I had never traveled in a tempo vehicle earlier; I was so happy sitting at the back of the tempo with Krishna all around me.
On reaching the school, the children unloaded everything, and thus they too participated in devotional service. I had charted out a six-point program: arati, kirtana, katha, one round of japa, distribution of Bhagavad-gita, and distribution of maha-prasada. It was amazing to see so many Muslim children and their mothers chanting the maha-mantra. We chanted an entire round of the maha-mantra on the japa-mala.
During the December book marathon time, I carry about 500 japa-malas daily and hundreds of harinama stickers. We visit two schools in a day, sometimes three.
Ashadhi Ekadashi at Pandharpur a Most Memorable Event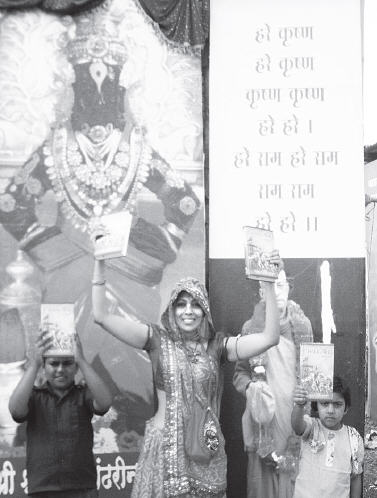 Ashadhi Ekadashi is probably the most popular festival in the whole of Maharashtra. Thousands of people arrive at Pandharpur just to get a glimpse of Lord Vitthala. We were confident of distributing a large number of books here. But how to carry the hundreds of boxes of books to the other side of the Chandrabhaga river? Thousands of pilgrims were waiting for a vehicle there was no way I could fight with them. I prayed to Srila Prabhupada and Krishna for help. Miraculously, a devotee came to me and said that there was a tractor waiting for me to carry all the books. We loaded all the boxes onto it and off we went.
The same day also happens to be the vyasa-puja day of His Holiness Lokanatha Swami Maharaja. Maharaja personally came to our book stall and stood there for more than an hour distributing books to the pilgrims. With the help of a few children, we would distribute around more than three thousand Bhagavad-gitas per day at a discounted price. The pilgrims, knows as the Warkaris, have such love and devotion! I felt grateful to have this wonderful experience.
AT 8 pm, when we wound up for the day, there were no boats to cross the Chandrabhaga river to get across to the ISKCON temple. With both hands upraised holding all the cash, I would cross the river to reach the other bank, chanting the holy names. (The river is not very deep, so any adult can easily cross it.) I truly felt Krishna was holding me in His arms!
These were the happiest moments of my life, which I will always cherish.
By the Mercy of Vaishnavas
I am sure all my success has been due to the blessings and mercy of the Vaishnavas. Once His Holiness Radhanath Swami Maharaja expressed great happiness when he learned about my service. He said, "You are giving Krishna to others, I want to give you Krishna." He gave me a thick Krishna book, laminated photos of Their Lordships Sri Sri Radha-Gopinatha, and lots of mahaprasada. And he added, "Distribute with complete humility and compassion." This instruction has become my life and soul.
His Holiness Jayapataka Swami Maharaja, His Holiness Gopala Krishna Goswami Maharaja, ISKCON Juhu's Braja Hari Prabhu and Bhima Prabhu, and many others helped me in many critical ways. They provided facilities, people, and influential contacts that made my job much easier. Because of their help, I visited more than 20 to 30 municipal hospitals all around Mumbai. I didn't have to worry about anything devotees would send the required books, maha-prasada, mahagarlands of Radha-Rasabihari in Juhu, and charanamrta. The temple at ISKCON Juhu never charged me for the delicious feast that we distributed in so many schools and hospitals.
One of my dear Godmothers, Vrindavani Devi Mataji, would make delicious prasada for me regularly when I had no time to cook and eat. I am indebted to her for all the love and affection she showered upon me.
Devotees from ISKCON Mira Road helped me when I visited the Tata Cancer Hospital. We performed ecstatic kirtana along with the patients and hospital staff, although we didn't have official permission to do this.
Radhesyama Prabhu of ISKCON Pune also helped in getting permission to visit many schools. He also arranged for prasada to be distributed to the children.
My father has been a great source of encouragement and support to me. Often times, he accompanied me to various places for book distribution. There were many others, like Rippin Prabhu, who also helped me in various ways.
Appreciations Received
For the past five years, ISKCON authorities have been kind to me by nominating me for the book distribution awards. It is a great honor to receive this award from the GBC and senior sannyasis. Till date, I have received two big silver flutes and a small flute of Radha- Madhava; Radha-Madhava's payals, locket and chaddar; Srimati Radharani's crown, necklace and bangles; five chaddars of Pancatattva; Lord Narasinghadev's chaddar and two necklaces; and Lord Caitanya Mahaprabhu's necklace. For me, these are the most precious jewels in the entire universe. I have also received Radha- Rasabihari's payals and Radha- Pandharinatha's bangles. His Holiness Lokanatha Swami Maharaja blessed me with the Deities of Lord Vitthala- Rukmini on the day of ashadhi Ekadashi. I also received unlimited gifts in the form of blessings from so many devotees, including Jananivasa Prabhu and Pankajanghri Prabhu. Nothing can be more valuable than this.
Srila Prabhupada has put every drop of his blood in his books. His books can award Krishna-prema, pure love of Godhead, to anyone who comes in contact with them. Krishna has fulfilled all my desires for preaching it's true! Although totally unqualified, I am somehow engaging in this wonderful transcendental mission of Lord Caitanya Mahaprabhu.
Srila Prabhupada transcendental book distribution ki . . . jaya!
Radhika Mehta's Facebook profile: www.facebook.com/ radhika.mehta.5496 Kalpana Kulkarni works as the All-India Training Coordinator for Trade Wings Institute of Management Ltd. She has written several study books for the Institute on travel, tourism, and hospitality.