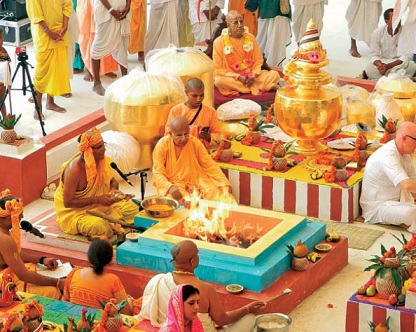 ISKCON Kanpur temple has become another glorious addition to Srila Prabhupada's Krishna Consciousness movement.
"If you come to the temple, you will get many facilities to advance in spiritual life. This is our mission. We are spending so much money for opening gorgeous temple. It is not new thing. This is very, very old, coming by parampara system. There are many thousands of temples in India, three thousand or five thousand years old. Why? The acaryas wanted to give facility to the common man to enter into spiritual life. That is the idea." – Srila Prabhupada
On October 3, 2014, the auspicious day of Vijaya Dasami, a magnanimous temple of sri sri Radha Madhava, sri sri Nitai Gaurasundara and sri sri Janaki Vallabha Laksmana Hanuman was inaugurated in the presence of many dignitaries and over eight thousand people. Ram Naik (Governor of Uttar Pradesh), and Padmanabh Krishna Acharya (Governor of Nagaland) were guests of honor amongst other dignitaries. Several ISKCON leaders and gurus had gathered from all over the world to participate in the five-day festival of temple inauguration.
The celebration was a blend of purity, sanctity and magnanimity with a mix of activities involved. Purity or cleanliness was appreciated by all guests. Cleanliness is an issue of national headlines these days in India.
Sanctity was invoked by the several sacrifices and other special ceremonies to invite Deities and begin worship in the temple. This sanctity will be maintained by regular worship of deities and regular chanting of holy names by the devotees. And ISKCON Kanpur is a product of Lord Caitanya's magnanimous mercy – it is the second largest ISKCON temple in India. Excellent arrangements for accommodation were made for all. Everyone enjoyed delicious prasada cooked by a team of devotees from ISKCON Chowpatty. The celebrations also indicated the beginning of the magnanimous task of taking message of God to every house of Kanpur.
Pre-inauguration festivities began with a cultural program and kids mela on October 1–5. Krishna mayi Devi Dasi and her team from Mumbai had come together to organize the cultural activities. It included: spiritual musical performances; martial arts mrdanga performance by Manipuri artists; a special Radha-Krishna and Mirabai dance ballet performance by veteran actor, dancer and Member of Parliament Hema Malini.
Deity instatllation activites began on October 2 with a series of sacrifices: purusasukta, sri-sukta, sudarsana, nrsimhavastu- sukta, vaisnavayajia, netronmilana (opening the eyes of Lord), vandapan (offering auspicious articles to the lord) and sayanaadivasa (offering bed to the Lord).
On October 3, activities began with nyasadihomas (invoking the limbs of the lord), followed by prana-pratisnoha (inviting the Lord) and maha-abhiseka until afternoon. Later prominent dignitaries like Ashok Goel (Zee TV owner), Premnath (temple architect), ISKCON gurus Gopala Krishna Goswami, Radhanatha Swami, and Lokanatha Swami, and Devakinandana Dasa (zonal secretary for the ISKCON Kanpur) briefly addressed the audience.
Gopala Krishna Goswami began the address by saying that it was the desire of Srila Prabhupada to build a temple in Kanpur, and Devakinandana Prabhu and the congregation in Kanpur fulfilled it with their efforts. "This is not just a temple," he said, "but a Vedic Educational center. The temple devotees should earnestly work towards educating the people of Kanpur in the science of Krishna consciousness." Radhanatha Swami also emphasized on the same point by saying "the temple will teach people how to love God."
Lokanatha Swami began his speech by discussing about Bharat Svachata Abhiyan, a cleanliness intiative of Government of India. He said ISKCON is doing a similar but tougher job of cleaning the consciousness of people. He glorified Srila Prabhupada for initiating this revolution of consciousness cleaning. "Pollution of the mind and heart later manifests as pollution of the environment," he said.
Padmanabh Acharya recalled how he had shared his house with Srila Prabhupada for more than forty days. Srila Prabhupada had then said, "Temples are the first step in the service of humanity." Ram Naik glorified Srila Prabhupada as the one who awarded Indian spiritual wisdom a global status and united the entire world under the principle of vasudhaiva kuöumbakam, or "the world as one family."
Devakinandana Dasa gave the vote of thanks to all the dignitaries and the audience. Quoting Srila Prabhupada, he said ISKCON temples are spiritual embassies that issue people visas to go to the kingdom of God.
Manish Goel is a resident monk at ISKCON Chowpatty's Govardhan Eco-village, a farm community outside Mumbai. He is undergoing a rigorous two-year study of Srila Prabhupada's books.