Life and death are common phenomenon for a doctor; till one day when he is caught between them.
My name is Dr. Radharaj Murari Dasa (Rajesh Rajan) presently working as a doctor at Keral institute of Medical science (KIMS). A stranger may think: "Oh, here is a doctor with enough money and no pain in his life. See how lucky he is!" But the actual truth is known to only to me and my family.
Before telling my experience let me tell you one incident. Once I was assisting in an open heart surgery on a 6 month old baby. During the surgery my chief accidentally cut open an old scar in the heart resulting in profuse bleeding. We tried to repair it and operated for six hours, but everyone felt that the child would not survive. I felt awful and rang my wife, explaining the tragedy. My wife had suffered a miscarriage recently and both of us were just coming out of that grief, so this news was especially traumatic. "I will chant for this baby," my wife said.
"You may go home," my head of department advised. "We cannot save this child. It may take some hours for the inevitable, but it is sure. There is no history of anyone surviving after such a fatal mistake." The next morning when I entered ICCU the parents of that baby were standing outside. I asked the sister why they were there. She smiled and said, "There are here for their child."
"What!" I exclaimed and rushed inside the ICCU. The monitor attached to the tiny baby beeped, a steady rhythm of life. "A few hours after you left, the bleeding stopped and the baby was saved," said my colleague.
I immediately realized the power of chanting. My wife was praying for that child, the whole night. Krsna showed me that He can do anything any time. Krsna is the best surgeon in the world, I thought.
IN RUSSIA
The winter was coming to an end and spring was beginning to show its colours. Myself and my wife Nikunca Gopi Devi Dasi were moving home. I had been suffering from severe cough and weakness for many days, but we still moved, while I continued to attend my post graduate classes in cardiovascular surgery. One day, after assisting a surgery I became very weak and had to take rest in the doctor's room. My colleague advised me to take a blood test and X-ray. "How long did you have this?" the X-ray technician asked after looking at my X-ray film. I was surprised to hear this. "I don't have any problem, perhaps there is some mistake," I replied. He took another X-ray. I was really confused. I started chanting but I found that I could not concentrate.
A few minutes later the doctor showed me the X-ray. "There is something in your chest," she said, pointing to an area near the great big blood vessels. "It can be anything," she said. Cancer was the first diagnosis that came to my mind. I nearly broke down; somehow I composed myself and called my teacher.
"Don't worry," she comforted me, "it may be tuberculosis."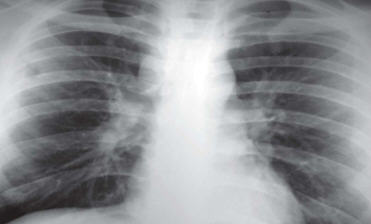 At home I didn't disclose anything to my wife or friends. The next day I went to a tuberculosis center and did some tests. I was to return three days later for the results. In those days I was chanting but could not concentrate. On the third day the doctor disclosed the results, "See this is tuberculosis and the infection is high you should be admitted today."
TB is considered to be very serious in Moscow. One has to be treated in a center outside Moscow, and if he doesn't do so, the police takes you by force. I became worried about my wife. Dispensary is two hours journey from my house and if I had gone there at my stage, I would have been kept there for two months or more. I begged my teacher for help. Finally she agreed to treat me personally. If the government would have come to know, she would have been thrown out of her job.
Later one evening, I was driving with my wife beside me. I felt something coming out of my nose so I wiped it with my handkerchief. It was blood. I tried to mask it from my wife but failed because of the heavy blood flow. I stopped the car. She started crying. I tried to console her, but she understood something was wrong, so I relented and I told her everything.
When I began treatment, she prayed all day and started doing daily abhiseka to our Gaura Nitai Deities and I would take the caranämrta. I was asked not to attend surgeries anymore. As my disease was undisclosed and I was not hospitalized I couldn't be tested to see if the TB bacteria were present in my sputum. I was worried that I might transmit this disease to my wife and others. So when I would go to ISKCON center I would stay back in my car. Devotees questioned my motives. Many began saying that I was going away from Krishna. Only I knew the reality.
Everyday my teachers and friends advised me to take eggs, meat, and fish. They even tried to force me, "You are doctor. You know what TB is. Your body needs protein and you should take meat and non vegetarian food, otherwise you will die. Take them as a medicine. . . Stop this foolish Krsna consciousness. Krsna won't come and help you." Nikunca Gopi was adamant and she used to fight with these people. I too decided to show these people how to treat TB with out taking meat.
After one month my symptoms were a little less, but I was still not well. I had another X ray and was shocked the mass was increasing in size! My boss sent me to the professor of the tuberculosis department. After examining me, he suggested that my disease could be sarcoidosis, a disease that mimics TB. I gave blood to confirm the diagnosis but again confusion! "It is not sarcoidosis," said the doctor, "It's something else." I got really depressed. My teacher called me and advised me to do a CT scan of the chest and consult an oncologist. I was shocked, "Why an oncologist?" I used to call my teacher Mama, and I pleaded with her. "Mama, do you suspect anything like cancer?" She consoled me, "There is no need to worry; everything has treatment nowadays."
The next day I went to the oncologist and he admitted me that day. He suspected something like a lymphoma a cancer, or some other kind of tumor. I came outside the hospital and broke down. I sat there for about two hours, thinking about my wife, my parents, and family. "Life is going to finish," I thought.
I took my mobile, and bravely explained things to my wife. I prayed to Krsna and cried. I went directly to my travel agent to enquire about the next flight to India. It was high season, so my chance of getting a seat soon was slim but after some checking he said, "There are two seats for tomorrow's flight."
I didn't think for a second and purchased both tickets and informed my wife about the departure. We had only sixteen hours. We left all our belongings including car, and the household items. We took some clothes, our Deities Sri Sri Gaura Nitai. Temple devotees arranged a special arati for me before my departure. I still remember how all the devotees helped me that time. Rajendran and his wife came and packed my things. Rahim Prabhu, a Muslim devotee, drove me till airport. Sadhupriya arranged special pujas in the temple and came with us till immigration; because of his mercy we saved around 25 kg without paying extra money. I saw how Srila Prabhupada made a house where whole world can live and all devotees are like relatives. Many times I felt devotees' love is more than our relatives.
INDIAN TRIAL
Back in India, we decided to do a biopsy of the growth. Before the test I went to ISKCON Trivandrum and had darsana of Trivandrum Deities. The temple president, Sarvaisvarya Dasa, an IIT graduate, told me with confidence, "Don't worry! Just take caranamrta everyday and you will be ok."
I thought, "Yes! Before death taking caranamrta will surely purify my body, but my disease?" When I met temple secretary Jagatsaksi Dasa, I blurted out, "If I am alive then we will meet again." He was shocked to hear this, but he just smiled and replied, "Surely we will meet again, Krsna will make all the arrangements."
The biopsy was a major operation. The doctors opened my chest and took a piece of the mass for testing. I was in ICCU for two days. My parents were not informed about the seriousness of the surgery. "Doctors are just taking a biopsy with a needle," I told them. So they were not that tensed, but my father in law some how understood the severity. Even though he is a busy businessman, he left everything aside to stay with us for a week. My wife was praying and chanting all the day and arranged prasadam and caranamrta inside the hospital too. She strongly believed that nothing will go wrong and would say, "Surrender everything to Krsna, then He will take care the rest."
By seeing our conviction and faith, both our parents thought we were mad in Krsna consciousness. During those few months my wife seemed bolder than myself with strong faith in Krsna and intense chanting. I was also looking at photos of His Holiness Bhakti Tirtha Maharaja's final days on this planet, and received the sad news when he passed away. I too started thinking of my death and where I would go heaven or hell? Then I stopped all thoughts and waited for the biopsy result. Finally the doctor came smilingly and said, "It is TB. No need to worry. Just take the necessary treatment for one year."
I was so happy and thanked Krsna for extending my visa. My wife was not surprised; she was confident that by her chanting and sadhana nothing would happen to me. The experience had a real effect on our parents they stopped criticizing ISKCON. We later came to know that one of the parents confided in our uncle, "I know he got out of this disease not by doctors' talent or any other things, but only by his wife's strong belief in Krsna." But this parent never accepted this publicly.
Then the real trouble started. Our parents started forcing me to take meat, egg, fish, etc. They started scolding Nikunca Gopi saying, "You will kill our son!" She would fight back by explaining about karma. I told everyone, including my doctor that I would only take vegetarian food.
STAR POWER
One day we went to an astrologer. After checking my horoscope he asked us whether the owner of this horoscope was alive or dead. He explained sani dasa and it's bad influence on us, and I understood that this was my second birth. I thanked Lord Krsna for extending my life.
The astrologer added that I was alive only by the mercy of God and someone's prayers. I looked at Nikunca; she broke down. Next day a senior devotee advised me to take initiation as early as possible. I decided to dedicate this second life or my rebirth to Lord Krsna. I wrote to His Holiness Jaypataka Maharaja and learnt that the very next day He was giving initiation at Bangalore. I had only twenty hours to reach Bangalore.
I called my travel agent and enquired about the flights to Bangalore and found that there was only one flight and only one seat. The flight reached just 1 hour before the initiation ceremony.
Another problem arose. I had no money. I couldn't ask my parents because they were not supportive. Again Krsna showed me a way. My sister in law Nirupama Nandini Devi Dasi pledged her golden bangle and got some money. I made it before the ceremony, but I didn't have dhoti for the ceremony. Seeing my poor condition, the temple poojari gave me all the things. I finally got initiation. I returned to Trivandrum with all this blessing. As I was recuperating from the illness, I volunteered to supervise workers working on the renovation of the ISKCON temple.
Now I know the best medicine for any disease in the world is caranamrta, eating offered food (prasadam), surrendering yourself to Lord Krsna and, most importantly, chanting Krsna's holy names:
hare krsna hare krsna krsna krsna hare hare hare rama hare rama rama rama hare hare
Now my prescription to all of you is Rx
1. Chanting holy names: 8 rounds before 6 a.m. and 8 rounds in the evening.
2. Caranamrta: 2 teaspoons three times a day.
3. Prasadam: three times daily
4. Reading Srila Prabhupada's books: 1 hour daily
5. Association of Vaisnavas: SOS Review after 6 days in any ISKCON temple.
Dr. Radharaja Murari Dasa is a disciple of His Holiness Jayapataka Swami Maharaja. He can be contacted at ayurveda@pamho.net