A graduate remembers the joys and challenges of
her life in a Krsna conscious boarding school.
SMOKE DRIFTED INTO my eyes as the priest lifted a ladle and poured more clarified butter into the sacred fire. Flames leapt higher and higher from the small teepee of sticks. My heart pounded. In a few minutes would be my turn to speak. Images of ashram life sprung into my mind. What could I say? How could I convey my experiences in the ashram in one short graduation speech?
The priest finished chanting mantras and set down the ladle. The devotees in attendance began singing Hare Krsna, and I reflected on my two years in the ashram.
A Daring Choice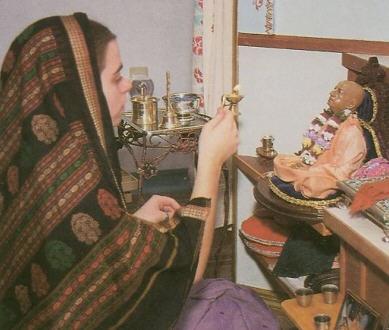 I was born in 1980 to devotees of Krsna. For seven years I attended a Krsna conscious school in New Vrindavan, West Virginia. Then, impelled by a desire to have fun and forget spiritual life, I decided to attend a public school. But by the time I was sixteen, I felt empty and frustrated and wanted to jump back into spiritual life. I began chanting sixteen rounds and attending the temple programs every morning. And to complete my academic education and focus on my spiritual life, I enrolled in the Vaisnava Academy for Girls, a Hare Krsna boarding school near Gainesville, Florida.
While packing my bags, I mentally prepared myself for boot camp. I expected the teachers to be dictators who shouted orders and enforced a complex system of rules and punishments. I expected to find girls planning runaways or marking the calendar for the days left until vacation.
Instead, the students and the teachers respectfully addressed as Mother Laksmimani and Mother Akuti swept away my apprehensions. The teachers talked and laughed with the girls and gave valuable, though sometimes difficult, instructions. The students stole sweets from the refrigerator, sneaked away from kitchen duty, and whispered secrets into the night. But these girls differed in many ways from my public school friends. They strove to put Krsna in the center of their lives. They danced enthusiastically in kirtana. They asked sincere questions in Bhagavad-gita class. They even competed to be first in the shower at 3:30 in the morning to prepare for the early temple services.
Although my initial impressions were good, I had a hard time developing relationships with the girls. The ashram included girls from ages thirteen to eighteen on all levels of spiritual advancement. Some had taken the vows of spiritual initiation. Some lovedkirtana but couldn't focus enough to chant a set number of rounds. And some were just young and frivolous.
In the beginning I spent time only with the few older girls who were initiated. Mother Laksmimani repeatedly encouraged me to help those struggling spiritually and to make friends with the other girls my age. But I kept my distance.
The Ashram Routine
Despite these little difficulties, I slipped comfortably into the daily ashram routine. Every morning we drove three miles to the temple, first at 4:30 and then again at 7:15, for kirtana and class. Upon returning to the ashram at 8:45, we jumped out of the van and raced into the dining room, which soon filled with the clatter of stainless steel plates being set in a row on the floor. One girl would grab the tray of blueberry muffins from the oven, another would serve fresh fruit and soaked chickpeas, and I would take the sweet hot milk off the stove. After the prasadam was served, we'd devour everything on our plates.
At 9:45 a clanging brass hand bell called the students to the school building next to the ashram. To begin the school day, we stood at our desks with our hands folded and in unison loudly chanted Sanskrit prayers. Next came the day's first class, onBhagavad-gita, taught by Mother Laksmimani. She made the complex philosophy easy for us to understand. Once, while we were studying Chapter Six, to show us the difference between astanga-yoga and bhakti-yoga she directed us to sit silently and meditate. After a long ten minutes, she brought out karatalas and a mrdanga, and we sang the Hare Krsna mantra. What a refreshing change from the silence! To close the class we wrote a paper on which process was easier and more enjoyable for us, silence or singing Krsna's name. Easy choice.
Every Monday and Friday we had a class on the four regulative principles of Krsna consciousness: no meat eating, no illicit sex, no intoxication, and no gambling. We watched videos on how the media portrays women, analyzed cigarette and alcohol advertisements for logical fallacies, and learned skills to communicate our values to our peers. The course made me more aware of the reality of the world and how the media encourages teens to break the four regulative principles.
School was always a storm of activity. In the morning, Mother Indulekha taught algebra and science and Mother Sita-priya taught logic, history, and composition. In the afternoons I attended elective courses such as art, sewing, music, cooking, pottery, computers, wood shop, Bharat Natyam dance, and swimming or other sports.
On weekends, if I wasn't cramming for tests or finishing my dreaded algebra sets, I was chanting with the girls and other devotees on the beaches of Jacksonville or in the streets of Orlando. There's always a steady stream of festivals in Krsna consciousness, so often, just when I thought I'd relax and take it easy, a festival would pop up. We'd perform plays and dances at festivals, which meant lots of rehearsal time. Sometimes I'd be so busy that I'd find myself practicing drama lines between bites of prasadam.
Every Friday we chanted in front of the University of Florida in downtown Gainesville. Afterwards we distributed Srila Prabhupada's books. At first it was hard for me. I remember trying to persuade my immobile legs to approach a group of college kids, but somehow my shoes stayed glued to the asphalt. My ears anticipated the sticky-sweet, high-pitched, "No thank you, I just spent all my money on groceries. Maybe next time," or the breathy, "Sorry, I'm in a rush," followed by a slamming car door. Yet each time, after distributing for an hour I felt ecstatic. I would begin writing a mental letter to my mother about the cool hippie girl from college or the professor who asked lots of questions and then bought a Bhagavad-gita.
Growing on Pilgrimage
I came to love life in the ashram. And when the teachers scheduled a trip to India, I was eager to go. I prepared for the long journey with nothing more than one little suitcase, a handbag, and a small bedroll. In India the culture of simple living and high thinking described in our Bhagavad-gita classes became a reality. I ate from banana-leaf plates and washed my clothes by hand. To visit temples, I walked barefoot on little pathways between rice paddies. I rode creaking wooden boats down the sacred Ganga.
As our adventures unfolded, I learned to appreciate the other students. I'd sometimes looked down on the girls who weren't seriously aspiring for initiation. But after traveling throughout India with them, I realized how each girl showed enthusiasm and sincerity in her own way.
One day in the city of Pune, one of the younger girls, who had just recently joined the ashram, stood before hundreds of devotees and said she was so inspired by her experiences in India that now she wanted to chant sixteen rounds every day and stay in the ashram until she graduated. She explained that she had entered the ashram only to please her father but now she knew it was the safest place for her to avoid the negative pressures of teen life. It warmed my heart to see the grave expression on her fourteen-year-old face as she spoke her realizations about Krsna consciousness.
My most enlivening experience in India was attending ISKCON's annual festival in Mayapur, West Bengal, Lord Caitanya's birthplace. Every day I attended seminars on various aspects of Krsna consciousness. In the evenings I danced in kirtanas with hundreds of devotees from all over the world. And I was amazed to see Srila Prabhupada's vision for a magnificent temple unfolding amid straw huts and rice paddies.
My Turn to Speak
Few children my age have the opportunity to travel throughout India and even fewer have the chance to complete their education in a Krsna conscious school. Now, having returned from India, I was standing before a crowd of friends and well-wishers trying to express my gratitude. In a shaky voice I thanked Mother Laksmimani and Mother Akuti for allowing me to be in the ashram. Stepping before the sacred fire, I handed them a booklet of poems written by the graduating girls. I spoke briefly, telling the teachers I felt honored to be part of the only girls high school where the teachers taught the students how to use even algebra and science in Krsna's service.
After my speech Radhanatha Swami (who would soon accept me as his disciple) handed me my high school diploma and blessed me to have an abundant future in Krsna consciousness and a safe journey back to New Vrindavan.
After returning to New Vrindavan, I decided to attend the graduation ceremony at John Marshall, the local high school. Had I stayed behind, I would have graduated with this class. Although I felt nervous about it, I decided to wear a sari, mark my forehead with tilaka, and represent myself as a devotee of Krsna.
The night was warm as I stood outside the school and waited for my friends to arrive. I felt happy to see everyone. After giving a big hug to my old lab partner, who had dropped out of high school, I noticed she was pregnant. A friend I'd always viewed as the symbol of morality in our English class pulled out a cigarette. I was surprised. I wondered where I would be had I not gone to the ashram.
At the end of the ceremony the class leaders stepped forward and gave speeches about chasing dreams or following stars. Their ribbon-tied certificates and sleek gold uniforms seemed noble dresses foreshadowing great futures. Friends applauded their speeches, and relatives shed tears. The organ played farewell tunes as the graduates filed off the stage.
It seemed a fleeting moment of glory, swept way by the powerful hand of time.
I felt far away, like a statue observing a circus. The approval of these kids had once been my measure of happiness, and now it didn't matter. I had no cap to throw into the air, no crowd of friends to whistle when my name was called. I sat wearing a simple cotton sari in the midst of shiny uniforms. Yet I felt happy. After initiation from Radhanatha Swami I would be returning to the ashram as a student-teacher and as a graduate of the Vaisnava Academy for Girls. Krsna had opened the door to an enlightened future.
Engaging Youthful Energies
Laksmimani Devi Dasi was initiated by Srila Prabhupada in 1969 and has been working in education since 1974.
Ask her for a few words on Krsna conscious education, and you're sure to get a lot more than a few. She's a leader in her field, and her years of experience have given her plenty of realizations. Here are some of her thoughts:
"Ashram life, especially for teenagers, is a voluntary thing. No one should come who doesn't want to be here."
"The parents must have a vision of Krsna consciousness that runs parallel to the school's. Regular communication between parents, teachers, and students is essential."
"We should dedicate our life to being Krsna conscious and, whenever possible, making it fun. We should not dedicate our life to having fun and, whenever possible, making it Krsna conscious."
"The training that students get in the ashram should serve them whether they live in the temple or outside."
"I learn as much from my students as they learn from me."
Akuti Devi Dasi was initiated by Srila Prabhupada in 1970 and got involved in children's education ten years later. She has been working with Laksmimani Devi Dasi since they served together at a school in Lake Huntington, New York, eighteen years ago.
"Mother Akuti does everything for the girls," Krsna-priya says. "She fixes everything they break, cleans up after they're done cleaning, roughs them up in physical education class, complains to the other teachers about them, and most of all, loves them."
Akuti also does carpentry (she built her own house), teaches pottery and woodworking (she's an artist, sculptor, and woodcarver), and regularly cooks feasts at the temple and goes out to spread Krsna consciousness.
"With so many distractions in materialistic society," says Akuti, "it's difficult keeping the girls happy in Krsna consciousness. We try to provide a dynamic program that will keep their youthful propensities engaged in a transcendental way."
Grateful Students
BTG interviewed the girls living in the ashram when this article was being put together, last December. (Krsna-priya, the author of the main article, graduated in May last year.)

I like the ashram so much because it provides valuable training that will stay with us and guide us for the rest of our lives. I feel so honored to have such wonderful examples in front of me as Mother Laksmimani and Mother Akuti, who have dedicated their lives to Srila Prabhupada. By their good example I am chanting more seriously and trying to develop an attachment to the holy name.
(Amrta Devi Dasi)
I agreed to go the ashram because I didn't like Sweden and thought it would be cool to check out America. A lot has changed since I first came. I find myself being one of the "big girls" and having to deal with young, naive girls, trying to be a good example for them as the previous girls were to me. What has compelled me to stay even through the hard times is that I know this is the best place I could ever be. I have good association and wonderful teachers, I learn something new every day, and I'm constantly surrounded by Krsna and His holy names. I know that when I graduate I'm going to cherish the memories of ashram life and always remember the friends I made.
(Vrnda Devi Dasi)
I like the concept and mood of the ashram, but in particular I like that it opens so many doors for you. When I'm here I feel I can do anything; I just have to set my mind to it. The best thing I'm getting here is not so much the education, but the relationships with so many nice devotee girls.
(Krsna Devi Dasi)
Since I'm the youngest, sometimes I feel picked on, but most of the time I feel great that I have so many older sisters who really do care about me. They are always there when I'm in need, giving me guidance and encouragement. Our motto here is "If you think you can or you think you can't, you're probably right." I used to give up on things easily, but now a whole new world has opened up to me. The whole mood here is centered on becoming a better devotee and a better person.
(Kamala Devi Dasi)
I enjoy the little things: laughing together over silly mistakes (usually made by me); the idea of putting others before yourself, even when you don't want to; spending winter nights together packing candies to sell at Christmas time; joining others to sing devotional songs on festival days and weekends; and most of all, having little heartfelt talks with sincere devotees who have your welfare in mind.
(Sarasvati Devi Dasi)
I like that you are constantly reminded of how to become a better person and a better devotee. Most of the girls are older and more advanced than I am, so they seem to feel pretty comfortable telling me what to do or how to do something. I've really learned from being corrected a lot in the ashram. Since we're always together, we can see what each of us needs to work on.
(Nilacala Devi Dasi)
Before I came to the ashram, my main goal was to enjoy. Now that I'm here, I still want to enjoy, but I've also developed a desire to go back home, back to Krsna. Even though I'm a long way from being free from attachment to this material world, by association I'm acquiring a taste for the simple, Krsna conscious life.
(Radhika Devi Dasi)
One time we all went to Wal-Mart to buy gifts for Amrta's birthday. After a while, Mother Laksmimani told us to hurry up and pay for the gifts. I quickly chose a present, and then realized that my twenty dollars was not in my hand. Frantically, I searched some of the places in the store where I'd been, but it was impossible. I'd been all over the store and could have dropped the money anywhere.
Downcast, I returned to the waiting van. The girls sympathized with me as I thought of my stupidity. I didn't want to tell my parents, who had given me the money, but I knew it would come out sooner or later.
As I sat in the van, staring out the window, visualizing my fate, I noticed the girls whispering about something or other. Thinking it was a cruel game, I pretended not to notice and kept staring out the window.
"Hey, Sara," said Sita-Rama, turning around in her seat to face me.
"Yeah?" I answered.
Slowly, she placed a wad of bills in my hands.
"What's this for?" I asked, staring at the bills.
"We all pitched in and gave a dollar," she replied, "so your parents won't get mad. There's ten dollars. It's not much, but it's half of what you lost."
Looking at all the faces smiling down at me, I was at a loss for words.
My parents weren't mad at me, and they were happy that I'm in such good association and friendliness. I'll never forget that time when I was shown such kindness.
(Saranagati Devi Dasi)
The people and teachers with whom I learn and experience things here are personal and fun to be around. It's the people who make this place great. It's well organized by our headmasters, who always have new ideas for the big garden, the house, or the school. We're always busy and having fun.
(Vilasa-manjari Devi Dasi)
I know I can't live anywhere without the shelter of the ashram until I graduate, because I'm so attached to everything here. I find it extremely hard not to miss the girls' association while on break. I think everything here is a great tool for Krsna consciousness and the prasadam is really, really good!
(Janaki Devi Dasi)
I have realized how association with devotees is such an important factor in Krsna consciousness. Now I have twelve sisters who really watch out for me, who encourage me when things get tough and I'm ready to slip. I like the family atmosphere that keeps me bonded with the devotees.
(Sita-Rama Devi Dasi)
Since entering the ashram, I feel I've become more responsible. It has made me want to stay a devotee for the rest of my life, because now I can see better the distresses of the material world and the happiness of Krsna consciousness.
(Vrndavana Devi Dasi)