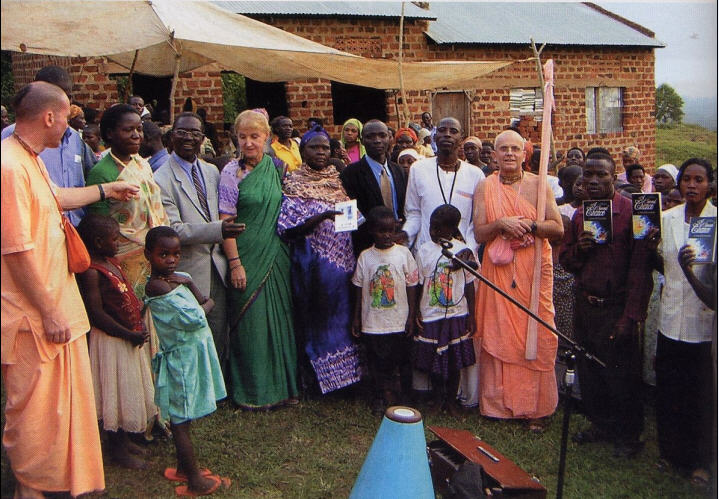 East Africans are attaining freedom from material life,
thanks to Lord Caitanya's moon of chanting and dancing.
On New Year's Eve, 2003, the Metropolitan Police of London closed streets to traffic, and people partied. Dancing Hare Krsna devotees joined in with four drums a'thumping, and they played sax and accordion riffs and sang melodic choruses of the Hare Krsna mantra. This inspired the rowdy youth to dance. Before the House of Commons, people watched Big Ben's minute hand approach midnight. Then sparkways of fireworks lit the sky. The chanting party and the next three days of great effort to finish preparations for a tour of East Africa made for an exciting start of a new year.
The 2004 East African festival tour was the tenth inspired by Tribhuvanatha Dasa, one of the first devotees in England, whose body succumbed to cancer in 2001. Tribhuvanatha was continuing the adventure of Srila Prabhupada, his spiritual master, of teaching the chanting of Hare Krsna to the African people, with the help of the Indian people. The first Gujarati in Nairobi to assist Srila Prabhupada was Haresh Pandit; his father was the mayor during British rule, and now his son is the vice president of ISKCON Nairobi. When Srila Prabhupada visited Kenya in September 1971, a reporter asked him whether his disciples would be making special efforts to reach the Africans rather than the Hindus. He answered that the method would be the same but the method is so powerful that it appeals to eve-ryone. Srila Prabhupada added that Indians have a duty to share their spiritual culture.
Among the Gujaratis originally from East Africa who now help sponsor the festivals there is the UK's largest exporter of Nokia phones to Kenya, Uganda, and Tanzania. Being invited to join the tour, I visited his office and also the home of an investor sponsoring Swahili editions of Prabhupada's books. Finally, in the evening on January 3, I flew from Heathrow with six devotees.
In Nairobi, I had a day and a half to rest, shop, and prepare, before riding a bus south for advance work. Giridhari Dasa, the tour organizer, and I wrote a press release about the name of this year's tour: the One Love Spiritual Festival Tour. "One Love" (from a Bob Marley song) means, spiritually, that God, or Krsna, attracts the attention of all religions, and, socially, that anyone wanting to beat HIV is better off with just one partner. Seven percent of Kenya's population has HIV. A tribal person may regard it as a witch doctor's curse more than as a disease to avoid by changing his or her behavior. So to help the situation, ISKCON like other faith-based organizations inspires people to follow principles like abstinence and helps get young people off the streets.
The Mood of Dar es Salaam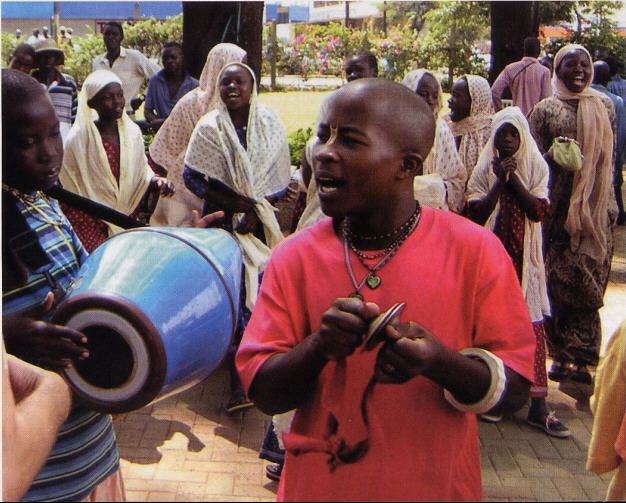 I left for Dar es Salaam, twelve hours away on Tanzania's coast, with Colin, a devotee from Ireland who has advertised Tribhuvanatha's festivals in the UK and Africa for several years. Some people on the bus made calls on cellular phones and then read newspapers. We had a wide-open view. Most trucks use other roads for commercial reasons. There were few cars and no motorcycles, bicycles, people, or animals on the road, as in India. Nairobi, though on the equator, is on a plateau, so the temperature is cool. Once off the plateau, we felt the temperature rise. We saw Mount Kilimanjaro and pineapple orchards. At sunset, as we neared the coast, beautiful East Africa became lit by the lamp of the waxing moon.
Colin knew Dar es Salaam and some people there. After meeting up at a guesthouse with two African devotees, we ate breakfast with Dilip and his family. Each year they cook and serve daily meals to the visiting devotees because they knew Tribhuvanatha. Theirs is a simple and musical family the five children can play instruments and lead chanting.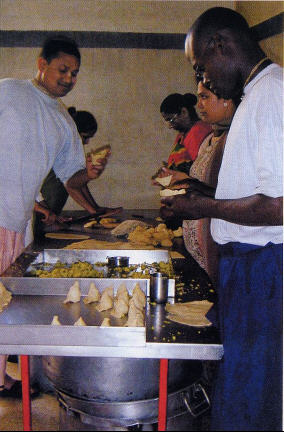 At the Cable TV Network office, the Indian manager agreed to broadcast our new DVD featuring Hare Krsna activities in East Africa. Two segments about beating HIV, and life on the African streets are presented by Ishmael, a devotee-rapper whose HIV rap frequently appeared on TV a year ago. He accompanies the tour and dances with boys from Little Gokul, an informal education center in Kisumu that rescued them from the streets (Kenya has more than a million AIDS orphans). Little Go-Kool, their stage name, is a pun on Gokula, Krsna's earthly abode. The DVD also contains shots of African youth chanting Bengali devotional songs. The soundtrack at one point sings: "Lord Caitanya's moon is rising; no, it's not at all surprising." Africans are attaining freedom from the material condition of life by taking shelter of Lord Caitanya, the great teacher of the chanting of Hare Krsna.
Our seven-ton truck arrived from Nairobi with Vrnda Devi Dasi, an English woman inspired by Tribhuvanatha to look after a temple and a nursery school in Kampala, Uganda. She decorates the stage during the tours. The first festival was held at the Sanatan-Dharma Mandir, one of several temples in Dar es Salaam's official Hindu district. Some Tanzanians but mostly Indian families attended. The next day some of these families took us to a beach for a picnic. Mahavisnu Swami, a co-director of ISKCON in East Africa, brings an accordion everywhere, and his chanting on the beach swayed the souls of swarthy bathers. They danced even without understanding the language of the mantra.
The next two afternoons, the One-Love festival brought people to a park for talks, chanting, a drama, and rap dancing. Everyone received a free book and a bagful of hot rice and beans. Our friends Rajesh and Tulsi took a turn preparing our lunch. Another day, we chanted and then relaxed over lunch at a seaside home and temple with Harideva Dasa, the family grandfather, and Suniti Devi Dasi, his daughter-in-law. That evening the Jethwas hosted us and Indian families who desire an ISKCON temple in their city.
Nairobi Students
Nairobi has a grand ISKCON temple, and two hundred students attended a Saturday program. They were in a good mood and had questions and wonderful appetites. For three days, One Love visited schools. Young African men Christians and Muslims live at Nairobi School's tree-lined campus. Giridhari said in his introduction that we are not trying to convert anyone, but only presenting the natural activity of the living entity. Five hundred students heard us chant and talk and saw three presentations: a play about Mrgari, a hunter who half-killed prey, until a sage reformed him; a slide show about controlling the mind and senses; and rap dances. At the exits we offered everyone a samosa. About forty boys bought our books. At Oshwal High, five hundred boys and girls, mostly Jains, absorbed a documentary about reincarnation and liked the rap dances. And five hundred Aga Khan High students, mostly Muslims, became excited by a similar supernatural cocktail.
One evening we drove out past the new, relocated American Embassy (al Qaeda bombed the first one). Following the side wall, we turned into the next driveway and arrived at the home of Rajan Jani, a financial consultant and a main supporter of this tour. He and Kirti, his wife, came out to greet us. In the kitchen, two maids were preparing pizza and chips for thirty devotees. Rajan owned his property a few years before America bought the adjacent land, and hired a young Indian architect to design his contemporary mansion and temple. His son, twenty, and daughter, fourteen, played mrdanga and harmonium with us. It was Rajan who, in 2001, insisted that Tribhuvanatha take medical tests. And when the tests showed advanced stomach cancer, it was he who broke "the good news" to Tribhuvanatha: "You will be in Goloka Krsna's eternal abode in three months." Rajan drove Tribhuvanatha around Nairobi for a few hours to let this sink in, and he told us that Tribhuvanatha raised many philosophical considerations. When we left the city, Kirti organized snacks for our panoramic trip to Kisumu, on Lake Victoria, two hundred miles away, over hills and green tea fields.
Chanting and dancing with forty of our schoolchildren in a Kisumu park made me smile a lot. The credit goes to Krsna-mayi Devi Dasi, a businesswoman who felt inspired by Tribhuvanatha to save abandoned children for a better future by starting the Little Gokul Education Center, in June 2001. During our festival at Jomo Kenyatta Grounds, we saw less lucky street kids sniffing glue. The Hare Krsna center stands on a corner property renovated five years ago. Its street-side walls enclose lawns and gardens, with arches and benches, and a marble temple room. The Gujarati president and his wife, Pundarika Dasa and Radha-kunda Devi Dasi, served us a splendid lunch at their house. Pundarika talked about donated land on Lake Victoria's northeast shore that awaits development as an adult education center.
Near the northwest side of Lake Victoria is Kampala, Uganda's capital, where we started holding festivals on February 1. Trucking there, we crossed over the wide source of the Nile River, in Jinja. Mukesh Sukhla is building a ground-floor restaurant in our Hare Krsna center, but in the backyard a new building, with four guestrooms, was all ready. Just as Lord Caitanya and His followers spread the chanting whether someone asked for it or not, similarly we chanted devotees from Africa, England, India, and America for people on crowded streets, for students at Makerere University, for the villagers of Wayeye, and for souls of the Baganda tribe (Uganda's largest, with three million people).
When we visited the Baganda tribal temple, located in the hilly countryside, many people sang a song (written by a few young tribesmen who visit our temple in Kampala) that incorporates Krsna's name and Prabhupada's name. A fire was burning, and we took our places on a clean red rug behind a low railing of upright spears. The M.C. introduced their seated leader, John Musoke, who came alone to this place in 1989 and is said to be a medium for an ancestral spirit. When we chanted, the huge crowd sang and danced, peaceful and happy. Volunteers passed out a thousand plates of our rice-and-beans prasadam. The unhurried congregation planned to stay up all night. Two days later, Florence Kauma received the spiritual name Veda-priya Devi Dasi when she became the first citizen of Uganda to accept initiation within ISKCON. She is twenty-two. Four years ago, she worked as a cleaner in the Kampala temple.
Last Stops
In Mbarara, Uganda, the full moon descended while I chanted on my beads in the early morning. At dawn the prehistoric-looking kaloli cranes awoke and began flying over the courtyard of the Sikh temple, where we stayed. The temple reader told me that in the Granth (their scripture) that morning the Lord said, "Always pray to Me." A similar message was conveyed in a Radio West interview with our artist Ishmael and a few Go-Kool boys. Here our festival had its best outdoor location: a hedge-enclosed lawn with a stage, at the Agip Hotel. At Mbarara University we did the highest humanitarian work: teaching Krsna's explanation of the soul's transmigration.
Finally, the festival tour stopped for the first time in the country of Rwanda, land of a thousand hills. Mayur Khagram, who owns Computer Plus in Kigali, the capital, and his family and friends arranged halls and showed us hospitality (his sister runs Little Gokul). The four-hundred Indian families in Kigali have no temple, and some hope that ISKCON will open one. The Khagrams said that their Hindu practices are regarded as witchcraft by uneducated local people. The African students at our festival apparently knew nothing about Krsna and the Bhagavad-gita, but they asked questions and learned more than all the other students who packed TV rooms during our tour to watch international soccer matches. "Rwanda TV" included festival highlights on the evening news.
Srila Prabhupada said that Krsna is not just for Hindus. In this age, Kali-yuga, spiritual knowledge is covered by material advancement, mental speculation, even Hindu rituals. But sometimes the chanting of the Hare Krsna mantra is heard. I felt fortunate to be part of the international team of devotees touring East Africa with the Hare Krsna mantra and lending a hand to the local devotees and Indians from East Africa. They are eager to give Krsna consciousness to the natives of their homelands.
Tattvavit Dasa, for the past two academic years, tutored students in essay writing at the new Bhaktivedanta College, in Radhadesh, Belgium. Now he is in Italy editing a book of photos of the deities in ISKCON temples, which the Bhaktivedanta Book Trust will print this summer. He is grateful to Colin, the festival advertiser, for inviting him to write this article.
People can annually help support the East Africa festival tour by contacting Giridhari Dasa at giricom@yahoo.co. uk or Hare Krishna Festivals, 26 Crofters Road, Northwood, Middlesex HA63ED, England. Visit HKfest.com.