An Indian doctor goes to Moscow to study Medicine and ends up defending ISKCON on National T V.
Let me introduce myself. My name is Dr. Rajesh Rajan(Radharaj Murari Dasa).I got introduced to this worldwide family of Krsna consciousness in 1997. I was in Moscow for eight years where I completed my post graduation in cardiovascular surgery.
I visited the Moscow ISKCON temple in 1997. I was taken aback when I saw the Russians wearing saffron and chanting Hare Krsna and explaining the Hindu philosophy with full confidence. For few days I felt ashamed to hear about Hindu philosophy and culture, Supreme Personality of Godhead Sri Krsna and Srila Prabhupada from a foreigner. I was hearing about Prabhupada for the first time. At first I thought, "Oh God!!! Some one from India came here and cheated these people." I had many reasons for arriving at this conclusion. I saw two Deities in hands up position. I asked one saffron wearing swami, "Where is Krsna ?" He showed Gaura Nitai's Deities and said, "This is Krsna ." Then I asked, "Why is it called Gaura Nitai?" He explained many things to me but I was not convinced. Being a south Indian I never saw Krsna like this. I decided one thing, "I will call home today itself and arrange for original deity of Lord Krsna." I thought I knew everything (because of my false ego). Then slowly I understood that I didn't know anything at all.
At around the same time in 1997, my fiancee Nidhi R. Mohan (Nikunja Gopi Devi Dasi) was rendering services at ISKCON Trivandrum. She used to tell me about His Holiness jayapataka Swami Maharaja. I got Jayapataka Swami's email address and sent a mail to him. He replied within no time! Then every month I used to receive mails from Jayapataka Swami.
STUDENT LEADER
In 2000, I was elected the president of the Indian Students' Association of Moscow and the Chairman of Asian Students Association of Peoples Friendship University. During the elections, I promised my fiancee that if I won the elections and became the president then I would surely invite Jayapataka Swami to inaugurate the annual function of the association. On the day of the election I chanted 65 rounds of Hare Krsna mahamantra.
In April 2000 we had the annual function of Indian students of all universities of Moscow. About 1500 Indian Students and Russians attended. We secretly prepared prasadam from temple for them. But, news somehow leaked the very next day and I faced big problems from Muslim students and from some Christians. They were shouting at me that they were not supposed to take offered food and I made them eat. By Krsna 's grace I managed the situation.
For the first time in the history of Peoples Friendship University, a sannyasi from ISKCON inaugurated a function. Jayapataka Swami lit the lamp and presented honorary awards to the Vice Chancellor and ambassador. He then gave a wonderful lecture and finished with a kirtana. Then a photographer, a Russian non devotee asked me, "Who is this great personality? I have seen many priests and swamis but he is somebody different." He said that when he entered in the main entrance of university he felt a very great spiritual feeling: "Something that I can't explain." When he saw Jayapataka Swami he understood why he felt like that. The next day when I was standing at a bus stop, I heard one Russian student murmuring a song. It sounded like an ISKCON song, but I knew that student. He was a pure materialist, he didn't know about ISKCON. "Maybe it's an illusion," I thought. But it was not. He was singing, "Govinda Jaya Jaya Gopala Jaya Jaya!" – the same song that His Holiness Jayapataka Swami had sung yesterday.
A TWIST IN THE TALE
Until 2004, I was the president for these student associations and Jayapataka Swami visited thrice to inaugurate various functions. This helped to cultivate many devotees amongst students from various Asian countries.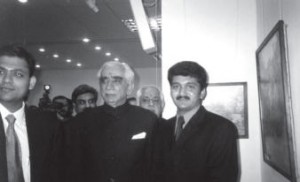 During that time the Russian government evacuated the devotees from their existing centre, promising them a better location in the heart of Moscow city. However, after demolishing the centre the city officials withheld the promised land. To get this land, we had to build many high level diplomatic connections. I personally met the Prime Minister of India Sri Atal Bihari Vajpayee during his visit to Moscow. He raised the land issue with the Russian Head of State, Vladimir Putin. We met many other Indian ministers like Sri Jaswant Singh and Sri Ram Naik. We had a meeting with the mayor of Moscow too.
Finally after years of dispute with Russian devotees, the Russian government allotted another plot of land 5 km from the Kremlin and about 20km from the airport. ISKCON Moscow submitted a plan for a temple project worth 10 million US dollars. The Christian people had a look at the project, which was much bigger than their existing church. Just by seeing the model picture of the proposed temple itself, they got agitated and started big strikes and mounted pressure on government through their religious leaders. They conducted press meetings where I used to pose myself as a reporter from Times of India. They used to propagate all false conceptions against ISKCON. They proclaimed, "ISKCON can never build a temple in Moscow. Russia is a Christian country and there is no need of any other new religion. ISKCON people are terrorists. They are getting funds from Americans. Otherwise how these poor Russians can make a 10 million US dollar temple in Moscow."
I used to deliver all this news to ISKCON authorities. This way we used to understand their propaganda and actions and accordingly planned our defense.
DEFENDING THE HARE KRSNAS
I then collected individual petitions from 1500 Indian students addressed to the mayor of Moscow. I attended two press meetings with His Holiness Bhaktivijnana Goswami Maharaja, and participated in a big debate in NTV, the leading Russian TV channel. Five ISKCON devotees, including me went to the debate. Madan Mohan Dasa was the leader of our team. The leader on the other side was the famous leader of Russian Christians, Mr.Lebidev. He too was accompanied by four other members. We were well prepared for the show with many pictures of 'Food For Life' and some pictures of attacks faced by devotees during preaching.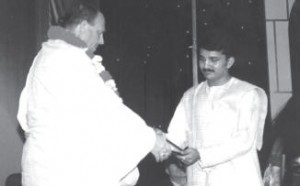 When my turn came to ask questions to the Christian leader, I was totally nervous. I prayed to Lord Nrsimhadeva to give me intelligence to ask good questions. What happened next was a miraclel Actually I had not prepared questions beforehand like others. Somehow it was a spontaneous idea to ask the following questions:
Ql: Do you want to make Russian people God fearing and well cultured? Answer me yes or no?
Ans. Yes.
Q2: Can you please tell me the ten commandments of God for all Christians which are mentioned in the holy Bible?
Ans. (Prolonged silence.) I am not supposed to tell you all this. I won't tell you. This is not a place to check religious knowledge. We came here to discuss something else.
Q3: So it means you don't know the ten commandments of the Bible. It is a big tragedy that being a Christian you don't know this. Ok you know ISKCON has 4 regulative principles a. No meat eating b. No intoxication c. No illicit sex d. No gambling. Please tell me that which of these principle will spoil Russian people?
Ans: No answer.
Unable to answer any of my questions in front of the live audience, the Christian leader became visibly angry and red-faced. He and his followers threatened me after the show, "Watch out! We will show you who we are!"
After this threat I was in great anxiety for the next few months. They could have caught me anywhere and done anything. I shaved my moustache and changed my hair style. I stopped traveling on the bus and metro and traveled only by taxi. I even bought a car.
This debate was telecast and the audience had a chance to vote through the phone and all over Russia. People voted. The result was in our favour.
Radharaja Murari Dasa is a disciple of His Holiness ]ayapataka Swami Maharaja and resides in Madurai with his family. He was in Russia during this year's Gaura Purnima festival and represented the Indian community and students in a press meet arranged by local ISKCON authorities. The Russian Government has refused permission to build the temple and snatched away the land given initially. ISKCON is fighting the case in court.