IN 1996, MEMBERS OF the International Society for Krishna Consciousness celebrated the centennial of the movement's founder, His Divine Grace A.C. Bhaktivedanta Swami Prabhupada. The celebrations inspired Hare Krsna devotees everywhere to do whatever they could to spread knowledge of Srila Prabhupada and his teachings.
Like many others, His Holiness Bhakti Caru Swami felt a strong desire to offer something special to his spiritual master on the occasion.
"I remember looking at a book on the greatest personalities of this century," says Bhakti Caru Swami. "To my great disappointment, I found that Srila Prabhupada's name was not mentioned. Although he is the greatest person of this age, very few people give him the recognition he deserves. His International Society for Krishna Consciousness is widely known, but hardly anyone knows the person behind it. I felt I should do something to make Srila Prabhupada known worldwide.
"Since audio-visual media are the most prominent today, I wanted to make a film about Srila Prabhupada's life and achievements. Then Hema Malini, a movie star from Bombay, gave me the idea of a TV serial. She felt it would be impossible to show Srila Prabhupada's life and achievements in a two-hour movie; we would be able to show much more in a serial."
Bhakti Caru Swami wanted to do more than just glorify Srila Prabhupada. He wanted to present Srila Prabhupada's life and achievements through a screenplay that would bring out his struggles, triumphs, and disappointments, and tell his story in detail.
The serial, based on the biography Srila Prabhupada-lilamrta, by His Holiness Satsvarupa Dasa Goswami, is entitled Abhay Charan (Srila Prabhupada's birth name). It was originally shot and edited for Indian television in episodes of twenty-five minutes. The first episode aired on September 7, 1996, the day after Srila Prabhupada's Centennial Appearance Day. The shows were then broadcast every Saturday, reaching millions of people all over India.
Prabhupada in British India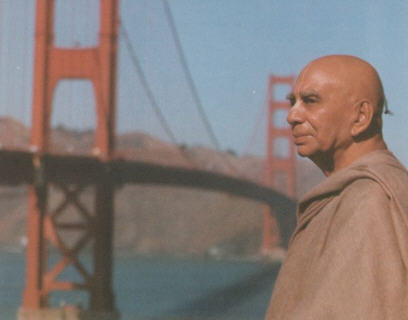 The serial brings to life the India dominated by the British Victorian imperialism in which Srila Prabhupada grew up. It also gives a lucid impression of the people and events that contributed to the pastimes of Lord Krsna's pure devotee.
The opening minutes of the first episode sharply contrast the British and Indian cultures in 1896. The governor of Bengal plays bridge, while Gour Mohan De, Abhay's father, celebrates Janmastami (Lord Krsna's appearance day). On the next day we share the joy of Abhay's parents at the birth of their son. In a delightful scene, an astrologer predicts that Abhay will spread Krsna consciousness all over the world.
Amid scenes of Abhay's devout Vaisnava upbringing are vivid portrayals of the loving care of his father, Gour Mohan, and mother, Rajani, and of the traditional Indian family life Abhay enjoyed in his early years.
The story also carries tension and drama. When two-year-old Abhay contracts typhoid, the family physician prescribes chicken broth, there being no cure for the disease at the time. The suggestion dismays the family of strict vegetarians. We feel Gour Mohan's agony as he wrestles with the decision: Should he allow Abhay to be given chicken soup?
In another dramatic childhood incident, Abhay comes face to face with brutality and death. Rioting erupts between Hindus and Muslims when the British deliberately cause friction between the two communities. The young Abhay narrowly escapes being attacked and manages to run to his house amid the horror of killing and burning.
Revival of Vaisnava Culture
During Abhay's childhood and youth, an important theme is the revival of Vaisnava culture through the efforts of Srila Bhaktivinoda Thakura and his son Bimala Prasad, who later becomes Srila Bhaktisiddhanta Sarasvati Thakura, Srila Prabhupada's spiritual master.
In India at that time many so-called sadhus claimed to be God. One such yogi, Phalgu Baba, adds a fascinating dimension to the story. The ruling British, fearful of the yogi's following, deputize Srila Bhaktivinoda Thakura to deal with him. The Thakura confronts the yogi, promising to expose him as a mere mortal. Sitting beneath a tree near the yogi's cave, Bhaktivinoda reads from the Srimad-Bhagavatam. The tension reaches its height when the yogi threatens to kill Bhaktivinoda and pits all his yogic powers against him.
Many important events from the life of Srila Bhaktisiddhanta Sarasvati are woven into the story of Abhay's life. In one emotional scene, Bhaktivinoda sends the young Bimala Prasad to Gaura Kisora Dasa Babaji for initiation. Determined to follow his father's instructions, Bimala approaches the Babaji with deep humility. But the great saint feels unqualified and is determined not to accept disciples. Even so, the Babaji eventually accepts Bimala Prasad as his only disciple.
The Gandhian
As the story of Abhay's life unfolds, his studies take him to the prestigious Scottish Churches' College in Calcutta. While there, he is attracted by the message of the charismatic Subhash Chandra Bose, a spirited nationalist, who is rallying students to oppose British domination. Abhay and his friends attend Bose's secret meetings. But when Bose and his followers advocate violence, Abhay refuses to join them and insists he will fight the British in his own way when the time is right. Abhay feels that Gandhi's call to boycott everything British is a better way to protest. Therefore, even though he passes his examinations, he refuses to accept his diploma.
Abhay's life as a householder becomes a central theme after Gour Mohan arranges for his betrothal and marriage. We see wonderful scenes of their traditional Indian wedding.
Meeting His Guru
As a husband supporting his family, Abhay becomes the manager of Dr. Bose's laboratory in Calcutta. The doctor's pharmaceutical business flourishes under Abhay's capable management. One day Abhay's friend Naren comes to the office to induce him to meet a sadhu. At first Abhay is reluctant, but eventually he gives in to his friend's persuasion. Together they go to meet Srila Bhaktisiddhanta Sarasvati, the saint who will become Abhay's spiritual master.
Abhay gives up his secure position in Dr. Bose's company and moves to Allahabad. We see how Abhay struggles to balance his pharmacy business, his family responsibilities, and his spiritual life. Many scenes show the development of his relationship with his spiritual master, including assisting his mission, the Gaudiya Math. In one moving sequence we see Srila Prabhupada's initiation in 1933, when he received the name Abhay Caranaravinda Dasa.
In portraying the rest of Prabhupada's life in India, the screen-play focuses on his writing and printing. We see his determination to overcome obstacles to write, print, and distribute Back to Godhead magazine. We also see how he was able to translate and print the early volumes of Srimad-Bhagavatam, despite having to work alone. The story tells of Srila Prabhupada's relationship with Sumati Morar-jee and how with her help he was able to go to America aboard the Jaladuta.
Preaching in the West
The series moves on to Prabhupada's early years in America, including his stay in Butler, Pennsylvania, with Sally and Gopal Agarwal, and his move to New York, staying at first with Dr. Mishra and then starting out on his own. As the story develops, there are scenes of his stay in the Bowery loft and later at 26 Second Avenue. Gradually his early disciples gather around him and become initiated. There are also scenes of the early chanting in Tompkins Square Park, evening lectures at 26 Second Avenue, and the beginning of the Sunday feast program.
The serial also shows how Srila Prabhupada went to San Francisco and how the temple there was started. There are also scenes of the appearance of Lord Jagannatha, the first Rathayatra, and the Prabhupada's appearance at the Mantra Rock Dance.
The Filming Continues
Recently Bhakti Caru Swami took his team to Europe to shoot scenes of the development of Srila Prabhupada's mission there. He will return to America to shoot material showing the spread of Krsna consciousness throughout America.
Syamananda Krsna Dasa joined ISKCON in England in 1987. In 1992 he moved to Mayapur, India, where he served in the boys school until 1996. He was a member of Bhakti Caru Swami's Abhay Charan production team from its early days until late 1998.
The Story on Video Cassette
THE SERIAL HAS BEEN edited for distribution as video cassettes. Each contains the equivalent of four television episodes, about ninety minutes. The serial was originally broadcast in Hindi, but the video cassettes are now available in English, Hindi, and Tamil. Subtitled versions are available in German, French, and Italian.
Nine video cassettes have been re-leased, covering Prabhupada's life in India. The complete serial will comprise more than twenty cassettes.
To order the English or Hindi version, see The Hare Krsna Bazaar, http://www.krishna.com.