Balinese Youth Get Together to Have a Unique Gita-experience
Bali, Indonesia: On the December 21-22, 2013, fortyfive youth from all over Bali gathered for the Nava Yauvana Sanga 2013. The twenty committee members, also consisting of unmarried youth from the ages of 15- 30, wanted to have this camp to encourage friendship amongst the seven temple-communities all over the island.
Bhagavad-gitas distributed in Jail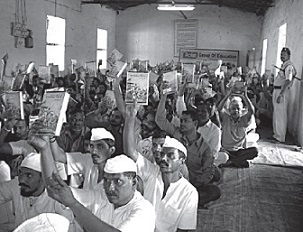 Mumbai: On December 28, devotees from ISKCON Juhu drove to the Kalyam Prison northeast of Mumbai, where they spoke to almost two hundred inmates. These men were receptive to the chanting of Hare Krishna and responded in Kirtana . The devotees presented each prisoner with either a Marathi or Hindi edition of the Gita .
"Exploring the Bhagavad-gita" Wins Indic Studies Award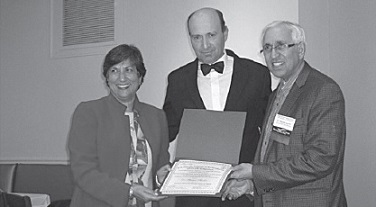 Exploring the Bhagavad-gita: Philosophy, Structure and Meaning, a book by ISKCON Academy of Arts and Sciences member Dr. Ithamar Theodor, has received its second prestigious award. His book offers a new translation and in-depth academic commentary on the Bhagavad-Gita . But Theodor's unique contribution is his articulation of the Gita 's structure, thus highlighting the ancient wisdom text's relevance in contemporary philosophy.
USA's First Certified Slaughter-free Dairy Opens at Gita Nagari
Gita Nagari, a 350-acre farm, was purchased in 1975 by ISKCON New York, following Srila Prabhupada's instruction that every city temple should have an affiliated farm project: "Every center must have a farm so we can get all milk and if possible vegetable, even fruit [and] flowers," he wrote to Rupanuga in 1976. Gita Nagari's attempt, with the new Gita Nagari Creamery, is the first certified slaughter-free dairy in the USA. The Creamery is Grade B (raw milk) certified by the Pennsylvania Department of Agriculture. This means that it is legally allowed to distribute raw milk for public consumption within the state of Pennsylvania.
Showers Of mercy In Malaysia
Kuala Lumpur, Malaysia: Sri Jagannatha Mandir celebrated its annual Ratha-yatra festival at Brickfields (Indian enclave), Kuala Lumpur on Saturday, 4 January 2013.
US Congresswoman Extols the Value of Bhagavad-Gita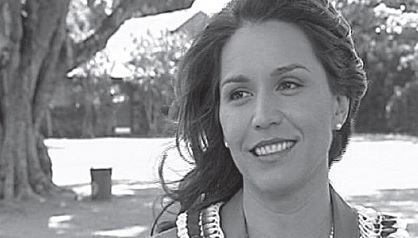 US Congresswoman Tulsi Gabbard is the first Hindu Congresswoman in American history. She is also a Vaishnava, or devotee of Lord Krishna, and she took her oath of office with the Bhagavad-gita. In her message to celebrants of Gita Jayanti in Kurukshetra, India, on December 15, 2013, she explains the importance of the Bhagavad-Gita in her life. She also highlights the value of Lord Krishna's message in overcoming the challenges that face modern society, and especially for those seeking knowledge of God and the soul.
10,000 to Participate in Navadvépa Parikrama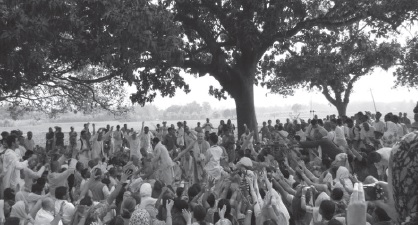 Ten thousand devotees, from all over the world, are expected to attend the special 25th anniversary Silver Jubilee Navadipa-mandal-parikrama from March 5th to 11th this spring. It was first introduced to ISKCON devotees by the society's founder Srila Prabhupada in 1972.
A New Faith is Born in Malawi
Local residents of Malawi, who claim to be neither Christians, Muslims or Hindus, seem to be adopting a new faith. They too believe in God whom they call Krishna and congregate under the banner of the International Society for Krishna Consciousness. Every Sunday, the devotees assemble at the temple on Chilomoni Ring Road at 10:30 am on Sundays