Hare Krishnas Feed Thousands in Quake Ravaged Nepal
Kathmandu, Nepal: In the aftermath of the earthquake in Nepal, Hare Krishna Food for Life, a program run by ISKCON, has setup relief camps in the capital city of Kathmandu and Bhaktapur to help those affected by the natural disaster. A minirelief camp is also being setup in the town of Panauti, 31 km south-east of Kathmandu.
With the help of 350 Food for Life volunteers, the FFL team is daily serving five thousand people in Kathmandu and seven thousand people Bhaktapur with fresh nutritious meals. Over the next few days, the number of meals being served went up to twelve thousand to twenty four thousand per day.
Hare Krishna Food for Life is the world largest vegetarian food relief program. Inaugurated in 1974, the program is today is active in over 60 countries and has been actively involved in relief programs during major natural disasters and conflicts.
Famous Indian Yoga Teacher Swami Baba Ramdev Visits ISKCON Melbourne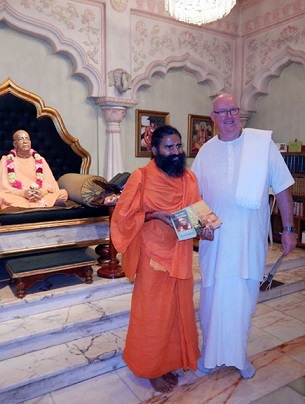 Melbourne, Australia: ISKCON's Melbourne Mahaprabhu Mandir was honored to welcome Swami Baba Ramdev, the famous yoga teacher from India. ISKCON Communications director for Australia, Bhakta dasa, comments: "My impression of Swami Ramdev is that he is a very humble and sincere personality. I discussed some of our Melbourne development projects with him including the new kitchen and our interests to establish a Vedic School in the Western Suburbs in the near future. Swami Ramdev showed interest in supporting such a school that teaches the various aspects of yoga to its students."
Government Accredited Mayapur School Continues Expansion
After being officially affiliated with the Central Board of Secondary Education (CBSE) in Delhi in July 2014, the Bhaktivedanta National School at ISKCON's headquarters in Mayapur, West Bengal, continues to expand its operations. The Mayapur school is constructing a new floor with four additional classrooms and four staff rooms, and will be introducing a biometric attendance system soon.
It also plans to set up the Digital Smart Class Room in fourteen classrooms by the end of this month. With a projector and interactive white board, this system enables teachers to use digital educational resources such as animation, videos, diagrams and 3D graphics.
Holi D.C. — Not Just Another Color Festival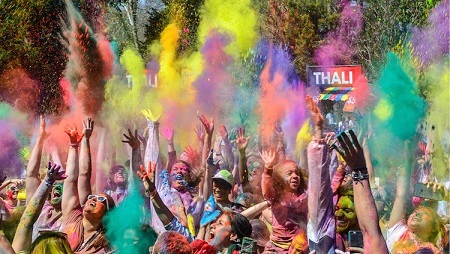 Washington, DC: Holi D.C., beginning with its conspicuous moniker – it purposely retains the festival's original spiritual name rather than calling itself "Festival of Colors" — is decidedly unique. "We don't want to water down the spirituality behind the festival," says media coordinator Christy Freer. ISKCON of D.C.'s first Holi event, held in 2010, attracted just a few hundred people. This year, the festival was stretched out over two days, April 11 and 12, and drew about 8,000 people from throughout the Washington Metro area.
ISKCON Studies Institute Conference Radhadesh, Belgium:
The ISKCON Studies Institute held its conference at Radhadesh, Belgium, from May 22-24, 2015. The Conference featured an outstanding array of academic scholars from around the world. This year's conference theme was Devotional Ethics, Community, and Practice in Caitanya Vaisnavism.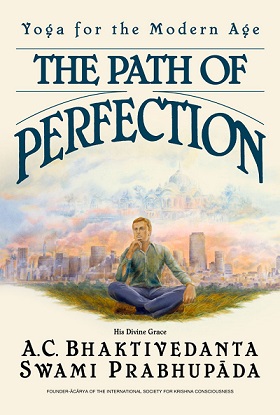 Another New Ebook Launched
The Path of Perfection by His Divine Grace A.C. Bhaktivedanta Swami Prabhupada is now available in all flavors at bbtmedia.com.
In February 1969 Srila Prabhupada gave a series of lectures on the yoga system as it is discussed in the sixth and eighth chapters of the Bhagavad-gita. The Path of Perfection is a collection of these talks.
ISKCON's Golden Jubilee Celebrations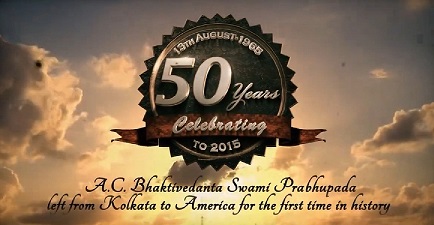 On August 13, 2015 ISKCON Kolkata will kickstart the yearlong celebration of Jaladuta-yatra and Golden Jubilee celebration of ISKCON. On that occasion from seven different continents of the world will present a 21-25 minutes chanting of Hare Krishna maha-mantra. While they will be singing, their respective continent map and country map will be displayed on the big LED Screen's.