Surrounded by rolling contours and sheltered by high mountains
and tree-covered hills, the Aravade Temple with its lush rural
beauty sets a new benchmark for festival openings.
The official opening of the temple in Aravade propelled the usually quiet bucolic village into a buzzing, spiritual wonderland, with thousands of devotees from all over the world descending to engage in the festival, unarguably a first for this pastoral land. A fairly correct estimate would suggest the presence of about 6,500 registered devotees and 100,000 pilgrims and well-wishers during the period 5-8 February 2009.
A Peep in to the History
Aravade is a remote village, in the district of Sangli, which is about 450 km east of Mumbai, with a population of around four thousand. Sangli enjoys a central and strategic location in Southern Maharashtra and is linked to most parts of Maharashtra by road and railways. In ancient times, the region around Sangli was known as Kundal. This was the capital of the dynasty of Chalukyas, which ruled India. In the pre-independence period, Sangli was a princely state ruled by the royal family of the Patwardhans. The city of Sangli is a modern city with wide roads, major railway junctions, and all the modern facilities of any modern city.
Just thirty-five km away north-east of Sangli is a small beautiful village is the birthplace of a very prominent personality, the Padayatra Minister of ISKCON and Sannyasi spiritual master, His Holiness Lokanatha Swami Maharaja. Although born in a simple farmer family, he was brilliant in his studies from the outset, and after school, he joined a Kirthi college in Mumbai. While studying in Mumbai, he met ISKCON's founder Srila Prabhupada in a pandal program at Cross Maidan and decided to join the movement. Soon he received the sannyasa order.
Maharaja recalls the growth: "Although it may appear that my joining ISKCON disrupted my family's life and caused a disturbance in my small village, these negative effects were only temporary. In the years since I joined ISKCON, I and many other devotees have often visited Aravade and taught the principles of Krishna consciousness, and now my family and my whole village embrace ISKCON as a genuine religious movement. There are seven full-time devotees from there, my sister had enrolled her son into the ISKCON gurukula school in Vrindavana…All in all, my whole village loves the Hare Krishna movement, and there is no disruption of any kind." (from a BTG article, 1983)
Srila Prabhupada instructed Lokanatha Swami to preach in villages and begin padyatra. Lokanatha Swami Maharaja took this instruction to heart and immediately started the bullock cart sankirtana party. Upon hearing the strong preaching report of Maharaja, Srila Prabhupada became extremely pleased and wrote to him: "I am very glad that you are preaching village to village and will cover all of Maharashtra. You should train the one farmer from your native village so that he can actually become an ISKCON representative there." (Letter 30 July 1977)
Maharaja then started the annual Hare Krishna festival in 1976 at Aravade. The festival gradually turned into a successful mass preaching program and over the years its popularity increased considerably. This festival is celebrated every year for the last 33 years and in recent years more than 20,000 people had been attending it. "The one farmer from your native village" Srila Prabhupada referred to his letter was eventually initiated as Bhagavata Dasa by Lokanatha Swami Maharaja . He is now 85 yrs old, still based in Aravade where he hears, chants and associates with devotees.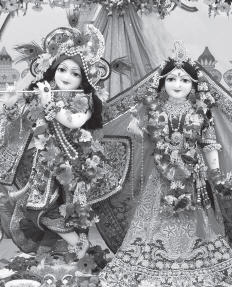 In mid 1990's Maharaja started conceiving the plan for a new temple in Aravade. The main purpose was to attract more and more villagers in and around Aravade. A more important focus for Maharaja was that the temple should serve as a place of recreation as well as spiritual education that will attract children and youth and subsequently their families. Finally ISKCON purchased as well as donated 5.5 acres of land and on the auspicious occasion of Nityananda Trayodasi, 2006, the corner stone was laid for the project.
Dharmaraja Dasa, the temple president shared his challenges on developing a temple complex in a remote village like Aravade. "The scarcity of funds, manpower, skilled laborers, availability of building materials, and proper infrastructure like water and electricity supply made things much more crucial and challenging compared to constructing in a big city. But we pushed on." Premanand Dasa, the Co-President of ISKCON Aravade, in spite of his ill health and advance age he worked very hard to collect major portion of funds required for completion of the temple construction.
Three years later their hard work bore fruit and an awe-inspiring temple was ready a meteoric development from the few brick and mud rooms and small temple hall used since March 1996. Dates for a four days festival was determined to welcome Their Lordships Sri Sri Radha-Gopal into Their new home.
The Festival: Logistical Planning
In preparation for the festival, Sahasranama Dasa and Sravana Bhakti Dasa cleared 9 acres of ground to accommodate the festivals' structural requirements. Parts of the sugarcane field had to be cleared, roads restructured, the ground levelled, watered down, and then rolled to prepare for the several pandals. These included gift shops, a BBT booth, reception area, residence for devotees (5 acres) and about 2 acres for the main pandal which was the venue for the main programme. About 9 kilometers of cloth was used to decorate the pandals this is about the distance that separates Aravade from the next town of Tasgaon. Two lakh forty thousand sq. feet of area was covered by pandals.
The festivities
A brief glimpse of the festival follows:
5 February. Late afternoon: Small Radha-Gopal Deities were carried on an elaborately decorated palanquin along with Gaura Nitai from the existing temple, where They had been housed for several years, to Their new residence with devotees in enraptured dance and song. This marked the official opening of the festival.
6 February: Festival started with the first darsan and opening of the eyes of the Deities Sri Sri Radha-Gopal. The Deities were offered 24 auspicious articles.
In the evening another grand procession was held. It was no surprise witnessing a trumpeting elephant steadily lead the procession through the streets of the village. Frisky white horses danced and reared on hind legs, gently spreading out the rangoli mandalas on the warm, dusty road. Obedient bulls stood in graceful bows, their bold eyes locked onto the road ahead; their long steady horns adorned with brightly colored vermillion, and their white necks and backs tasseled with bells and quilted drapes. The presence of these stately animals created a grand atmosphere amid the lively harinama. Clearly these animals form the crest jewels of this community.
The street was lined with dancing girls, dressed in shimmering outfits alongside serious Maharastian boys dressed in white with traditional headgear. A cluster of village elders and senior Vaisnavas unveiled the granite memorial marking Bhaktivedanta Swami Marg, the new name for the road before the temple.
The streets were turned into a scintillating patchwork of art as arenas of brilliant color and intricate rangoli mandalas designed the roads to receive the procession. ISKCON's very own padayatra wagon, most familiar to Lokanatha Swami Maharaja, carried Sri Sri Radha-Gopal Utsav Murti. The Gaur-Nitai and Srila Prabhupada murties formed part of this august procession.
Spiritual masters walked at a steady pace, stopping momentarily, as village ladies rushed out from their homes to wave lamps around them, a gesture of their heartfelt welcome greetings and deep respect for the traveling motley of sannyasis. At one point during the procession devotees got a unique opportunity to receive darsan of the actual birthplace of Lokanatha Swami Maharaja, where he reminisced on his childhood and family pastimes.
His Holiness Radhanath Swami remarked, "Because of so much pure devotional service and dedication to Srila Prabhupada, Lokanatha Swami has forced us all out of love to come to the place of his birth."
7 February. Nityananda Trayodasi, morning: Srila Prabhupada's abhisheka by all his disciples was an inspiring event. When Hari Sauri Dasa, a personal servant of Srila Prabhupada, massaged Prabhupada's murti it was as if history was being repeated. During his tenure as Srila Prabhupada's personal servant, he had rendered this service daily.
About 7,000 devotees, who witnessed the abhisheka of the Deities Sri Sri Radha-Gopal later in the day, were mesmerized by the elaborate proceedings on stage and stirred by inspirational singing of Vaiyasaki Dasa. Sri Sri Radha-Gopal were bathed with fruit juices, milk, yogurt, ghee, honey and auspicious herbs. The congregation roared in utter delight as more than 200 kilos of fragrant flower petals gently descended on Their Lordships.
8 February: Vitthala-Rukmini and Rama, Sita, Lakshmana, Hanuman, Deities were welcomed with abhisheka.
The final day was a celebration of the opening and an enraptured crowd swayed to the music of talented singer Sachidevi mataji and were entertained by dazzling dance and dramatic performances by local and international artists.
Many political Leaders and VIPs attended the festival including Dr.Patangrao Kadam, Revenue Minister of Maharashtra; Mr. R.R.Patil, Ex-Home Minister of Maharashtra; Mr.Dilip Valse-Patil, Finance Minister of Maharashtra, Mr.Vijaysingh Mohite Patil Rural Development Minister, MLA Mr.Sanjay Patil and Local leader Mr. Yuvraj Patil and many others.
All Sangli and some Kolhapur newspapers gave wide coverage of this festival, some with front page color pictures of the three day event.
Lokanatha Swami Maharaja was tireless in his welcoming of domestic and international guests to a spiritual world created in this farming wilderness.
The temple: Structure and Design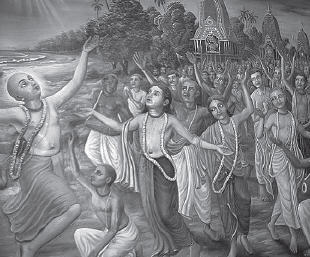 Undoubtedly, the festivities could be likened to a microcosm of blissful wonder with a temple design that leaves you awestruck at every turn. The creation of Govardhan Hill is a pleasant insertion with carefully selected trees and shrubs. The cave in which Krishna stood is and the kunda are replicated with care. The Vrindavana Garden, which hosts the Govardhan Hill, has many beautiful varieties of flowering plants. It is already serving as a place of practical study for the students of Horticulture College of Sangli, who come to the temple and study the various species of plants. There is a delightful park adjoining the Vrindavana garden with swings and slides for the children.
About 200 meters in front from the absorbing temple decor is a captivating museum called Krishna Tattva Darshana, which represents the pastimes of Krishna and selected scenes from Srimad-Bhagavatam ready to enthrall the visitor. You walk through a stunning maze of life size figures and the decor and intricate lighting makes them frighteningly real! Created by Atmanivedana Dasa, a disciple of Lokanatha Swami and a graduate in Fine Arts from the prestigious J.J. School of Arts, Mumbai, this magical maze is sure to dazzle both the old and the young. School children from several districts have already started visiting these unique dioramas.
The temple stands on 84 pillars. The idea behind this is that any one who circumambulates Their Lordships Sri Sri Radha-Gopal in this temple will be free from the cycle of transmigration on 84 lakh species. The temple hall with a capacity of 500 is covered with ferro cement domes and the sikhara above the sanctuary is 45 metres in height. The beautiful fountain is directly located in front of Sri Sri Radha-Gopal temple. The long pathway to the temple is adorned with well trimmed turf and attractive shrubs. Closer to the entrance beautiful water ponds have been constructed in which floats the beautiful diorams of Sri Rama, Sita, Lakshmana and Kewat on one side and that of Gajendra moksa on the other. The parikrama path of the temple has fibre glass relief work of Krishna Lila and Caitanya Lila. The main Deities are Sri Sri Radha-Gopal. Altars of Sri Sita, Rama, Lakshmana, and Hanumana and Sri Sri Vitthala-Rukmini are located on parikrama path.
In the future a Gopal's restaurant, guest house and residential colony for grhastha devotees, and a bigger goshala are envisaged.
The IMPACT
Villagers love the temple and especially on Ekadashi it is as if the entire village gathers around Sri Sri Radha-Gopal. Students from the schools in Aravade come for darsan at least once a day. The school managers are also very favorable and allow preaching programs in schools. The daily prayers in schools include Hare Krishna maha-mantra and recitation of the Bhagavad-gita slokas. All the major political leaders are very favorable and have offered unstinting support for the project. Villagers are very affectionate to Lokanatha Swami Maharaja because most of them have actually seen him play on the farms of Aravade as a child and some of them were his classmates and playmates. The same affection is felt by all the Hare Krishna devotees who reside or visit Aravade and a warm sense of community is created through these cherished relationships.
Lokanatha Swami Maharaja was the moving force behind the entire project from personally envisioning all the features of the temple complex and planning the fund collection, to overseeing the development to the final stage he took care of the minutest of details.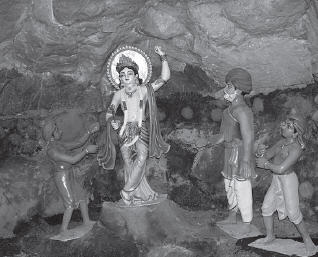 Driven by the instructions of Srila Prabhupada and his enduring enthusiasm for the rustic village life, Lokanatha Swami has finally and brilliantly pulled together a temple design which is set to have a multiple spiritual impact on the Aravade community as well as the surrounding villages. A visit awaits all of you. Then, perhaps, a sudden flight of the imagination would certainly have you believe that this must be Vaikuntha, where everyday is a festival…
Radha Prema Devi Dasi is a disciple of His Holiness Lokanatha Swami Maharaja. She is professor in English in University of KwaZulu Natal, South Africa.
With inputs from Yasoda Dulala Dasa, Gayatri Gaitonde, Dharmaraja Dasa, Temple President Aravade, and Atmanivedana Dasa, Director Krishna Tattva Darshan.