In the spirit of Prabhupada's young disciples in the '70s, a new generation hits the roads of America with Krsna's names and message.
"Life is a daring adventure or nothing at all." Helen Keller
Those words could be our motto as we zoom down a deserted Arizona highway at 2:45 A.M. aboard Garuda II, our big yellow Hare Krishna Youth Ministry tour bus. We've just completed the first of two months of our Festival of India tour across America and are on a mission to reach Los Angeles before sunrise. Janaka asi's at the wheel. Jaya, Citra, and Daksina are keeping him awake by rehearsing lines for our play at the upcoming Venice Beach Rathayatra.
"Isn't this, like, totally surreal?" Daksina interjects. "Just a few hours ago we were eating watermelon at the edge of the Grand Canyon, and now we're in the middle of the Arizona desert. By sunrise we'll be in Los Angeles, setting up another Rathayatra. And we still have San Diego, Laguna Beach, Kings Canyon and Sequoia National Parks, San Francisco, Van-couver, and Denver to go!"
"I know," Citra adds. "I've lived in North Carolina all my life and have never done anything like this before. This is just awesome!"
Tucked away on bunk beds behind the driver's cabin, the rest of our crew forty-one devotee youth and their chaperones are all sound asleep. When we reach LA, they'll rise to the occasion, as they have five times this summer, to help set up the festival, perform "The Advent of Lord Jagannatha," sing and dance to kirtanas on stage, and serve the free feast to thousands of people. And at the end of the festival, we'll take down the tents and exhibits, load them into the Festival of India trailer, and drive through the night to our next destination. Nine Rathayatras, dozens of temples across the USA and Canada, camping, hiking and swimming at national parks, exuberant kirtanas, whitewater rafting the summer adventure of a lifetime.
"We just crossed into California. That's 8,628 miles for the fuel log," Janaka asi reminds the night-shift volunteers. "I think I'll pull over at the welcome center and let Dravinaksa drive for a bit. We're carrying the most precious cargo in the universe."
Transcendental Road Show: Then and Now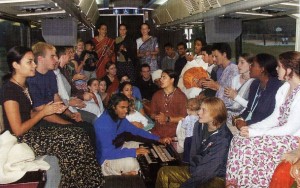 The year is 1973. Visnujana Swami, Tamal Krsna Goswami, and several other disciples of Srila Prabhupada, all in their late teens and early twenties, take an old Greyhound bus and put on festivals in city parks across North America.
Since June of 1973, we have taken the Supreme Lord Himself (in His Deity form called Radha-Damodara) all over the United States. Along with ten other devotees, we bring the Lord to colleges, fairs, any large festive gathering. There we set up tents and spread Krsna consciousness by chanting Hare Krsna, accompanied by ancient instruments, distributing prasada, preaching individually to interested people, and distributing books by our spiritual master.
Visnujana Swami, BTG Issue #67.
Today, thirty years later, we have come full circle. The next generation of Hare Krsna youth are taking to the road with a renewed spirit of adventure, to spread Sri Krsna's message all over North America.
Dravinaksa Dasa was a bus driver for the original Radha-Damodara Traveling Sankirtana Party. Today, he relives his teenage years, driving our modern MCI 102-DL3 Greyhound "Garuda II." He recalls: "We would buy these old GMC buses for cheap. They must have been twenty years old even back then they looked like buses from the 1950s. And we'd drive them into the ground, until the engine stopped running. We didn't have the money to rebuild transmissions in those days. This bus is a blessing in comparison. When people see this bus clean, bright, shiny yellow, with 'Hare Krishna Youth Ministry' written on the sides they go, 'Wow! Cool! I'm so glad to see that you Hare Krsnas have such a nice program for your youth.' That's what one gas station attendant told me."
Another one of our bus drivers, Jaya Dasa, was talking with a friend about the trip: "We pulled into a small town in the middle of nowhere, in upstate New York. There was a raging kirtana going on inside the bus. We stopped at this small supermarket to shop for lunch. As everyone got off the bus, you should have seen this place! Within minutes, a dozen local youth were gathered around us, asking us who we were, where we were headed, and if they could come and join us. They were totally mesmerized."
After a full day of whitewater rafting on the Thompson River near ISKCON's Saranagati community in Canada, Shane, our Native American rafting guide, had to ask, "Where do you guys come from? I've never met so many bright and happy young people in one place before. You even smell good. Hare Krsnas, eh? You guys are amazing!"
"Now there's a name I haven't heard in years: Hare Krsna," a ranger commented as she gave us a huge smile and a large discount on the park entrance fees. "Enjoy your stay at Kings Canyon and Sequoia National Parks."
Temple on Wheels
In many ways our big yellow bus, affectionately called ISKCON Garuda, is like a temple on wheels. For two months, the bus tour participants are members of this youth temple, associating with other devotee youth during morning and evening kirtanaprograms for our traveling deities and having discussions with Swamis and older devotees who join us for a few days on the tour. We visit temples, put on festivals, and stop for inspiration at places of pilgrimage. The experience is ever fresh, and there's something unexpected around every turn, with every new day.
The day before the Toronto Rathayatra, we caught up with Bhakti Marga Swami on his second walk across Canada. We walked with him for a few hours through magnificent Elora Gorge, two hours west of Toronto. At one point we all sat down in a circle at a bluff overhanging the river gorge below and listened intently as he told of his many adventures along the cross-Canada walk. Hearing of the many pairs of shoes he had worn out, and the austerities he had to endure from traffic, heat, cold, insects, rain, and snow, made any inconveniences we had to undergo on our bus tour seem trivial.
At the Fourth of July Rathayatra in Washington, D.C., we set a new record for the fastest take-down of the Festival of India. In only one hour and twenty minutes our boys and girls disassembled the exhibits and tents, rolled everything up, and tucked it all away in the Festival of India trailer.
In New York City, we went on a sight-seeing tour to 26 Second Ave., the "Matchless Gifts" storefront temple in lower Manhattan where Srila Prabhupada began the Hare Krsna movement in the West over thirty-seven years ago. Jayadvaita Swami, who had joined ISKCON here, served as our tour guide, giving us background information about the neighborhood and what it was like in the mid-sixties.
We walked to Tompkins Square Park, hugged the tree Srila Prabhupada had sat under, chanted, and honored prasadam. Then we took the subway to Ground Zero, the site of the World Trade Center bombings, and were reminded of how death can come at any moment. Just being there brought tears to our eyes.
In Boston we visited Commonwealth Pier #5, where Srila Prabhupada landed in the U.S.A. in 1965, aboard the steamship Jaladuta. Here again, Jayadvaita Swami brought the place to life with vivid descriptions of what it was like when Srila Prabhupada was there.
Later, we performed our play to an intimate audience in the small Boston temple.
"I was very moved by the play," Radhanatha Swami related, "practically crying. The youth acted with such devotion. In India, actors performing spiritual plays are respected and worshiped because they represent demigods and deities. It is said that when the actors are sincere, the saintly personalities depicted actually manifest during the performance."
His words inspired the youth to continue performing the play at all of the eighteen temples and Rathayatras we visited.
Kirtana Bliss
On Sunday after Chicago Rathayatra, someone informed us of a large festival downtown. So after an uneventful morning at a cold lakefront beach, we decided to have some fun; we changed into devotional clothes, grabbed our instruments, and headed for a Chicago train bound for the "Taste of Chicago" festival.
We were chanting on the platform when the train arrived, so we all piled into one car together and continued, completely entranced and practically oblivious of the world around us. At every station, more and more people piled onto the train, and we watched their stunned expressions as they left mundane Chicago behind and entered a spiritual realm of blissful, sweet, melodious kirtana led by dozens of bright, young, exotically dressed boys and girls. Some passengers just assumed we were part of a performing arts troupe headed for the "Taste of Chicago" festival.
At the entrance of the festival, we found a small park with an open lawn, the perfect spot for chanting. Tens of thousands of people streamed in and out of the entrance gates. We chanted. We danced in circles. We had fun. We drew some stares and a lot of attention. A group of Irish tourists stood at the edge of our circle and watched us for about ten minutes. When we stopped the kirtana to change leaders, they came over and introduced themselves. They wondered if our circle dance was in any way related to some of their Irish folk dances. They gave us a demonstration of their Irish jigs, and asked if we would mind if they joined in the fun.
Montreal, Canada. Friday night before Rathayatra we boarded our bus and drove into downtown Montreal. There were people everywhere, walking about from one club to the other, or sitting at sidewalk cafes and restaurants. We danced with abandon as slightly inebriated Montrealers danced and cheered us on. We handed out hundreds of invitations to the festival. As we drove back to the temple, we were high on the holy names, shouting out of the windows at passers-by in broken French "Bonjour! Au revoir! Merci!" over the top of a raging kirtana.
Seeing the kids totally happy chanting the holy names is what we live for on the bus tour. When they realize that they can have a great time engaging in Krsna conscious activities, that chanting on the streets of a big city can be a lot of fun, that putting on devotional festivals such as Rathayatra is cool, and that people are curious and appreciate the Vaisnava arts and culture those realizations are precious and irreplaceable.
Kansas City, 7:15 A.M. On the second to last day of our tour, we pull into one of hundreds of Flying-J truck stops along the highway. The scene is familiar. We've slept all night on the bus while traveling and are eager to refresh ourselves. Forty sleepy-faced youth in their pajamas exit the bus looking for a bathroom. Balarama stumbles along in his sarong.
The gas station attendant asks him innocently, "Are you people Hare Krsnas?"
Next thing he knows, Balarama is absorbed in a lively half-hour discussion about the meaning of life. He equips the curious attendant with a copy of Srila Prabhupada's Chant And Be Happy and a phone number to the nearest temple.
Everywhere we hold our sacred Krsna conscious festivals, people become convinced of the Krsna conscious way of life. They become inspired to join us in this divine mission of traveling and preaching, and so in only a few months we have started the same program with a second bus. And soon, by Krsna's desire, we hope to see hundreds of buses bringing these blissful festivals to every town and village.
Visnujana Swami, BTG #67, 1974
Manu Dasa and Jaya Radhe Devi Dasi, husband and wife, grew up in the Hare Krsna movement and are part of the ISKCON community in Alachua, Florida. They have organized youth programs and festival tours with ISKCON Youth Ministry since 1994. Manu is the graphic designer for Krishna.com, and Jaya Radhe teaches third and fourth grades at the Alachua Learning Center elementary school.
View more stories and testimonials about the bus tours, hundreds of color photos, and bus tour video clips at www.krishna.com/bustour.
"The whole point of the tour was to present a way of having fun that is literally "out of this world." There is nothing like having fun in Krsna consciousness with our devotee family. So many of us realized this as we were spiritually recharged during each Rathayatra, each Bhagavatam discussion, each rockin' kirtana.
"About halfway through the tour, one girl told me that she had done many things in life that she had thought would make her happy. "Sure," she said, "I thought I was happy for a little bit, but there was always misery after that." Then she told me that, for the first time, she was happy doing devotional service on the bus tour, without any misery or regrets afterwards. She said she had never been so happy in her life. Although I had heard many times before how one is truly happy in Krsna consciousness, I really stopped to think about it after my talk with that girl. I came to the conclusion that it was indeed true, because I was experiencing the same happiness."
Saranagati Devi Dasi, age 18
"The bus tour was more wonderful than I could have ever dreamt possible. I got so much inspiration from being more Krsna conscious, realizing it is not something I have to do but want to do. My parents have always been prodding me to be more Krsna conscious. So in my rebellion, I felt for so long that I couldn't be as Krsna conscious as I would like, because my parents would be thinking they'd won. I don't like to think my relationship to Krsna should be something for them to win. Nevertheless, I came to realize I can do it the way I like. I don't quite know when or where this thought came to me on the tour, but it is there, and I say thank you!
"I could fill a whole page with one thank you after the other, and it would be a more accurate picture of how truly thankful I am that somehow the universe intervened and sent me from Sweden over the Atlantic and into the presence of so many people that I now share a bond with, and that I hope will last a lifetime."
Niscaitanya Devi Dasi, age 25
"One of the most amazing experiences for me as an organizer of the tour is to see the spark of Krsna conscious enthusiasm catch and light up the faces of young people who at the beginning of the tour may have shown little interest in devotional activities. At one point on the tour, during another soul-stirring kirtana, one boy finally decided to pick up a drum, started playing like I didn't know he could play, started chanting like I didn't know he had it in him, out of his own volition that's when tears welled up in my eyes and I told myself it's all worth the effort and austerity. It's for real. The process of bhakti-yoga, devotional service, works. I was reminded of a verse from the Caitanya-caritamrta (Madhya 22.107): "Pure love for Krsna is eternally established in the hearts of the living entities. . . . When the heart is purified by hearing and chanting, this love naturally awakens."
Manu Dasa, Tour Organizer
Be Part of the Tour
Last summer marked the ninth year of the Hare Krishna Youth Ministry's Festival of India bus tour. For the first eight years, the tour traveled in an old school bus that broke down on the road twenty-two times. Last summer, with the help of Madhuha Dasa, director of the Festival of India, and several donors, the Youth Ministry made a downpayment on Garuda II, a real cross-country tour bus. By the summer of 2004 they would like to have paid for this bus and take a second bus on the road. And the year after that, four buses.
To join the tour as a bus driver, pujari, book distributor, chaperone, sponsor, location scout, cook, helper, or youth participant, contact the authors at ISKCON Youth Ministry, P. O. Box 283, Alachua, FL 32616, USA. Phone: (386) 418-3839.
E-mail: youth@krishna.com.