Here Lord Krsna is worshiped for an act that would taint the reputation of others
but serves only to increase His fame and His devotees' love for Him.
DAKOR IS FAMOUS throughout Gujarat, India, for a deity of Lord Krsna named Ranchor Raya. Ranchor (rana-cora) means "one who flees from battle" or, more simply, "deserter," and raya (from raja) designates a king or a respected person. Krsna gained fame as Ranchor Raya when He fled a battle, apparently out of fear. Actually, He wanted to prevent needless killing and attend to His pastime of kidnapping Rukmini, His first wife. Krsna's fleeing the battle is especially glorified by devotees in Gujarat because it marked Krsna's taking up residence in Dwarka (Dvaraka), in Gujarat.
Nowadays the deity Ranchor Raya makes Dakor almost as much esteemed in Gujarat as the nationally famous Dwarka, Lord Krsna's capital city. But Dakor is visited mostly by Gujaratis, as evidenced by the signs: all in Gujarati. (The signs in Dwarka or other nationally famous holy places are in Hindi and English as well as regional scripts.)
We drove to Dakor in early January through countrysides rich with banana trees, castor plants, and cotton. Our trip had an auspicious beginning: As we left our ISKCON center in Vallabh Vidyanagar, Gujarat, a gentleman coming from Dakor arrived and gave us the prasadam of Ranchor Raya.
Gujaratis visiting and living in Dakor warmly welcomed us, because all over Gujarat people recognize ISKCON devotees. Our group included two devotees from the former Yugoslavia, one from Poland, an American, a Gujarati, and me, a Britisher. Happy to see Western devotees, many pilgrims bowed and touched our feet or joined their palms in respect. Many just greeted us with "Hare Krsna."
Pilgrims From The Villages
In Dakor we couldn't park closer than half a kilometer from the temple because of the heavy traffic. Tourist buses were coming and going, filled with people singing bhajanas, devotional songs.
It was Purnima, the full-moon day, which every month attracts about a hundred thousand pilgrims seeking the blessings of Ranchor Raya. (Although Dakor is small population about 30,000 to handle the Purnima crowds it has one of the longest railway-station platforms in India.) Many people vow to visit Dakor every Purnima, but crowds are especially large on Kartika Purnima (in October/November) already a particularly auspicious day for Krsna's devotees because Ranchor Raya was installed in Dakor on that day. Many pilgrims arrive the evening before the full-moon night so they can attend
mangala-arati,
the first worship, at 6:30 the next morning.
During the months of Kartika and Caitra/Phalguna (approximately February through April) Ranchor Raya attracts many bhajana-mandalis village groups who walk to Dakor singing bhajanas. Bhajana-mandalis often include villagers whose forefathers for generations performed this monthly pilgrimage to Dakor. Some groups walk more than a hundred kilometers. Some village groups two hundred to four hundred people walk several days carrying a big decorated flag, often just a simple colored cloth with a silver border, inscribed "Jaya Sri Ranchor Raya!" ("All glories to the beautiful Ranchor Raya!") When the bhajana-mandalis arrive in Dakor, they have their flag installed on the temple spire as an offering to Ranchor Raya and as a sign of the completion of their pilgrimage.
We observed one such group of villagers exuberantly singing the names of the Lord while dancing, jumping, and spraying colored powders. Their clothes and bodies multicolored, they waited in the courtyard to give their flag to the priests. Then they entered the temple, and by the time they exited, their flag had been hoisted. They stood and looked up with great devotion to see their flag atop the temple. Flags from other village groups kept coming, one after another. When one flag went up, another came down. A flag is sometimes raised only a minute and then taken down. But that is enough; the pilgrims are satisfied that their offering has been made to Ranchor Raya.
We expected to interview a few people, but it turned out that many people practically interviewed us: "Where are you from? How do you like Ranchor Raya?" The first people we spoke with were several young men who own a tailoring shop in Ahmedabad, eighty kilometers away. They've been coming to Dakor on foot every Purnima for the last six years. Their journey takes them two days. They stay overnight, then take a bus back.
Stawa Bhagat came to Dakor from a place near Dwarka. He has come at least once a year for the last six years.
"I don't want anything," he said. "I'm not coming for any material reason. I just want to have the Lord's darsana [audience]."
I asked him how he feels here.
"I become so ecstatic with feelings for the Lord," he replied, "that no bad feelings can enter my heart, only good feelings."
Seeing The Lord
Above the entrances and elsewhere around the temple are closed-circuit TVs showing the deity, but the pilgrims are not much interested in them. They want to get in and see the deity as He is. Streams of people pour in the main gates, as others pour out the side gate. The front gates are barricaded to allow people to enter in shifts. The women use a separate entrance, and once inside they stand in front of the men, separated by a barrier. All the pilgrims see the deity and then go outside and circle the temple.
To have darsana of the Lord during arati is auspicious, but the aratis last only a few minutes, so there's a tremendous rush. The security forces inside blow whistles to control the crowd, but with no effect. Thousands of people push and shove their way around one another. No one seems to mind. The Lord's big eyes look kindly upon His devotees. Everyone is happy chanting the Lord's names and having His darsana.
People bring boxes of sweets, open them, hold them above their heads, and offer the sweets by waving their hands toward the Lord over the boxes. They will take the sweets home and give them to people in their villages. In front of the temple a shop sells tulasi leaves to place on sweets bought to be offered to Ranchor Raya.
Apart from Ranchor Raya, Dakor is also famous for go a, lo a, and pho a. Go a means a local variant of pakora (batter-dipped, deep-fried vegetable) made with coarse chickpea sour and fenugreek leaves and served with yogurt. Lo a means a drinking cup; many copper, steel, and aluminium lo as are available in Dakor. Pho a means a photo of the deity. These are the things people like to buy.
Groups Of Worshipers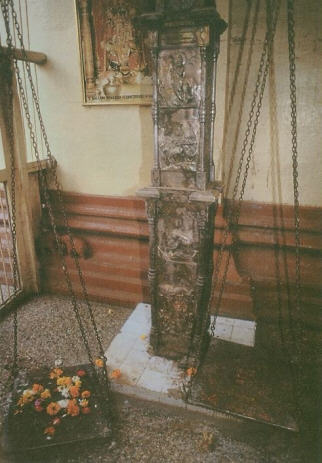 There are 227 brahmana families living in Dakor. They are extended families, so there's a large population of brahmanas. They don't belong to any particular lineage, but the families are divided into three groups: Tapodhanas, Kaowas, and Sri Gauras. The Tapodhanas were the original residents when Dakor was just a place in the jungle, but they were considered ineligible for temple services, so other kinds of brahmanas were called in.
As is common in temples where many brahmana families perform the worship, the brahmanas take turns serving the deity (for periods of some weeks) and have other occupations the rest of the time. Half of the temple's annual income is divided among the brahmana families. The temple receives money in its collection box, by selling prasadam, and by renting shops and residences in a large area around the temple.
The temple management puts the other half of its income into three trusts: the temple trust fund, the goshala (cow farm) trust fund, and the Thakurapura trust a donated village area of 1,820 acres. All the milk the cows produce is used in the temple kitchen. Although four hundred cows give milk, the huge quantity of food cooked daily (in ghee) for Ranchor Raya requires that the temple buy more ghee from another goshala, in Rajkot.
Many residents of Dakor visit the temple three times a day: at mangala-arati, at midday (which for many means closing their shops for a while), and in the evening.
After spending most of the morning experiencing the bustle of the temple on Purnima, we visited the home of Ashok Bhai, a local merchant our devotees have befriended. Then we met Guha Dasa, a local ISKCON devotee, who had invited us to his home for lunch.
We returned to the temple at 5:30 in the evening. Crowds were still around. A horse about to be used for a temple procession looked high-strung jumping, prancing. Within the temple compound is a scale for weighing yourself. A sign suggests you donate to the goshala the equivalent of your weight in gold, silver, rupees, rice, cloth, sugar, or anything else.
Ranchor Raya receives seven offerings of food daily, and the cooking goes on nonstop. We had hoped to go into the kitchen and take photos, but we were not allowed in. We could smell cumin seeds frying in ghee. The evening offering is called Chapan-bhog, which means "fifty-six items offered for the Lord's pleasure." We made an arrangement with a pujari (priest) to sample Chapan-bhog after it had been offered.
After 6:00 P.M., the Lord's clothes and ornaments are removed in public view and He's dressed for the night. Everyone watches. In the rush, we were shoved and pushed around not with malice, but with eagerness to see the Lord. Some people called out, "Krsna Kanaiya . . . " and others finished the refrain: " . . . Lala, ki jaya!" ("All glories to the darling boy Krsna.") Someone else cried, "Ranchor . . . " and everyone responded, ". . . Raya, ki jaya!" Ranchor Raya's bright pink dress was changed to a night outfit of orange-red. The cloth used to make His turban is long, like that of villagers, and intertwined to make a thick cloth helmet that protects from the summer heat and winter cold.
Soon we were looking at the fifty-six items of prasada. After being offered, the items are brought to a room and divided. All the pots are solid silver. On Diwali, gold pots are used for the offerings. Rice, dhal, kharhi, dokla, papad, puris, sweets, kacoris, capatis, paratha, acar, huge jalebis, goa, sabjis, kaman, srikhand, gulabjamun . . . Outside the room, people stood at the grill gates and offered prayers to the prasada.
We exited the temple at eight in the evening. As the full moon rose, the temple was closing and everyone was leaving. The guards waited to lock up. A few people came late and put boxes of sweets outside the main gate. They left them there a few minutes as an offering to Ranchor Raya and then took them away as prasada.
Unforgettable Tastes
To end our visit, the pujari Ashok Sevak, an ISKCON Life Member, brought us to his house to sample the Chapan-bhog. We had good appetites maybe because of walking around all day orthe cool night air. You could say it was just Ranchor Raya's mercy that we were blessed to taste many of the fifty-six items. As Srila Prabhupada writes: "The power to taste, when one enjoys by eating prasada, is perfected." (Srimad-Bhagavatam 3.21.13, Purport) How was the Chapan- bhog? If you want to know, then come to Dakor and find out for yourself.
Bhakti Vikasa Swami, originally from England, has lived in India for many years. He teaches Krsna consciousness at the ISKCON center in Baroda, Gujarat. He is a frequent contributor to BTG.
Our thanks to Tattvavit Dasa for his help in putting together this article.
For more on Dakor, visit www.krishna.com.
Getting to Dakor
DAKOR is a short bus ride from Baroda or Ahmedabad, cities well linked by plane, train, and bus with other major Indian cities. You can go to Baroda, Ahmedabad, Anand, or Vallabh Vidyanagar in all these places there are ISKCON centers and get buses to Dakor. By bus it takes one and a half hours to go to Dakor from Ahmedabad or Baroda, and less from Anand or Vallabh Vidyanagar.
Devotees wishing to have darsana of Rancor Raya may visit ISKCON's center in Baroda. Devotees there can guide you on how to go to Dakor and what to do while there.
Accommodations in Dakor: Dharmashalas (simple, inexpensive rooms for pilgrims) are available, but most people don't stay overnight.
Dakor Pastimes
In The Times of the Mahabharata, the Dakor area was a pleasant jungle rich with streams and lakes. Danka asi was one of several sages residing in ashrams there, and after pleasing Lord Siva he requested him to remain in his hermitage. Lord Siva agreed and appeared there in his linga form, still known as Dankanath Mahadev. Thus in ancient times Dakor was known asDankapura.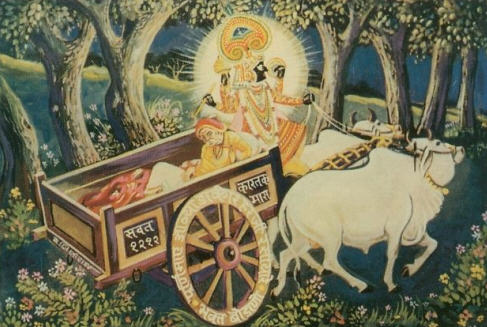 When Lord Krsna and Bhima went to the hermitage of Danka asi, Krsna asked the sage to request a benediction from Him. Danka asi requested that Krsna, like Lord Siva, stay in his hermitage permanently. Krsna promised that after staying in Dwarka for some time, in Kali-yuga He would come to live in Dankapura.
Danka asi's desire was eventually fulfilled by Bodana, a great devotee of Krsna, in the 1200s. In a previous birth Bodana is supposed to have lived in Gokula, where Krsna gave him the boon to be born in Gujarat in Kali-yuga and again have His darsana.
A rajput of Dakor, Bodana was a staunch devotee. He grew tulasi and traveled to Dwarka every six months to worship Krsna with tulasi leaves. He did this unfailingly until he turned 72 and found it difficult to continue. Seeing his plight, Krsna appeared in his dream and told him that on his next visit to Dwarka he should bring a bullock cart with him and then He (as the deity) would accompany him back to Dakor.
When Bodana arrived in Dwarka, the priests asked him why he had brought a cart this time. Bodana replied that he had come to take the deity of Lord Krsna away. Looking at the rickety cart, the priests didn't believe him, but they locked the temple that night just in case. At midnight, Krsna broke open the doors, awoke Bodana, and told him to take Him to Dakor.
When the brahmanas found the deity missing, they rushed to Dakor in pursuit. Bodana was frightened, but Krsna told Bodana to hide Him and meet the priests. The priests became angry, and one of them threw a spear at Bodana and killed him. Bodana achieved liberation.
Lord Krsna then directed Bodana's wife to give the brahmanas the equivalent of His weight in gold and tell them to return to Dwarka. The poor woman could not afford to do so. But by a miracle, the deity became as light as her gold nosering (five grams), which was all the gold she had. The brahmanas were disappointed, but the Lord mercifully told them that after six months they would find an exact replica of His deity in a well in Dwarka, which, of course, they did.
Jaya Damodara Dasa studied at Vallabh Vidyanagar and is now married and lives close to the ISKCON Baroda temple, which he regularly visits. He assists Bhakti Vikasa Swami in writing projects and performs other services at ISKCON Baroda.