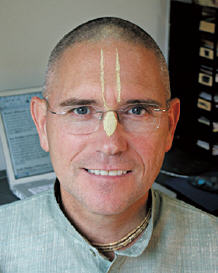 Understanding that God is the oldest person of all, artists in the West have traditionally depicted Him as an old man. But as Srila Prabhupada explains in his lecture opening this issue, God is not like us: He never grows old; His spiritual body is eternally youthful. He is Lord Krishna, the transcendental cowherd boy, as confirmed by scriptures honored by saints and sages for thousands of years.
We devotees of Lord Krishna look for opportunities to introduce Him to others. One devotee in the state of Maharashtra found an innovative way to do that, as you'll see in his article "The Launch of the Hare Krishna Express." A large-scale effort to connect people with Krishna took place in another part of India this year. Read about it in "The Hare Krishna Experience at Kumbha Mela." The ISKCON camp at the great festival hosted thousands of pilgrims daily.
Big things are also happening in Chennai, where devotees have built a gorgeous temple in the beach-resort area of South India's most modern city. In "A Colorful Spectacle Showcased in White Splendor," Tarini Radha Devi Dasi gives us a tour and tells us how the temple came to be. Hare Krishna.
Our Purposes
• To help all people discern reality from illusion, spirit from matter, the eternal from the temporary.
• To expose the faults of materialism.
• To offer guidance in the Vedic techniques of spiritual life.
• To preserve and spread the Vedic culture.
• To celebrate the chanting of the holy names of God as taught by Lord Sri Caitanya Mahaprabhu.
• To help every living being remember and serve Sri Krishna, the Personality of Godhead.