The aromas wafting through Christmas kitchens bring joy to some hearts but pain to others.
"Sharing that's the heart of Christmas!" chimes Better Homes and Gardens. "To celebrate, people share traditions from gift-giving to party-going with family, friends, and acquaintances too. And food plays a special part in these yuletide activities. Christmas just wouldn't be Christmas without the aroma of the festive bird and baked goods wafting through the kitchen! … Once the sharing begins, and you've sampled our treats, you'll realize that fellowship and food go hand in hand in making your holidays memorable."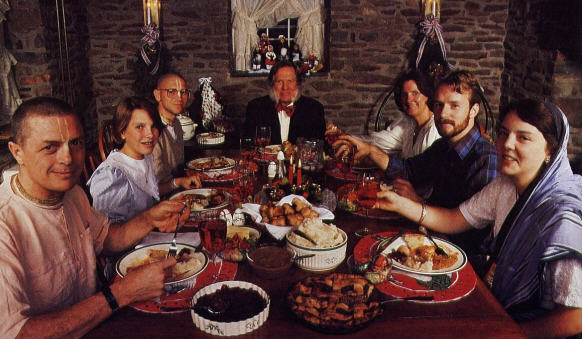 Typical December tidings? Yes. But for some, those tidings and the accompanying full-page color photo of a stuffed "festive bird" evoke a shudder. Certainly sharing is the heart of Christmas, and giving and receiving food can be a heartfelt exchange. But killing and eating living beings in the name of sharing is definitely not the spirit of Christmas.
Fellowship and sharing should be extended to all God's creatures. Just as a father is horrified to see one of his children killed, so the original father. God, is pained to see our violence toward His other creatures. Desiring to protect His family. He clearly enjoins, "Thou shalt not kill."
That should be clear enough. Still, we hear: "God put the animals here for us to eat." "We need to eat meat to get enough protein." "God didn't really mean don't kill, just don't murder." And so forth.
In this column and in other sections of Back to Godhead magazine we regularly answer these challenges. Also, doctors, nutritionists, economists, ecologists, religionists, and others have presented compelling support for a vegetarian diet. And great Western minds from Pythagoras to Shaw have reflected on and extolled the virtues of vegetarianism.
Yet for Srila Prabhupada, the founder and spiritual master of the International Society for Krishna Consciousness, being vegetarian was not enough. "Even the pigeons are vegetarian," he remarked. His standard the one he introduced throughout the world with unprecedented success is to use pure vegetarian ingredients and devotion for God in preparing meals. And the finished dishes are offered to Lord Krsna with love. (This attitude is called bhakti, a Sanskrit word that comes from the root bhaj,which means "to share.") Vegetarian dishes so offered are called prasadam, or "the Lord's mercy." And one who prepares them, offers them, or eats them transcends mere vegetarianism.
Certainly the vegetarian is right to refrain from "sharing" a Christmas turkey, yet even a vegetarian must kill some form of life to eat. To absolve ourselves of the reaction for killing vegetables, to purify our minds, to give strength, health, and satisfaction, and to increase our consciousness of the supreme father, from whom everything has come, we should eat only the Lord's prasadam, vegetarian food prepared for Lord Krsna and offered to Him with love. One who shares prasadam shares spiritually, and so shares the spirit of Christmas in harmony and fellowship with all of God's creation.
This month we're including some recipes that will capture the spirit of Christmas without causing unnecessary pain to other creatures. Prepare these dishes or any other vegetarian dishes and offer them to Krsna with devotion. You 'II be sure to have the merriest Christmas ever.
Curd Patties in Tomato Sauce
Preparation time: 1 ½ hours
Servings: 8-10
½ cup ghee (clarified butter) or vegetable oil
2 teaspoons turmeric
2 teaspoons ginger powder
4 teaspoons ground coriander
1 teaspoon cayenne pepper
16 medium-size tomatoes
3 teaspoons salt
2 bunches spinach, washed and cut into 3-inch lengths
ghee or vegetable oil for deep-frying curd from
2 gallons of milk
2 cups sour cream
1. To make the tomato sauce, heat the ½ cup of ghee in a saucepan on a medium flame and add all the spices except the salt. After a minute or two, add the tomatoes. When the tomatoes cook down a little, add the spinach and salt. Lower the flame.
2. To make the curd patties, wrap the curd in a cloth and press under a heavy weight for about five minutes. Then knead the curd on a smooth surface until it becomes almost like cream cheese. Heat the ghee (for deep-frying) in a medium-size wok over a medium flame. Shape the curd into patties and place them into the hot ghee. Cook the patties until they are golden brown, turning them as required.
3. Remove the curd patties from the ghee and add them to the tomato sauce. Simmer for at least one hour. Stir in the sour cream and offer to Krsna.
Cheese Souffle
Preparation time: 1 ½ hours
Servings: 12
1 cup milk
2 tablespoons yogurt
¾ cup flour
½ teaspoon salt
dash cayenne pepper
¼ pound coarsely grated Muenster, Colby, Cheddar, or Jack cheese (make sure it contains no animal rennet)
vegetable shortening
1. Mix ½ cup of milk, the yogurt, and the flour in a bowl and beat lightly with a whisk until smooth. Stir in the salt, cayenne pepper, and remaining milk. Let the batter stand for one hour.
2. Add half of the cheese to the batter and stir. Grease an 8-inch pie plate with vegetable shortening, 'pour in the batter, and bake in a preheated 425° oven for 30 minutes, or until puffed and brown.
3. Scatter the remaining cheese on top and bake until the cheese is melted. Cut into 12 narrow wedges and offer to Krsna.
French Salad Dressing
Preparation time: 10 minutes
Servings: 2 ½ cups
1 cup salad oil
2/3 cup tomato puree
½ cup lemon juice
½ cup sugar
1 teaspoon salt
1 teaspoon dry mustard
1 teaspoon asafetida
dash black pepper
Put all the ingredients in a blender and mix until blended. Offer to Krsna with a salad.
Gravy
Preparation time: 20 minutes
Servings: 10-12
4 tablespoons melted butter (not ghee)
½ teaspoon sugar
½ teaspoon asafetida
1 ½ teaspoons basil
1 teaspoon ground coriander
2 tablespoons chickpea flour
2 tablespoons white flour
1 ½ cups cool water
1 teaspoon salt
½ teaspoon black pepper
1. Melt the butter in a saucepan over a medium-low flame and add the sugar, asafetida, basil, and ground coriander. Saute for a minute or two and then add the chickpea flour and the white flour. Saute until brown.
2. Add the water slowly, stirring constantly. Add the salt and pepper. Offer to Krsna with mashed potatoes.
Apple Rice
Preparation time: 40 minutes
Servings: 4-6
1 cup good-quality long-grain white rice
4 medium-size apples
2 cups sugar
3 pinches saffron
2 cups water (for the syrup)
3 tablespoons ghee (clarified butter) or butter
1 cinnamon stick
6 cloves
6 cardamom pods
3 bay leaves
2 ¼ cups water (for the rice)
¼ cup sliced almonds
¼ cup raisins
1. Wash the rice and drain it. Peel, core, and cut the apples into chunks. Make a syrup by putting the sugar and a pinch of saffron in the water and cooking it for 30 minutes over a medium flame until it reduces to about one third its original volume.
2. While the syrup is cooking, heat the ghee in a saucepan and toss in the cinnamon, cloves, cardamom, and bay leaves. Stir-fry for a moment or two; then add the rice. Stir-fry for 2 or 3 minutes. Add the water and bring to a boil. Toss 2 pinches of saffron into the water, cover the pan, and cook over a low flame for 15 minutes. Then take the saucepan off the flame.
3. Make a hole in the center of the rice and place the pieces of apple and a little of the syrup in it. Add the raisins and the sliced almonds. Cover the hole with rice and pour the rest of the syrup over the top. Cover the pan again and cook over a low flame for another 15 minutes, until the rice is completely cooked. Remove the whole spices, mix gently, and offer to Krsna hot.
One-Pan Carob Cake
Preparation time: 45 minutes
Servings: 10-12
1 2/3 cups all-purpose flour
1 cup packed brown sugar
¼ cup carob powder
1 teaspoon baking soda
½ teaspoon salt
1 cup water
1/3 cup melted butter or vegetable oil
1 teaspoon lemon juice
1 ½ teaspoons natural vanilla extract (without alcohol)
powdered sugar
1. Heat oven to 350°.
2. Mix the flour, brown sugar, carob powder, baking soda, and salt with a fork in an ungreased square pan, 8x8x2 inches. Mix in the remaining ingredients. Bake for 35 to 40 minutes or until a knife inserted in the center comes out clean. Dust with powdered sugar. Offer to Krsna.