Like everything about Srila Prabhupada, his cooking was totally transcendental and irresistibly attractive.
On August 13th we will celebrate the eighty-seventh anniversary of the appearance of His Divine Grace A.C. Bhaktivedanta Swami Prabhupada. An important part of the celebration will be the preparation and partaking of a sumptuous vegetarian feast. This is entirely appropriate, for along with introducing the Hare Krsna movement to the world, Srila Prabhupada introduced krsna-prasadam, delicious vegetarian dishes that have been prepared for and offered to Lord Krsna.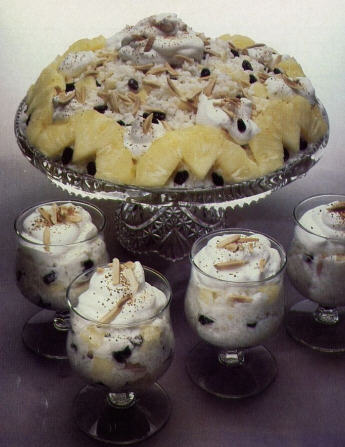 In memory of Srila Prabhupada, we shall relate how, from a young age, he expertly prepared and distributed prasadam, and how he taught this devotional art to us, his grateful disciples.
When discussing the expertise of a pure devotee of the Lord, it is irrelevant in one sense to ask how, when, where, or from whom he learned an art, because ultimately it is the Lord Himself who directly gives a devotee expertise. So it is with Srila Prabhupada. Where he learned to speak and write with the eloquence, profundity, and authority that has changed the lives of thousands of people and has been eulogized by scholars worldwide, why he could evoke the most sincere religious feelings from those around him, when he mastered Sanskrit, how he became a consummate cook . . . While these skills may be explained in terms of time, place, and circumstance, ultimately they are Krsna's gifts to His pure servant, as are all of Srila Prabhupada's qualities.
Yet, for our instruction and encouragement, Srila Prabhupada sometimes told us about his background and training. In regard to preparing and distributing krsna-prasadam, he said that when he was a small boy (this was in Calcutta around the turn of the century), he led his playmates in Ratha-yatra, a traditional eight-day parade and festival held yearly in commemoration of one of Krsna's eternal pastimes. At Srila Prabhupada's entreaty, his mother and the other women in the neighborhood cooked special dishes so that he could distribute prasadam during the celebration.
When he was six, Srila Prabhupada asked his father for Radha-Krsna Deities to worship. His father complied, and Srila Prabhupada and his sister began offering their food to the little Deities, imitating their father and the priests they'd seen in a nearby temple.
"I learned to cook by watching others my mother, my aunt, and even the 'walas' [restaurant and street-stand cooks] in Calcutta," Srila Prabhupada said. Later on, in his householder days, he occasionally joined his wife in the kitchen. Together they would quickly and masterfully cook large quantities of food for Krsna conscious gatherings in their home.
Many years later, when Srila Prabhupada began the first Hare Krsna center at 26 Second Avenue in New York, he again cooked large quantities of sumptuous prasadam for Krsna conscious gatherings. On Sundays and festival days, Srila Prabhupada would cook special sweet and savory dishes and serve them himself with pleasure. Even after the devotees had taken full plates, Srila Prabhupada would come back and ask them to take more.
To help him make a lavish feast for the first Krsna conscious wedding ceremony in America, Srila Prabhupada enlisted Joan Campanella, the bride's sister. For six hours on the afternoon before the wedding, Joan sat in Srila Prabhupada's front room preparing potato kachoris, deep-fried pastries stuffed with a spiced potato filling. Meanwhile Srila Prabhupada was in the kitchen single-handedly making fifteen other special vegetarian dishes, each in a large enough quantity for forty people. Periodically he would come in to guide Joan in making the kachoris, gently explaining the standards of purity and cleanliness necessary for cooking in Krsna consciousness. (Later, Joan was initiated by Srila Prabhupada and received the spiritual name Yamuna-devi dasi. She has recently written a Krsna conscious cookbook with 650 recipes, some of which we are presenting on these pages.)
The wedding feast turned out to be a great success. Both guests and devotees ate with gusto, asked for more, and raved about the sensational tastes. The consensus was, in the words of the bride, "God, he's a great cook!" One young man, after tasting the kachoris, resolved on the spot to dedicate himself to Krsna consciousness and become one of Srila Prabhupada's disciples as soon as possible.
Soon after this, Srila Prabhupada started the Sunday Love Feast. Every Sunday he and his disciples would cook special dishes and invite the public to attend, free of charge. Srila Satsvarupa dasa Goswami remembers, "Eating the feast was an intense experience. We were supposed to be subduing our senses all week, following strict regulations, controlling the tongue. And the feast was a kind of reward. Swamiji and Krsna were giving us a taste of full spiritual ecstasy, even though we were still beginners."
In 1967 San Francisco's Haight-Ashbury district became the home of the second Hare Krsna temple. There Srila Prabhupada gave his disciples cooking classes and instructed them that besides the morning and evening chanting and classes, cooking and distributing prasadam should be their main activity. Needless to say, this program of delicious free food made the temple very popular in the community.
That summer, under Srila Prabhupada's direction, the devotees in San Francisco held America's first Ratha-yatra festival. They distributed prasadam during and after the parade, just as Srila Prabhupada had done as a boy and as millions of Krsna's devotees had done in India for many centuries. Srila Prabhupada explained that just by eating prasadam one makes spiritual advancement and that when Lord Krsna appeared five hundred years ago as Lord Caitanya Mahaprabhu He simply requested everyone to chant the Lord's holy names, dance in ecstasy, and take sumptuous krsna-prasadam.
Through the years, besides writing, preaching, traveling extensively, and managing the Hare Krsna movement, Srila Prabhupada continued to teach his disciples how to cook for Krsna.
In May 1977, just six months before Srila Prabhupada departed from this world, he visited the famous pilgrimage city of Hrsikesa with a few disciples. There he vigorously explained the personal nature of the Supreme Lord to the impersonalists who visited him, and he gave his followers cooking classes. My husband, Yadubara dasa, wrote this in his diary:
"May 9. Yesterday we arrived in Rishikesh. Srila Prabhupada said we should not eat outside but should cook ourselves. This morning he came into the kitchen to teach us how to cook.
"May 11. Yesterday I assisted Gopinatha with the lunch prasadam and today Gopinatha assisted me. Srila Prabhupada said everything was very nice. It was so good to see him eat. He had three chapaties, three vegetables, shukta, dal, rice, chutney, and lassi. He said everyone should learn to cook it is a great art. He wanted me to cook for several days and then let others do it. Later Prabhupada said to me, 'A person who is expert in one thing becomes expert in other things. Now become expert in all aspects of devotional service.'"
To His Divine Grace A.C. Bhaktivedanta Swami Prabhupada, who showed that devotional expertise at every second and who lovingly taught it to his disciples we express our most heartfelt, eternal gratitude.
(Recipes by Yamuna-devi dasi)
Srila Prabhupada's Simple Tomato Chutney
Srila Prabhupada gave the instructions and ingredients for this classic variation of cooked tomato chutney in the spring of 1977, in Hrsikesa. You may adjust the sweetener, chili, and salt to taste.
1 ½ tablespoons ghee or vegetable oil
1/3 to 2 dried whole red chili pods, broken into small bits
1/3-inch to 1-inch square piece of peeled fresh ginger root, finely minced or sliced julienne style
1 teaspoon black mustard seeds
1 ¼ pounds firm ripe tomatoes, cut into chunks
½ teaspoon salt
3 tablespoons brown sugar or equivalent sweetener
1/3 cup water
1. Heat the ghee or vegetable oil in a 2 ½- to 3-quart saucepan (nonstick cookware is ideal) over a medium flame until it is hot. Toss in the chili pod bits, ginger root, and black mustard seeds, and fry until the seeds crackle, sputter, and pop.
2. Immediately drop in the tomatoes and stir-fry for 4 or 5 minutes. Add the remaining ingredients, reduce the flame to low, and simmer, stirring occasionally, for 40 to 60 minutes, or until the chutney has thickened to the desired texture.
3. Remove the saucepan from the flame and allow the chutney to cool to room temperature before offering to Krsna.
Srila Prabhupada's Creamy Fruit-and-Rice Salad
In 1967, to the delight of all present, Srila Prabhupada whipped up this ambrosial, creamy-sweet chilled fruit salad in his kitchen in San Francisco. The impetus for the creation came when one of his personal attendants offered him a large bowl of farm-fresh whipped cream. This preparation is a proven favorite on any special menu, and it can be served at any time of the day.
Preparation time: 15 minutes
Servings: 8 to 10
11/3 cups Bhasmati rice or any other superior quality long-grain white rice
2 tablespoons vegetable oil or ghee (clarified butter)
1 ¼ cups heavy whipping cream
1/3 cup sugar
½ teaspoon cinnamon powder
½ teaspoon cardamom powder
1/3 teaspoon nutmeg powder
1/8 teaspoon powdered cloves
½ teaspoon currants or raisins
3 cups well-drained fresh pineapple chunks, about 1 inch long, ½ inch wide, and ¼ inch thick.
3 tablespoons toasted almonds, slivered or sliced.
1. Cook the rice (it should yield about 3 cups) and then mix it well with the ghee or oil and spread it on a large plate. Cool to room temperature.
2. Whip the cream into soft peaks, and then fold in the sugar, powdered spices, raisins or currants, and pineapple.
3. Combine the rice and whipped cream, and blend well. Place the salad on a decorative tray or platter and chill for 1 to 3 hours. Before offering to Krsna, garnish with almonds and decorative, freshly cut pineapple pieces.