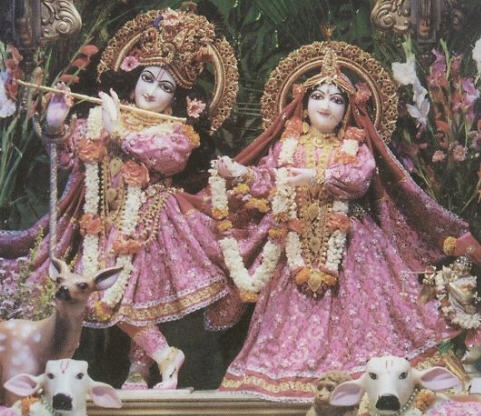 A thriving Krsna conscious community blossoms in the heart of
India's most westernized city.
MUMBAI (as Bombay is now officially called) is both India's gateway to the West and the West's gateway to India. It is by far India's wealthiest and most westernized city. Population: thirteen million and growing.
Today, three ISKCON branches in three parts of Mumbai worship and serve Radha-Krsna Deities: in Juhu, Radha-Rasabihari; at Mira Road, Radha-Giridhari; and in Chowpatty, Radha-Gopinatha.
For twenty years ISKCON's beautiful Juhu temple has maintained a popular guest house, restaurant, and cultural center. Thanks to its dedicated devotees, ISKCON's Juhu temple continues to be among the most popular religious centers in Mumbai, attracting thousands daily and sometimes hundreds of thousands for festivals.
More recently, devotees have started an ISKCON branch in Mira Road, a fast-growing northern suburb. Having secured a strategic 1.5-acre plot and set up modest arrangements for their temple and asrama, they hold a full program of spiritual activities and plan to build a large temple to serve an expanding ISKCON congregation in this portion of Mumbai.
Now we'll take a more detailed look at ISKCON's temple in Chowpatty.
An Unexpected Opening
Apparently Lord Krsna Himself planned the opening of the Chowpatty temple. During the 1980s, Mumbai devotees Srinathaji Dasa and his wife, Maithili-priya Dasi, periodically taught Krsna consciousness in the Chowpatty section of central Mumbai and gave money in support of the Lady Northcoate Hindu Orphanage located there. When the trustee of the orphanage died, Srinathaji was surprised to find himself named in the will as the new trustee. He soon realized he'd gained an opportunity both to help the orphans and to provide a new center for Srila Prabhupada's movement. Since 1987, the devotees have done both, under the leadership of His Holiness Radhanatha Swami.
Bringing Krsna to the Orphanage
Radhanatha Swami and the devotees in Chowpatty decided to uplift the orphanage by converting a meeting hall into a temple and training the orphan boys in Krsna consciousness. Today thirty-eight boys, aged five to sixteen, eagerly take part in all the temple activities. After attending the morning program in the temple, they eat a healthy breakfast of Krsna-prasadam and go to classes at a local school. After school it's more prasadam and an evening program of kirtana (chanting), class, and much personal care. The boys appear well behaved and radiantly happy as they go about their Krsna conscious duties.
Building the Brahmacari Asrama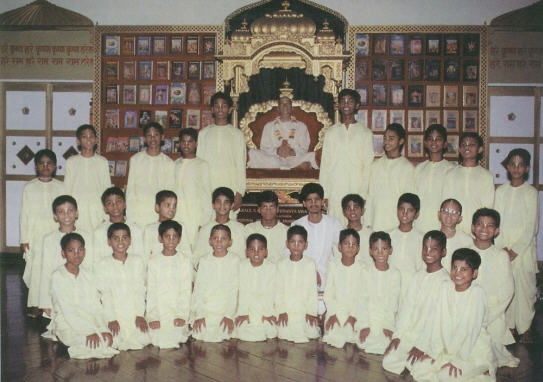 Radhanatha Swami then turned his attention to giving Krsna consciousness to the residents of Mumbai. From the start he emphasized giving all interested people a high degree of individual care and attention.
"We don't ask anyone to be a brahmacari [celibate monk]," he says. "We just ask everyone to be Krsna conscious. Whatever one's family status and vocation, we encourage everyone to be a first-class devotee of Krsna. In fact, if someone wants to move into the temple, we discourage them. Only if a young man shows a high degree of commitment and seriousness can he enroll in our brahmacariasrama."
The Chowpatty brahmacaris maintain high standards of simplicity and renunciation. They share common dormitory rooms, sleeping on simple mats on the floor. Each man has one modest cupboard, and they own only what fits inside. They carefully avoid gossiping. Each brahmacari chants all sixteen rounds* with the other devotees and attends the full morning program, plus extra classes.
*Hare Krsna devotees each have a strand of 108 beads, on which they chant the Hare Krsna mantra. Initiated devotees vow to chant on the full set of beads one round at least sixteen times a day.
Through a schedule of book distribution, college programs, and Krsna conscious gatherings, each brahmacari learns to teach Krsna consciousness. Senior brahmacaris regularly counsel their juniors, whose needs they ensure are met. After two full years of excellent sadhana (spiritual practice), students who express a serious commitment to celibacy may don the saffron cloth of a brahmacari. Fortybrahmacaris now live in the Chowpatty asrama. All but three have college degrees.
Krsna Conscious Couples
The same principles of good spiritual practice and service to others apply equally to devotees who choose to marry. At present, thirty senior married couples serve as counselors for the temple's many young congregational members, men and women alike, both before and after their marriages. Besides practical advice about married life in Krsna consciousness, the Chowpatty counselors have formed teams to help young couples find housing and employment. To help couples raise Krsna conscious children, another team provides advice and programs, including a successful Sunday school at the temple. Yet another team arranges for complete health care for all devotees. (Many of the devotees and congregational members of the temple are medical doctors. To work and serve together, they and other devotees have built a new hospital, across the street from ISKCON's Mira Road temple.)
To avail themselves of all these services, couples must simply be dedicated to serving Srila Prabhupada's instructions.
"In Mumbai parents complain that young people have become westernized and irreligious," says lifelong Mumbai resident Radha-priya Dasi, wife of Krsnacandra Dasa (Hrishikesh Mafatlal), one of India's leading industrialists. "Yet when the young men and women want to take up Krsna consciousness, their parents often worry. 'Who will want to marry such a religious person?' they think.
"As counselors, we help young people find the proper balance between their spiritual lives and their family and social responsibilities. We urge them to stay in school and cooperate with their parents while practicing Krsna consciousness. Sometimes we help explain Krsna consciousness to their parents. And when young men or women want to get married, we help them find partners among the hundreds of other young people in our congregation who are following Srila Prabhupada's teachings."
Radha-priya and Krsnacandra regularly attend the morning services at the temple, often with their children, Radha Dasi (19), Anjali (15), and Priyavrata (11). Despite busy schedules, Radha-priya and Krsnacandra meet with their group of twelve couples every two weeks, lending advice and experience from their twenty years of marriage and twelve years of Krsna conscious practice.
Krsnacandra says, "We regularly meet with other counselors for fresh inspiration. And our counselees know they can call on us for any emergency."
Besides the extensive counseling network, every two weeks a team of three senior women meet women in the congregation, as a group or individually, to discuss devotional service or problems women may face.
Cooperating to Spread Krsna Consciousness
The dedicated Chowpatty brahmacaris and grhasthas (married people) show their love for Srila Prabhupada by cooperatively teaching about Krsna in a variety of ways.
Book Distribution Especially in December, the grhasthas and brahmacaris focus their energies on distributing Srila Prabhupada's books. Last year, they sold more than 61,000 hardbound books in 30 days.
Each month, the temple community sets aside three or four days for book distribution. During these days, volunteers from the congregation take charge of all the Deity worship and all other temple duties so that the brahmacaris can go out full-time. The women of the congregation are especially delighted to offer this service.
College Programs Ten brahmacaris work full-time conducting weekly programs in thirty-seven Mumbai-area colleges, including all the medical and engineering colleges plus another ten colleges in nearby Pune. Students who take a serious interest follow a curriculum of Krsna conscious study designed by Radhe-Syama Dasa, who holds a master's degree from IIT (the Indian Institute of Technology).Grhasthas help by opening their homes for programs near campuses that cannot provide a meeting place. And the grhastha counselors help take care of the hundreds of students who have started chanting sixteen rounds as a result of contact with these programs.
Satsangas (Krsna conscious gatherings) At least twenty-five times each week, the grhasthas organize public programs for kirtana (congregational chanting), Bhagavad-gita class, and prasadam.The brahmacaris lead the chanting and deliver the lectures. These programs give an opportunity for people who have received books and attended college classes to practice Krsna consciousness along with initiated ISKCON members, and several hundred people usually attend.
In addition, once a month a large gathering gives people from all sections of Mumbai a chance to come together in a central place for a massive Krsna conscious festival. Up to 7,000 people attend these monthly events.
Sunday Feast About seven hundred people pack the Chowpatty temple each Sunday from noon to 5:00 P.M. Teams of grhasthas plan, prepare, and serve the delicious prasadam feasts. Besideskirtana, class, and prasadam, the program sometimes includes entertainment by Sunday school students, who put on plays or recite memorized verses from the Bhagavad-gita.
Children's Group Recently a children's group, organized by the children themselves, has begun assisting the temple brahmacaris. One evening a month the children conduct the entire evening program, including kirtanas, bhajanas, plays, storytelling, puppet shows, and verse recitation. For these special nights, the temple is filled with adults and children.
Yatras (pilgrimages) At least two or three times a year, up to four hundred ISKCON Chowpatty members travel together to a holy place to intensively chant and hear about Lord Krsna. They have visited such holy places as Prayag, Udupi, Badrinath, Gangotri, Mayapur, Vrndavana, Chitrakuta, Jaipur, Dvaraka, Pandharpur, Ramesvaram, Tirupathi, Varanasi, Kuruksetra, Sri Rangam, and Jagannatha Puri. Each pilgrimage brings the devotees closer together as they enliven one another in Krsna consciousness. Living together simply, the devotees vow to speak only about Krsna. These transcendental adventures deeply touch all the participants.
One feels among the Chowpatty devotees a powerful sense of love and camaraderie that permeates the vigorous and successful programs for spreading Krsna consciousness.
Radhanatha Swami explains, "The brahmacaris and grhasthas have great love and respect for one another. Grhasthas living outside see the brahmacaris in the temple as exemplary sadhus. The strong brahmacari asrama creates faith in the integrity of the temple. The brahmacaris are taught to genuinely respect and serve the men and women of the congregation as worshipable Vaisnavas, devotees of the Lord.
"When people come, if they just see the beauty of the building or the Deities, we're not giving them all of what Srila Prabhupada wanted. Guests should be so impressed with the quality of the residents that they want to hear from them and serve them. Then we see that the visitors become sincerely involved. Everyone who visits is warmly and personally greeted, given an introductory pamphlet,prasadam, caranamrta [water from the Deities], and some friendly words. They leave feeling they have made a friend. By this process our guests become Krsna conscious.
"We try to teach everyone to be the servant of the servant of Krsna. By sticking to this principle, everything becomes more wonderful."
Kalakantha Dasa, a devotee since 1972, is Back to Godhead's circulation director. He lives with his wife and their two young daughters in Gainesville, Florida.
His Holiness Radhanatha Swami
RADHANATHA SWAMI is a senior ISKCON member highly respected for his personal spiritual qualities. When he was nineteen, he decided that without God everything else was futile. So he set out on a determined spiritual quest.
Starting in London, he began seeking religious leaders and immersing himself in the religious life of a great variety of churches, mosques, and synagogues. Over the next two years he proceeded across Europe and the Middle East until he reached India and went to the Himalayas. There he lived in caves, forests, and on the banks of sacred rivers with sadhus and yogis.
It was in Mumbai that Radhanatha Swami first met Srila Prabhupada. In course of time, while living in Vrndavana, Radhanatha Swami concluded that the philosophy of Krsna consciousness surpassed all others he'd encountered. He accepted Srila Prabhupada as his spiritual master in Vrndavana in 1971, and was later initiated in America.
Srila Prabhupada in Mumbai
SRILA PRABHUPADA'S principal biographer, Satsvarupa Dasa Goswami, took account of every day of Prabhupada's life between 1965 and 1977. His finding: Of all the cities Prabhupada visited during this time, he spent the most time in Mumbai.
As a young grhastha, Srila Prabhupada helped two sannyasis start the Mumbai branch of the Gaudiya Math, the mission founded by his guru, Srila Bhaktisiddhanta Sarasvati Thakura. Prabhupada found a suitable building for the temple (just a few minutes from ISKCON's present Chowpatty branch) and helped raise funds. Later Srila Bhaktisiddhanta installed the Deities in Mumbai.
When the two sannyasis asked Srila Bhaktisiddhanta to direct Srila Prabhupada to be the center's president, Srila Bhaktisiddhanta replied, "Let him do what he's doing now. In course of time he will do everything."
It was at this same Mumbai branch of the Gaudiya Math that Srila Prabhupada first presented two historic tributes to his guru: a poem ("Adore, adore ye all the happy day …"), and an essay entitled "The Universal Teacher." From Mumbai in 1936, Prabhupada wrote his final letter to Srila Bhaktisiddhanta, in which he asked what service to do. Two weeks before Srila Bhaktisiddhanta's departure from this world, he dispatched a letter to Prabhupada in Mumbai, asking him to spread Krsna consciousness in English.
Many years later, when Srila Prabhupada left Vrndavana to fulfill his guru's order, he returned to Mumbai. There he found a sponsor, Sumati Morarji, to help him go to the West. After succeeding in the West, Srila Prabhupada returned to India and conducted his first major festival in Mumbai's Cross Maidan.
Over the next few years, Srila Prabhupada fought for, funded, and built ISKCON's beautiful Juhu Beach center. Of the major ISKCON temples in India, Srila Prabhupada built this temple alone entirely of marble, indicating Mumbai's special prominence in Srila Prabhupada's mind as a springboard for spreading Krsna consciousness worldwide.