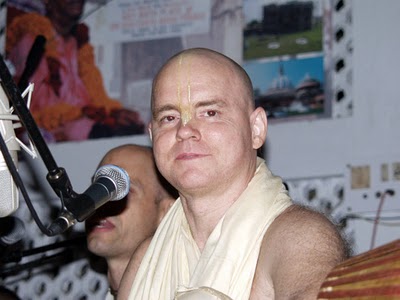 Vrndavana, India: World famous kirtaniya and beloved krsna devotee Aindra Dasa passed away on the night of Friday, 16 july, in his room at ISKCON's Krsna-Balarama temple in the sacred town of Vrndavana.
An American-born disciple of Srila-Prabhupada, Aindra moved to vrndavan in the 1980's and was best known for his commitment to and love of kirtana chanting of the Hare Krsna maha-mantra. He was largely recongnized as the heart and soul of the famous 24-hour kirtana group in Vrndavana, and over the years his name became synonymous with deep, soulful chanting. Aspiring kirtaniyas and admirers traveled from around the world for the opportunity to chant with him and bask in his personal presence. He was also known for his scholarship of Gaudiya Vaisnava theology, exemplary spiritual practice.
We pray to their Lordships Sri Sri Radha-Syamasundara to shower Their blessing upon him.