The worldwide activities of the International Society for Krishna Consciousness (ISKCON)
World News
India
Thousands of devotees from India, Russia, Europe, America, Australia, and South Africa took part, at the end of March, in ISKCON's seventeenth annual Mumbai Rathayatra, the chariot festival of Jagannatha (the Lord of the universe), Lord Krsna. Member of Parliament Sanjay Nirupam inaugurated the festival, and Deputy Chief Minister of Maharashtra Gopinath Munde visited the festival site on the second day.
The Sarasvata Gaudiya Vaisnava Association held its second annual meeting in March at ISKCON's center in Sridham Mayapur. The association promotes friendship and cooperation among the followers of Srila Bhaktisiddhanta Sarasvati Prabhupada, the spiritual master of ISKCON's founder-acarya, Srila A.C. Bhaktivedanta Swami Prabhupada. Parama Pujya B. V. Puri Maharaja gave the opening address. Among the organizations that sent representatives: Sri Chaitanya Math, Sri Chaitanya Sarasvata Math, Sri Gaura Gadadhara Asrama, Sri Gopinatha Gaudiya Math, Sri Krishna Chaitanya Mission, Sri Paramahamsa Gaudiya Math, Sri Rupanuga Bhajanasrama, Sri Sarasvata Gaudiya Math, and ISKCON.
ISKCON sponsored large-scale distribution of yogurt and chipped rice at the annual June festival in Panihati, West Bengal. Followers of Lord Caitanya Mahaprabhu began the festival in this village about five hundred years ago.
Calcutta celebrated ISKCON's huge Rathayatra festival in July.
United States
Veteran ventriloquist Paul Winchell took part in the reopening ceremony of the renovated First American Transcendental Exhibition last summer at the Los Angeles Hare Krsna temple. Mr. Winchell, an ISKCON life member, wears a necklace with a pendant of Radha-Krsna around his neck. Of Krsna consciousness he has said, "I've done a lot of study of religions, and I've found this one to be the most spiritual."
Devotees gathered in June to celebrate ISKCON Atlanta's combined yearly festival Rathayatra and the Chipped-Rice-and-Yogurt Festival. The Atlanta temple is named New Panihati, after the village in West Bengal, India.
The king of Puri, Orissa (India), visited the Chicago Hare Krsna temple last March during a visit to the U.S. to install Deities of Lord Jagannatha in several Hindu temples. At the ISKCON center, the king and his wife were pleased to have the darsana (audience) of Lord Jagannatha, and the king spoke on the history of the famous Jagannatha temple in Puri, site of the centuries-old Jagannatha Rathayatra.
Africa
South Africa's President Nelson Mandela was the guest of honor at the ISKCON-sponsored "Festival for the Children of the Rainbow Nation," held last May in one of Durban's largest soccer stadiums. During his talk, President Mandela praised the work of Hare Krishna Food for Life, which put on this picnic for children. Each of the 40,000 children in attendance, from all of South Africa's ethnic groups, received a lunch of Krsna-prasadam. On stage, children sang and performed traditional African and Indian dances.
United Kingdom
Four hundred devotees walked and chanted through London in April alongside an ox-drawn float. The float a swan with moveable wings bore Deities of Lord Caitanya Mahaprabhu and Nityananda Prabhu. The parade honored the appearance of Lord Krsna's incarnation as Lord Ramacandra. During the parade, devotees distributed leaflets and five thousand pieces of prasadam, food offered to Krsna.
ISKCON London celebrated the Jagannatha chariot festival in July.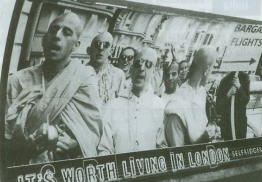 A prestigious London department store is using a photo of Hare Krsna devotees in its latest advertising campaign. The store, Selfridges, wanted to show London sights that, like Selfridges, make London attractive. To determine which sights to use, Selfridges surveyed its customers, and many mentioned the Hare Krsnas chanting on Oxford Street.
Sri Lanka
Prime Minister Sirimavo Bandaranaike received a copy of the first Sinhalese edition of Bhagavad-gita As It Is. Mahakarta Dasa, president of ISKCON Colombo, and Dr. Subash Chawla, a member of the board of governors for the Srila Prabhupada Centennial Celebrations in Sri Lanka, made the presentation last March at the prime minister's office.
Fiji
Devotees walked, chanted, and distributed prasadam on a three-day Padayatra, or walking festival, in February near the town of Labasa. The Padayatra went from village to village on routes covering twenty-three kilometers. The Honorable Cr. Charan Jeath Singh (MP, JP) inaugurated the festival.
Southeast Asia
ISKCON now has a center in Phnom Penh, the capital of Kampuchea (formerly Cambodia), and devotees there are distributing Srila Prabhupada's books in the Kampuchean language. Devotees interested in serving in Kampuchea may contact Dunica Artur Jerzy (Anuttareya Dasa), 49ZE Preah Sothearos St., Sankat Tunle Bassac, Khan Chamcar Mon, Phnom Penh, Kampuchea; fax: 855-23-721-742.