The worldwide activities of the International Society for Krishna Consciousness (ISKCON)
World News
North America
Computer users can now access Srila Prabhupada's books, letters, lectures, and conversations using the new Windows version of the Srila Prabhupada Folio Infobase. Apart from the features offered by Windows, the new infobase includes more than a hundred previously unpublished letters and talks. A Macintosh version will be released this month. The infobase is published by the Bhaktivedanta Archives. (Where to contact them? See page 53.)
The Indian consul general at Chicago spoke as chief guest this past summer at ISKCON Chicago's Festival of the Chariots (Rathayatra). The consul, Mr. K. R. Singh, praised Prabhupada's work in spreading Vedic culture.
The September issue of Vegetarian Times featured a three-page review of "Cooking With Kurma," a set of cooking classes on eleven videos from ISKCON Television. The review begins, "Hare Krishnas view cooking as a kind of worship, a connection to God and an act of love. In this video series hosted by Kurma Dasa, the appreciation of food is contagious. Kurma, a former head chef of Gopal's, a Hare Krishna restaurant in Melbourne, Australia, has a gentle style that is a happy contrast to the frantic and frenzied style of most television cooks. His subtle wit and enthusiasm, combined with his fabulous-looking dishes, can renew your culinary excitement and creativity." To order these videos, contact ITV (see page 19).
India
More than a hundred devotees toured Vrndavana, Krsna's holy land, during ISKCON's eighth annual Vraja Mandala Parikrama, held during the month of Kartika (October-November).
Millions of pilgrims will converge on Allahabad, Uttar Pradesh, for the "half Kumbha Mela." The Mela, or festival, runs from mid-January through mid-February. ISKCON devotees will be there to pass out Krsna-prasadam, Krsna books, and Krsna's holy names. The full Kumbha Mela occurs every twelve years. The "half Kumbha Mela" takes place six years later.
Devotees from around the world will gather in March in Mayapur, West Bengal, for the annual Mayapur-Vrndavana festival, honoring the appearance of Lord Caitanya Mahaprabhu. For the festival schedule, see page 57.
United Kingdom
The future of Bhaktivedanta Manor likely hangs on a decision from the environment secretary, John Gummer. The Manor, ISKCON's center in Hertfordshire, outside London, is revered as the site of the most popular Hindu shrine in the UK. Devotees have been resisting attempts by the local Hertsmere Borough Council to close the shrine to public worship.
Responding to complaints of traffic problems caused when the annual Janmastami festival attracts large crowds, ISKCON has proposed to build an access road to bring visitors directly to the Manor, bypassing the local village. On January 17 an inspector will hear arguments for and against the road. The inspector will then make recommendations to Mr. Gummer.
Africa
Devotees in Kampala, Uganda, have received a donation of a building in the heart of the city, the nation's capital. They'll use it as a base for spreading Krsna consciousness.
The Rathayatra chariots rolled in August down the streets of Mombasa and Nairobi. This was the tenth year for the festivals.
Devotees in Nairobi opened their new Radha-Krsna temple on November 19. The main hall can fit twelve hundred people.
South Africa
Fifty thousand people attended ISKCON Durban's three-day Janmastami festival, South Africa's biggest spiritual event. Among the special guests: Durban Mayor Mike Lipschitz.
Europe
A Catholic philanthropic organization in Rome recently gave six million lire (about US $5,000) to the Bhaktivedanta Swami Gurukula in Vrndavana, India. Monsignor Muratore, the founder and president of the organization, has met with devotees several times and owns a set of Srila Prabhupada's Srimad-Bhagavatam.
Five hundred devotees attended ISKCON's Rathayatra festival last July in Paris. They came from France, Belgium, Switzerland, and the Netherlands. Devotees passed out seven thousand prasadam sweets along the eight-kilometer parade route.
Devotees in Riga, Latvia, held their fifth annual Rathayatra festival last July.
Japan
A busy street near Tokyo's giant Shinjuku train station was the site last July of ISKCON Tokyo's fifth annual Rathayatra festival. The festival was held on a Sunday, when the street closes to traffic and becomes a popular place to relax.
ISKCON Tokyo now has Deities of Lord Caitanya Mahaprabhu and Nityananda Prabhu. An installation ceremony for the Deities took place last August.
The Caribbean
Devotees in Trinidad have started a Hare Krishna Food for Life program to commemorate Srila Prabhupada's Centennial.
Indian Ocean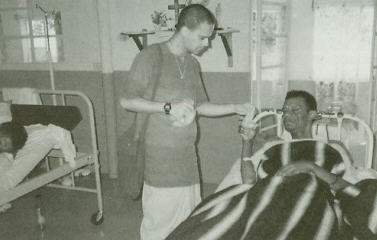 A group of devotees from Mauritius visited the tiny island of Rodrigues to spend eight days passing out prasadam and telling the people about Krsna consciousness. Rodrigues lies about 600 kilometers northeast of Mauritius in the Indian Ocean.
Singapore
Government ministers in Singapore are learning about Srila Prabhupada. To prepare for Srila Prabhupada's Centennial, devotees are meeting Singapore leaders to make Srila Prabhupada known. So far, devotees have met with representatives of the president and the prime minister, and with the ministers of finance, defense, and community development.
Padayatra
Padayatra Europe
Forty devotees took part last June in the Padayatra in Germany, from Heidelberg through Frankfurt to Weisbaden.
In July, devotees in Finland walked and chanted from Tampere to Helsinki, about two hundred kilometers. The procession included an ox cart bearing Deities of Lord Caitanya and Lord Nityananda.
In England, the Padayatra crew from Bhaktivedanta Manor walked with their carts and oxen in the nearby Watford Carnival parade, held last August on Janmastami, Lord Krsna's appearance day. The devotees' "floats" won first prize, and Gita Dasi, daughter of UK Padayatra director Parasurama Dasa, was elected queen of the carnival.
Padayatra South Africa
South Africa became the forty-sixth country to take part in the campaign to hold Padayatras in 100 countries for Srila Prabhupada's Centennial. Devotees in Durban wheeled a chariot down the main street to city hall, where Mayor Mike Lipschitz cut a ribbon to launch Padayatra South Africa.