The worldwide activities of the International Society for Krishna Consciousness (ISKCON)
World News
North America
An official endorsement from the mayor and an escort of ten police motorcycles highlighted ISKCON's Chariot Parade and Festival of India this June in Atlanta. The celebration included ISKCON Atlanta's annual chipped-rice-and-yogurt festival.
People smiled and cheered as devotees passed by, chanting Hare Krsna, at the annual Springtime Tallahassee parade in the capital of Florida. The judges gave the devotees the award for "Best Church Float" even though they didn't have a float.
Seventy-four leaders in religion, education, and law attended a conference on religious liberty in which a Hare Krsna devotee served as a panelist. The conference was held last spring at the Freedom Forum First Amendment Center, in Arlington, Virginia. The chairman of the Freedom Forum is Allen H. Neuharth, founder of USA Today.
Devotees and friends have been attending 6-day seminars on Krsna conscious subjects several times a year at ISKCON's Gita-Nagari Farm, near Harrisburg, Pennsylvania. The next seminars will be held September 7-12.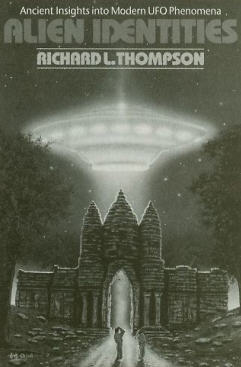 ISKCON Los Angeles is launching its newly arranged visitors center in October. The centerpiece: the highly successful Govinda's restaurant, formerly across the street, now directly next to the temple itself.
Seven hundred devotees from ISKCON and from eastern India chanted twenty-four hours nonstop at a Bengali cultural center in Toronto. They chanted Hare Krsna to traditional Bengali melodies. Most of the chanters were from Bengal, Bihar, Orissa, and Bangladesh, where such chanting is indigenous.
A new book by a BTG columnist investigates parallels between modern reports of unidentified flying objects and similar reports from the Vedic literature of India. The book is Alien Identities, by Richard L. Thompson (Sadaputa Dasa). For information on how to get copies, see page 60.
Devotees in Spanish Fork, Utah, celebrate their annual Festival of India on September 11.
ISKCON Houston is buying three quarters of an acre next to the temple for a restaurant and a hall for Krsna conscious programs.
A gong summons four hundred needy people for a weekly meal in Los Angeles. A devotee from Hare Krishna Food for Life parks his van in a needy neighborhood and walks around with the gong to let people know he's there.
Europe
Devotees in Sarajevo are still giving daily free meals of prasadam. They also hold regular temple programs and put on concerts for children in hospitals. With food scarce, the devotees report an ironic benefit of war: people are getting closer to the land. With food scarce, they are growing vegetables in everything from their front yards to jars, crates, and bathtubs.
The Hare Krsna center in Copenhagen has moved to a new, larger place, a former hotel thirty minutes from downtown.
BTG contributor Hridayananda Dasa Goswami lectured in the Polish cities of Warsaw, Gdynia, and Gdansk during a five-day tour last spring. He spoke at the University of Gdansk and the Polish Philosophical Association and was interviewed on Polish television.
Devotees in Hungary have been fighting moves by the government to restrict their religious freedoms. First a government committee declared ISKCON a "destructive cult." Then the governing party sent Parliament a bill that would deprive a religion of being "registered" unless it had 100,000 followers in Hungary or had been established there for more than 100 years. Devotees have sought to have the declaration rescinded and the bill defeated. At press time the outcome was still unknown.
Commonwealth of Independent States
ISKCON members spoke about the Vedic social system at a conference in Novosibirsk, Russia, called "Help to Russia." Speakers at the conference included religious leaders, the chief economists of the city, and members of the Russian Academy of Sciences. The participants decided to include the statements of the devotees in a paper to be given to the Russian government.
India
Devotees in ISKCON Secunderabad, Andhra Pradesh, laid the cornerstone for a $1 million temple and cultural complex on their land in the heart of the city. The ceremonies, held last May, included the official opening of the Hare Krishna Art Studio by the chief architect for the temple project, Sri G. Venkataramana Reddy, Vastupati. The studio is meant to encourage young artists in developing their talents for Krsna's service.
Donors in Bhubaneswar, Orissa, give five hundred rupees each to provide five hundred plates of nutritious prasadam to the poor of their city. The program, organized by Hare Krishna Food for Life, encourages people to sponsor distribution ofprasadam on the anniversary of a relative's death. This is a traditional Vedic act of charity meant to relieve one's relatives of suffering caused by past sins.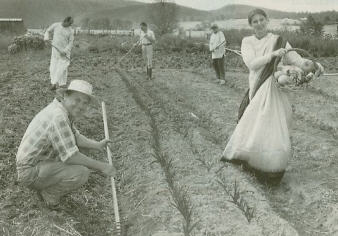 Australia
Devotees at the New Gokula farm in New South Wales will train local jobless people to grow organic vegetables for Hare Krishna Food for Life. The project a way to feed people and provide jobs at the same time will be funded by the Jobskills program of the Federal Department of Employment, Education, and Training.
Latin America
ISKCON has received a donation of about 1,700 acres of land between Rio de Janeiro and Sao Paulo. Devotees plan to use the land for self-sufficient farming. Twelve devotees are living on the land so far. Another donation: a place in the mountains, an hour and a half from Rio. Devotees plan to use it for retreats for interested friends.
The Festival of the Chariots rolls in Rio at Ipanema Beach at the end of October.
Padayatra News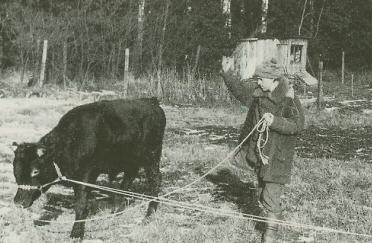 Padayatra Latvia
Devotees in Latvia are getting ready for Padayatra. An old woman living alone gave them a pair of untrained bulls, which a devotee from England has trained. Besides distributing books, the devotees hope to show people the value of ox power in a country where people are moving from the factories back to the land.
Padayatra England
A party of devotees who put on a Padayatra in England in April brought Padayatra to three other countries this summer. They took their cart, Deities, and equipment and hooked up with local oxen for Padayatras in Czech, Sweden, and Luxembourg.
For more information about Padayatra, contact:
Padayatra Worldwide
62, Sant Nagar, New Delhi 110 065, India.
Phone: +91 (11) 642-1736.
Fax: +91 (11) 647-0742
Padayatra America
1111 Grand Ave., San Diego, CA 92109.
Phone: +1 (619) 273-7262.
Padayatra Europe
Bhaktivedanta Manor, Lecthmore Heath, Watford, Herts. WD2 8EP, England.
Phone: +44 (92) 385-7244
Srila Prabhupada's Centennial 1996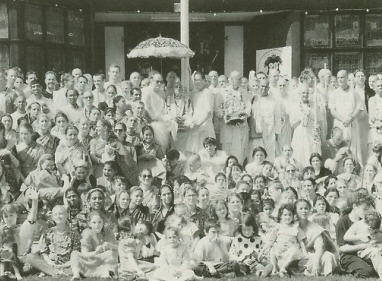 This new section of Every Town and Village features news about the upcoming year-long celebration in 1996 for the one-hundredth anniversary of Srila Prabhupada's birth.
England
More than six hundred devotees attended the U.K.'s first Prabhupada Reunion Festival, held in May at the Bhaktivedanta Manor outside London. Of the six devotees Srila Prabhupada first sent to London in 1968, four attended the festival: Mukunda Goswami, Syamasundara Dasa, Guru Dasa, and Malati Dasi. Former Beatle George Harrison, who had helped the devotees get established in England and acquire the Manor, also attended and led the chanting of Hare Krsna.
West Bengal
A group of devotees from Sridham Mayapur have begun touring West Bengal and holding programs to tell people about Srila Prabhupada, his movement, and his upcoming Centennial. The party will bring their message to as many towns and villages as they can in the next three years.
For more information on the Centennial, contact:
Global Ministry for the Srila Prabhupada Centennial
62, Sant Nagar (near Nehru Place)
New Delhi 110 065, India
Phone: +91 (11) 6421763
Fax: +91 (11) 6470742