The worldwide activities of the International Society for Krishna Consciousness (ISKCON)
World News
North America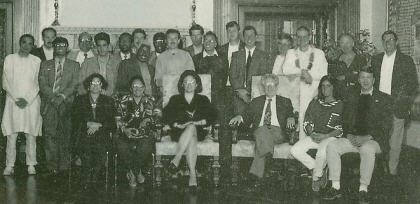 Devotees from seven countries gathered in Topanga, California, in August for ISKCON's first conference on rural community development. Among the topics discussed: a conceptual economic model based on the Bhagavad-gita, strategies for an ox-power, grain-based economy, and the need for long-range planning in farming (permaculture). Copies of the conference proceedings and audiotapes of the presentations are available from Vaishnava Community Development, P. O. Box 90143, San Diego, CA 92169.
High-placed public officials from nineteen countries visited the Bhaktivedanta Cultural Center in Detroit in August. The group, which included supreme court justices and attorney generals, dined on a full-course prasadam dinner and received a guided tour of the temple complex. They were sponsored by the U.S. State Department to take part in its International Visitors Council program, which invites up-and-coming international leaders to the United States and teaches them about the U.S. judicial system.
ISKCON governing body commissioner Ravindra Svarupa Dasa addressed the dignitaries, impressing upon them the universal nature of the principles of Krsna consciousness and the authentic heritage of the Hare Krsna movement. Each guest received a copy of Srila Prabhupada's biography.
The Girls Vaishnava Academy has moved into a new 2,500-square-foot house on five acres of land near ISKCON's New Ramana Reti Farm. The school has eighteen girls (ages twelve to eighteen), from the United States, Japan, Scotland, South America, and Germany. Last summer the girls won the appreciation of the local people by helping plant 32,000 flowers along a county highway.
Three thousand watched as Ravana burned at the Festival of India held last September in Spanish Fork, Utah. The effigy-burning was the climax of a Ramayana play put on by local devotees.
The San Francisco branch of the Bhaktivedanta Institute has moved across the bay to Oakland. Their new address:
P. O. Box 29737, Oakland, CA 94604. Phone: (510) 465-7618; fax: (510) 465-5471.
Vice Mayor Mike Haggerty cut the ribbon to officially open Govinda's at ISKCON's Caitanya Cultural Center in Tucson, Arizona. Under the direction of Dasaratha Dasa, devotees have transformed an acre of desert land into a paradise with palm trees, gardens, walkways, waterfalls, fountains, and an aviary with parrots and peacocks. Mr. Haggerty said that he is glad that Tucson finally has a vegetarian restaurant and that it is located in such a beautiful place.
A hundred thousand people saw Lord Jagannatha's chariot roll down Yonge Street during Toronto's twenty-second annual Rathayatra festival. The parade included three lavishly decorated chariots, five floats depicting Lord Krsna's pastimes, and many classical Indian dance performances. At the festival site, on Toronto Centre Island, devotees passed out twenty thousand plates of Krsna prasadam.
Participants in the International Geographical Congress heard about Lord Caitanya at their gathering in Washington, D. C., last fall. Mrs. Hasi Das, a Calcutta college professor and wife of ISKCON advisor A.C. Das, presented a paper entitled "Mayapur: The Sacred Place of International Fame." She told of ISKCON's plan to develop Mayapur as a spiritual city with a magnificent temple.
Europe
Leaders at the Bhaktivedanta Manor have submitted a 200-page document to the European Court in Strasbourg, France, in a final effort to preserve public access to the popular ISKCON center near London. It will take about a year to hear back from the court. For more than six years the devotees have been appealing the decisions of local and county councils to deny public worship at the temple.
BBC Radio listeners could hear Srila Prabhupada's Bhagavad-gita As It Is every day during October. The readings included a verse from the Gita, a short purport, and a story from the Bhagavatam to illustrate the purport. Estimated audience: 500,000 a day.
Eight devotees are traveling around Germany in the Spiritual Skyliner, a forty-foot bus they've converted into a temple. Last year they put on seventy programs in various towns and cities.
Two Hare Krsna families are unleashing a revolution in Romania. Paramguru Dasa, Timisoara temple president, and his wife, Tadadhina Devi Dasi, operate a successful business that sells Prabhupada's books to stores all over the country. They sold a thousand books their first month.
"The people here are poor," says Tadadhina, who holds a university degree in economics. "But when they see an attractive book at a store, they'll save their money and purchase it later on. As our business contacts expand and we get more titles in Romanian, we expect the books to become a nationwide rage."
On another front, Murari Krsna Dasa (Dr. Marius Crisan), a lecturer at the University of Timisoara, teaches a weekly seminar on bhakti-yoga. Assisted by his wife, Syamala Devi Dasi, he has translated a wide range of materials from the Bhaktivedanta Institute, the scientific branch of ISKCON.
Murari Krsna says he believes the growing interest in the Vedic science of cosmic origin is a sign he will soon be teaching seminars in universities all over the country.
Visitors keep coming back to Radhadesa, the Hare Krsna movement's castle in Durbuy, Belgium. The former Chateau de Petite Somme is nestled in the rolling hills of the Ardennes region, where the Battle of the Bulge was fought in World War II. Last year more than 25,000 guests toured the rooms of the chateau, including the temple, where they viewed the presiding Deities, Sri Sri Radha-Gopinatha.
Orphans, the aged, and the sick receive prasadam from devotees in Belgrade, Yugoslavia, as part of the Hare Krishna Food for Life program. The government, private farms, and other organizations give free food supplies to the devotees. Since last April, more than five thousand people have received Krsna prasadam.
India
A quarter of a million people attended festivities during the five-day Janmastami celebrations at ISKCON's temple in Juhu, Bombay. The ISKCON auditorium, one of the best in the city, was packed each day with people eager to see performances for Krsna's pleasure by world-renowned musicians and dancers, including Pandit Hari Prasad Chaurasia, Pandit Shiv Kumar Sharma, Pandit Bhimsen Joshi, Anuradha Paudwal, Shekhar Sen, Anup Jalota, Ashit Desai, and Hema Malini. Chief guests included actor Anil Kapoor, state minister Ramarao Adik, and Bombay mayor Chandrakant Handore.
At midnight on Janmastami, devotees bathed Sri Sri Radha-Rasavihari with 108 pots of honey, milk, and Ganges water.
The president of India, Shanker Dayal Sharma, visited ISKCON's temple in New Delhi on Janmastami, the appearance day of Lord Krsna.
Three tons of prasadam were passed out during the Hyderabad Rathayatra parade. Dr. P. V. Ranga Rao, state education minister for Andhra Pradesh and son of India's prime minister, swept the road in front of Lord Jagannatha's chariot to inaugurate the seven-kilometer parade.
India's largest publisher of religious books has published Passage From India, by Steven Rosen (Satyaraja Dasa). The book is a summary study of Satsvarupa Dasa Goswami's Srila Prabhupada-lilamrta, a seven-volume biography of Srila Prabhupada. Passage From India will be part of a series of biographies studied at high schools and universities in India and Europe.
Construction has resumed on ISKCON's temple in Baroda, Gujarat, after a five-year delay due to lack of funds. The temple will be topped by three yellow domes of the traditional Somapura style of Gujarati temple architecture. The spacious basement of the temple has served as living quarters, offices, and a temporary temple. Temple president Vasu Ghosa Dasa says the number of visitors to the temple has tripled since construction resumed.
Dr. Vibhakar J. Mody of Washington, D.C., and originally from Baroda, has pledged $50,000 to the project, in memory of his mother, who passed away in Baroda in June 1991.
Devotees are planning the development of ISKCON's 31-acre plot in Jagannatha Puri, Orissa. They plan to use the five-acre beachfront for a guesthouse and a naturopathic health clinic. Two acres will be leased to devotees for housing. The rest of the land will be used for agriculture, a temple, a day school, a cowshed, a memorial to Srila Prabhupada, a prasadam hall, a museum, and asramas for men and women.
Although non-Indians are not admitted into Puri's famous Jagannatha temple, local acceptance of ISKCON devotees, including Westerners, is improving. The king of Puri, Gajapati Maharaja Dibyasinga Dev, invited ISKCON members to attend the road-sweeping ceremony before the start of last summer's Rathayatra festival. For the first time, many Western devotees were welcome to chant and dance before the original Jagannatha deities.
Mauritius
Five thousand people attended the Janmastami celebrations at the Phoenix temple, ISKCON's main center in this island nation. American-born Vasu Ghosa Dasa, temple president of ISKCON Baroda, Gujarat, delivered the main address in Hindi.
Middle East
Bahrain's labor and social affairs ministry has granted registration to "The Hare Krishna Group," making Bahrain the first Persian Gulf state to officially allow the practice of Krsna consciousness. The group is made up of Indian professional and business people, most of whom were already enrolled as ISKCON life members, and is headed by Dr. Sitaram, senior emergency physician at Salmaniya Hospital and chairman of Indian School. The group meets in the evening to chant Hare Krsna and study Srila Prabhupada's books. Other activities include festivals, programs for children, in-depth study courses on the Bhagavad-gita and the Srimad-Bhagavatam, and competitions on scripture.
ISKCON governing body member Jayapataka Swami presided over the opening of the group's center.
Commonwealth of Independent States
Professor C. G. Kotovsky visited the ISKCON center in Moscow recently. He spoke to Gopala Krsna Goswami and others about his meeting with Srila Prabhupada in 1971. The professor had a prasadam lunch, saw the Deities of Sri Sri Gaura-Nitai, and received a copy of Bhagavad-gita As It Is in Russian.
For more detailed news, ISKCON puts out a monthly news-paper, ISKCON World Review. To subscribe, see page 56. Any news from your town or village? Please let us know!
Vrndavana News
Marble Supply Interrupted
The supply of marble for Srila Prabhupada's samadhi was held up from June through September by an exceptionally wet rainy season that flooded mines in Rajasthan. Now the work has picked up again.
Front Gate Reopens
By March, if all goes well, visitors will enter ISKCON's Krishna-Balaram Temple through a new marble front gate. The front entrance has been closed for years by the work to build Srila Prabhupada's samadhi. The reopening signals that the work is nearing an end.
Trees Destroyed
In September vandals cut down thirty trees at the garden ISKCON is growing with the World Wide Fund for Nature. The trees bamboo, champak, banyan, and poinsettia had been growing for a year. ISKCON's site manager, Acyuta Dasa, at once replaced the cut trees with new ones. "They're not as big," he says, "but everything is growing."
Apart from the garden, ISKCON and the WWF have planted trees along half the pilgrimage path that encircles Vrndavana. The state government has planted shrubs and trees along the other half. Planting is easy, says Acyuta. The hard part is to maintain what is planted.
Acyuta proposed a test to the government officer in charge: "Let's see who'll maintain their half better."
The officer responded, "As long as I'm here, I'm taking up your challenge."
Governor Visits
Among recent visitors to the Krishna-Balaram Temple: Sri Satya Narayan Reddy, the governor of the state of Uttar Pradesh, where the temple is located.
Institute Well Attended
In September and October, 160 devotees attended month-long Krsna conscious seminars in Vrndavana at ISKCON's Vaisnava Institute for Higher Education. The next seminars there start the second week in January.
Feeding the Residents of Vrndavana
ISKCON has been asked to provide daily meals for some 150 babajis (ascetics) at Radha-kunda, a holy place in the Vrndavana area. ISKCON has tentatively agreed. ISKCON also feeds one hundred Vrndavana widows every day at the Krishna-Balaram Temple. The next program: distribution of prasadam in surrounding villages.
Padayatra News
Padayatra India
Devotees completed their Himalayan pilgrimage in September, having reached Gangotri, Yamunotri, and Badrinath. In October they joined other ISKCON members in a month-long walking tour of Vrndavana. Now they're headed to Jagannatha Puri, on the east coast. On the way they'll pass through Naimisaranya, where Suta Gosvami spoke the Bhagavatam; Ayodhya, the birthplace of Lord Rama; Allahabad, the confluence of the Ganges, Yamuna, and Sarasvati rivers; and Gaya, where Lord Caitanya received initiation.
Padayatra America
The padayatris entered Costa Rica in October and should be in Panama, the last country in their Central America tour, in early January. They've walked through El Salvador, Honduras, and Nicaragua.
Padayatra Europe
The international group of devotees walking through Europe started in southern Spain in May. After three months in Spain, they walked through France along the Mediterranean coast and reached Genes, Italy, in September. After a few months in Italy, the party will begin the walk to Greece, the next leg of the journey, which will end in Moscow.
Padayatra Siberia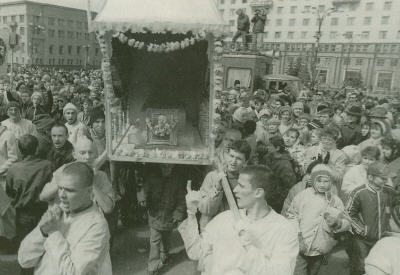 Hundreds of devotees chanting Hare Krsna and carrying a palanquin bearing a picture of Srila Prabhupada have been visiting many towns and cities throughout Siberia.
Padayatra England
Parasurama Dasa led a small party made up of his wife and children and a few other devotees along the roads of England for several months last year. They put on thirty-two festivals with puppet shows, plays, chanting, and prasadam distribution and attracted much media coverage.
Padayatra New Zealand
Devotees began a 43-day walk through the North Island on December 26. In 1991 the New Zealand Padayatra toured the country's South Island.
Padayatra Switzerland
Last summer, fifteen devotees with an ox and a cart toured the villages surrounding their farm in the Alps. During the three-day walk, they passed out two hundred hardbound books.
Padayatra Trinidad
Devotees here have held several one-day walks. Many schoolchildren and members of the temple's congregation joined in.
For more information about Padayatra, write to:
Padayatra Worldwide
62, Sant Nagar (near Nehru Place), New Delhi 110 065 India. Phone: +91 (11) 642-1736. Fax: +91 (11) 647-0742
Padayatra America
1111 Grand Ave., San Diego, CA 92109. Phone: (619) 273-7262.
Padayatra Europe
Bhaktivedanta Manor, Letchmore Heath, Watford, Herts. WD2 8EP, England. Phone: +44 (92) 385-7244