A look at the worldwide activities of the
International Society for Krishna Consciousness (ISKCON)
ISKCON Cinema Releases Documentary Film
New York ISKCON Cinema, the motion picture division of the International Society for Krishna Consciousness, has released a new 16mm film entitled The World of Hare Krsna. The 33-minute color documentary was conceived and produced by Yadubara dasa and his wife, Visakha devi dasi, who spent two years traveling the world to shoot the footage and another six months to edit the film and the script. The World of Hare Krsna opens with a short historical account of how Lord Krsna's teachings have come down to us through the ages and how His Divine Grace A.C. Bhaktivedanta Swami Prabhupada introduced these teachings to Westerners through his Krsna consciousness Society.
Then the film takes us on a world tour of the activities of the devotees today: publishing, illustrating, and distributing Krsna conscious literature in Paris; congregationally chanting the names of God in London; portraying Krsna's pastimes through art, dance, music, drama, and sculpture in Bombay; cooking and distributing prasadam (food offered to Krsna) in Fiji; learning Sanskrit in the gurukula school in Los Angeles; and farming in the Spanish countryside. We also see some special projects, like the temple-on-wheels in England, the 54-foot sailboat-temple in Hawaii, and Prabhupada's Palace in the hills of West Virginia.
For anyone who's wondering, "What do those Hare Krsna devotees believe in? What do they do? How did it all start?" The World of Hare Krsna offers some illuminating answers.
"Illuminations from the Bhagavad-gita" Published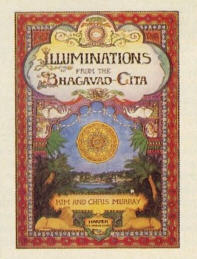 New York Harper and Row recently published Illuminations from the Bhagavad-gita, a collaborative effort by Kim and Chris Murray of Washington, D.C. Kim Murray had worked diligently for five years on the book's forty color plates and fifty black-and-white drawings, which illustrate verses her husband Chris selected from Bhagavad-gita As It Is, by His Divine Grace A.C. Bhaktivedanta Swami Prabhupada.
Reviewing the book, the Washington Star called the paintings "extraordinary. . . an accretion of thousands of details portraying the paradisical landscape of transcendent knowledge . . . remarkable additions to the art of book illustration: sweet, innocent, beautiful." Harper and Row printed 30,000 copies, of which more than 10,000 have been sold in less than two months.
Movement Expands in Northeastern U.S.
New York While hundreds of regulars from the old Hare Krsna temple on Fifty-fifth Street will still enjoy weekly programs at the new center three blocks away, thousands more outside midtown finally have temples to call their own.
Proceeds from the sale of the old Fifty-fifth Street building enabled the Hare Krsna movement to establish four new center: a sixty-five-acre farm in upstate New York, a three-acre retreat in northern New Jersey, a meeting hall in the New York borough of Queens, and a three-story cultural center and restaurant on Seventh Avenue in Manhattan.
"Each center has its particular appeal," says Laksmi-Nrsimha dasa, regional secretary for the movement in the New York metropolitan area. "The farm upstate gives an excellent setting for our gurukula children's school, and it's a place where we can have our own self-sufficient community. In Queens we're right in the middle of fifty thousand Indian people who've been wanting us there for years. In New Jersey we have a peaceful spiritual retreat where interested people can come stay with us for a weekend or however long they'd like. And we still have everything we need in Manhattan, but in an even better location."
Amidst these changes, the movement has also expanded its center in Freeport, Long Island, a New York suburb.