A look at the worldwide activities of the
International Society for Krishna Consciousness (ISKCON)
Krsna Temple Moves to Miami Oceanfront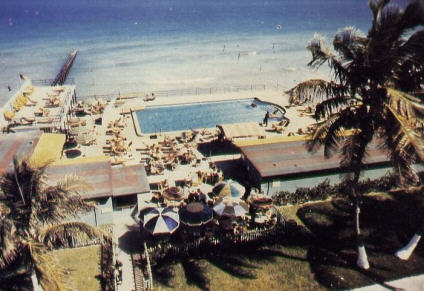 Miami Beach, Florida The Hare Krsna movement has relocated its Miami center to a 100-room hotel on the oceanfront of Miami Beach. The new center renamed "Govinda's Boardwalk Hotel" includes a temple, an auditorium, a vegetarian restaurant, a pool and cabana area, and a private beach. The money to buy the hotel, which is located on Collins Avenue between 24th and 25th streets, came mostly from the sale of the movement's former Miami property, which had jumped in commercial value over the past several years.
"Govinda's Boardwalk Hotel," explains Vira-Krsna Goswami, director of the center, "is intended for people who would like to spend their vacation learning about spiritual life. Devotees will occupy only about thirty of the rooms; the rest are reserved for guests. A wide variety of programs will give every guest a chance to pick up the basic ideas of Krsna consciousness."
Indian Scholar Reviews Srila Prabhupada's Books
"It gave me great pleasure recently to study the publications of the Bhaktivedanta Book Trust. Particularly Srimad–Bhagavatam, the great Indian classic describing the science of God, presented with the original Sanskrit texts, word-for-word meanings, and meaningful and devotional translations, drew my full attention. The beautiful and informative texts of Srila Vyasadeva have been properly augmented by the great insight and devotional qualities of A.C. Bhaktivedanta Swami Prabhupada. The Bhaktivedanta Bhagavatam clearly reveals the Vedic knowledge to modern man in the form of a comprehensive and accessible encyclopedia, useful for many different aspects of study, both in the sciences and in the humanities. In publishing theBhagavatam in this way, Srila Prabhupada has done a great service to the people by showing them the practical application of bhagavata [devotional] principles to present-day problems. This sastra (scripture] is taking on an important significance as the guide for a rapidly growing international society dedicated in all seriousness to the respiritualization of humanity.
"Certainly I am very glad to have these beautiful and important books in our library, and I strongly recommend them for use by educators, scholars, students, and lay readers in every kind of library." Dr. S.D. Joshi (Ph.D., Harvard; Director, University of Poona, India.)
Devotees Begin Farm Project in Spain
Brihuega, Spain ISKCON now has an expansive farm and villa in Brihuega, Spain, about an hour's drive northeast of Madrid. Of classic design, the main building has more than forty rooms, including two large kitchens. In addition, six suites promise more than adequate accommodations for guests. Another structure nearby will provide separate asramas for sixty men and forty women. Scattered over the farm's nine hundred acres are many smaller buildings that will serve as homes, machinery and husbandry sheds, and dairy barns.
The farm lies in a beautiful, fertile valley fed by, the swiftly flowing Tajuna River. Pure drinking water springs from a source deep within the surrounding foothills. With such an ideal spiritual environment, the Brihuega farm is sure to attract many to the Krsna conscious way of life.