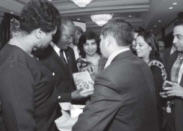 BRIAN LARA RECEIVES BHAGAVAD-GITA AS IT IS
New Delhi: The legend-ary West Indian cricket star Brian Lara received a copy of the Bhagavad-gita As It Is at a recently held function in New Delhi. ISKCON's leading book distributor Bhakta Rakesh Oberoi presented the copy to him.
AUSTRALIANS IGNITE KULIMELA FUSE
Eungella, Australia: The Australian Kulimela, hosted by New Govardhana Dham, a farm in northern New South Wales, was attended by up to 300 devotees and well-wishers from around Australia and across the world. The festival ran from 27 December 2010 to the 9 January 2011. The attendees were treated to seminars on business planning, forgiveness, yoga, reframing, healing, Ayurveda, self defence, cow protection and more.
KRISHNA IN CALIFORNIA ART EXHIBIT
California: Over one hundred people attended the reception for a new art exhibit by ISKCON artists Rama Abhirama Dasa and his wife Dhrti Dasi, at the Exeter Courthouse Gallery and Museum in Central California on January 9.
The show, entitled "A Marriage of Art," included thirty-six landscape and figurative paintings by both artists, as well as ten of Vrindavana and four large paintings of Lord Krishna.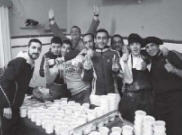 SPANISH INMATES EAT PRASADA
Ceuta, Spain: ISKCON devotees distributed prasAda in the prison of Ceuta. It is the only prison in Spain and in the entire European Union that serves a full vegetarian menu at least once in a year to all inmates.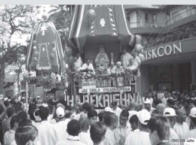 RATHA-YATRA AT ISKCON JUHU
Mumbai: The three-day festival from February 4-6 organized by ISKCON Juhu included the Ratha-yatra celebrations of Lord Jagannatha, Baladeva and Subhadra.
Contributed by Yudhisthira Krishna Dasa, Antony Brennan, Krishna Krpa Dasa, Madhava Smullen