Worldwide Dusshera Celebrations
London, UK: On October 16-17, all over the world, ISKCON celebrated Dusshera, victory of Lord Rama over Ravana. About 3,000 people attended the function. The Panhava Sena devotees presented a drama of the epic battle fought between Rama and Ravana.
Juhu, Mumbai: Students and teachers of the Bhaktivedanta Swami Mission School at the ISKCON complex here re-enacted the same pastime with an eco-friendly Ravana.
Washington DC: 2,500 people attended the Dusshera celebrations here.
Book Release ON EVOLUTION
Michael Cremo (Drutakarma Dasa), an international authority on human antiquity, has released his latest book, The Forbidden Archeologist (Torchlight Publishing ©2010). You will find documented, credible findings that mainstream archeologists do not want you to know about discoveries in the fossil record that tell a completely different story from Darwinian evolution.
The author presents his research at international scientific conferences, comments on the latest discoveries and "missing links," examines famous archeological sites such as the Sterkfontein Caves, the alleged Cradle of Humanity.
Watch the book trailer in ISKCON News's video section: http://news.iskcon.org/node/3200 To purchase the book visit: www.forbiddenarcheologist.com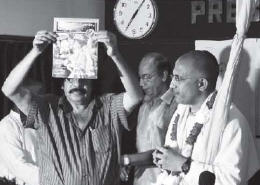 MALAYALAM BTG RELEASED
Thiruvananthapuram, KE: On 31 July, Bhagavad-darshanam, the Malayalam version of Back to Godhead (BTG) magazine, was released by Sri Soorya Krishnamurthy, artist and cine personality. Jagat-saksi Dasa, president of ISKCON Thiruvananthapuram, delivered the welcome address.
For more details, contact Govardhana Giri Dasa at bhagavad.darshanam@gmail.com or call (+91) 96058 22635. Annual subscription Rs. 180/- only, 3-year subscription Rs. 540/- (postage charges extra).
World holy name celebrations
Mumbai: Mumbai's four ISKCON temples celebrated World Holy Name Week from 26 September to 10 October this year, with ISKCON Juhu hosting the first and the biggest event.
Ludhiana, Punjab: At ISKCON's center in Ludhiana, Punjab, five hundred congregation devotees and friends took to the streets to chant the holy names of Krsna in public. From 13 September through 20, the congregation took turns to chant the Hare Krsna maha-mantra at the temple throughout the day.
Contributed by Madhava Smullen, Gopala Gaura Guru Dasa and Parijata Devi Dasi.