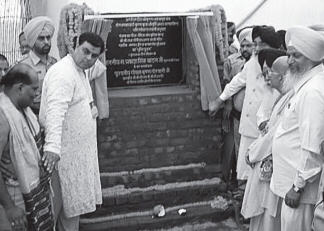 A LOOK AT THE WORLDWIDE ACTIVITIES OF THE INTERNATIONAL SOCIETY FOR KRISHNA CONSCIOUSNESS (ISKCON)
NEW PROJECTS
JUNE 1 LUDHIANA,PUNJAB: Bhumi pujan and groundbreaking ceremony for Sri Sri radha-Gopinath asta Sakhi Temple was observed in presence of hief Minister of Punjab.Parkash Singh Badal and Chief Minister of Punjab.Parkash Singh Badal and his cabinet ministers.The Chief Minister announced a grant of Rupees ten lakh for the construction of library in the temple.The temple is expected to be completed in four years.
(Report by Kaplish)
ORLANDO,FLORIDA,USA: ISKCON acquired a large house and seven-acre roperty in with plans to build a temple."Orlando has very big potential for reaching,"says vice president Daruka Dasa.Preaching programs are focused on the University of Central Florida with over 45,000 students,the sixth argest university in the US.
JUNE 7 UK: Bhumi-pujan of the first ever statefunded VaisnavaHindu School in Britain arked the start of works to be completed in August 2009.The Krsna Avanti Primary School is situated in the London Borough of Harrow.The School ill be UK's first faith-based Voluntary Aided state school of its kind and as uch will not charge fees.
ISKCON DEVOTEE PROFILED ON NATIONAL PUBLIC RADIO
National Public Radio (NPR),voted the most trusted news source in America in a 2005 Harris poll,featured Hare Krsna devotee Gadadhara Pandit dasa part of a year- long series profiling dynamic young religious leaders called "The Young and the Godly." The seven minute feature was aired on may 28. Gadadhara Pandit,a 35-year old monk (brahmacari) living in New work,was born in India and raised in America.He is the first Hindu chaplain (religious life advisor) at the prestigious Columbia University and New York university,where he provides representation for the Hindu communit y, raises awareness of Indian and Hindu culture,and participates in interfaith dialogue.NPR serves a growing audience of 26 million A mericans each week
(Vyenkata Bhatta Oiisa)