ARDHA KUMBHA MELA IN PRAYGA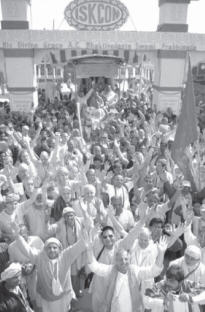 At the Kumbha mela this year, ISKCON had a bigger and better camp than even the Maha Kumbha mela, with lots of preaching facilities. The Padayatra Maharashtra arrived with Deities of Lord Caitanya, Lord Nityananda and Srila Prabhupada. Devotees arrived from Mayapur, Ujjain, Delhi , and Vrndavana and other temples for performing Harinam, book distribution, and prasadam distribution.
Even as early as 3 a.m. pilgrims streamed through Krsna-lila dioramas displayed in the camp. Harinam procession went every day with padayatra cart and the crowds most enthusiastically cheered the kirtana. Senior devotees gave lectures every afternoon. Hundreds of pilgrims joined Gaura arati every evening and danced blissfully in the program. 'Food for life' fed 5000 pilgrims prasadam daily. Vaisnava yajnas were performed every day.
His Holiness Lokanatha Maharaja was the official Mahant and the devotees got a chance to take the padayatra cart in the procession and bathed with full police protection during the main bathing days.
RATHA-YATRA
The devotees of Cape Town, South Africa successfully completed their first Ratha-yatra festival in November 2006. The response of the community to the festival was extraordinary.
Mumbai
A three-day Hare Krsna festival was celebrated by ISKCON Juhu with tens of thousands attending the pandal programs and the ratha-yatra. Lakhs of Mumbaites got the auspicious darsanas of Their Lordships Jagganatha, Baladeva, and Subhadra as the carts made their ways through the main streets and roads of Juhu. Brilliant fire-works lit up the dark sky and showers of flower petals rained on the devotees as people ran to offer them mineral water, juices and other refreshments. The pandal programs saw visitors enthralled by melodious kirtanas , enlivening lectures, educative exhibitions, and prasadam distribution.
Belgaum
ISKCON Belgaum celebrated historical three day festival last month. Twenty thousand people marched along with the ratha-yatra cart and the three day pandal festival concluded with a record forty thousand devotees attending on last day.
NEW ISKCON TEMPLE OPENED IN TlRUPATl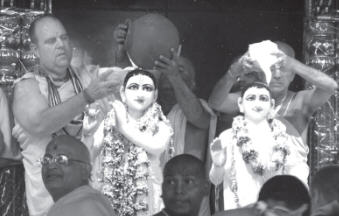 Nityananda Trayodasi 31" January: A marvellous temple with Sri Sri Radha Govind , Asta Sakhis, Giriraja, and Lord Caitanya attracted thousands of pilgrims from all over the world . A three day installation festival was highlighted by elaborate ceremonies, pandal programs, wonderful hospitality for all the visiting devotees, and a pilgrimage to the famous temple of Lord Balaji at Tirumala. A detailed report of the event will appear in the next issue.
MAYAPURA FESTIVAL
Mayapura Festival at the world headquarters of ISKCON at Mayapur started from 16th February and will continue till Gaurapurnima on 3rd March. Seminars by senior devotees, annual awards for excellence, colourful cultural shows, and lively narrations of Lord Caitanya's life mark the festival which attracts thousands of devotees from all parts of world.
COMING UP
Vraja Mandal Parikrama (7th – 13th of March) Guides: His Holiness Mahanidhi Swami, His Holiness Radha Ramana Swami, and Dina Bandhu Dasa.
Every day, from Krst:la Balarama Mandir, they will lead parikramas to different pastime places of Vraja. There will be lively narrations of the different pastimes that happened in each place. Special boat festival for the pleasure of Sri Sri Radha Syamasunder will be held on 1Oth March.
With inputs from Dinabandhu Dasa