Putting their preconceptions aside,
two food writers find common ground.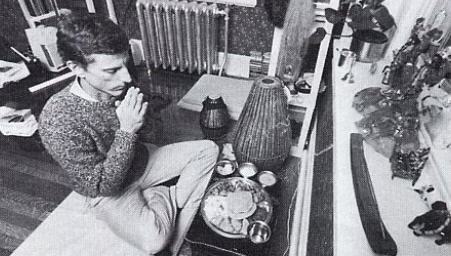 She was expecting to hear my cymbals clanging and see my crimson sari fluttering as I pursued wide-eyed trying to convert her.
I was expecting to meet an aloof, highsociety lady who favored the refined dining company of dukes and baronesses.
One afternoon in mid-February, after six months and four or five terse phone conversations, I finally met Elaine Tait, senior food writer for the Philadelphia Inquirer an alert woman in a bulky sweater and a simple woolen skirt. We sat together on a small couch in the busy lobby outside her office. By her unpretentious demeanor, she disarmed me in the first few minutes of our conversation when she told me about "Moose," her pet rabbit. Elaine said that her fondness for Moose made her want to be a vegetarian like me, but her job didn't allow it.
At that moment I mentally emptied my stock of preconceptions of her like someone emptying a bucket of muddy water. On her side, she remarked on the quality of the reproductions in Back to Godhead magazine. She seemed surprised when I told her that devotees drank milk and ate milk products but didn't eat meat, fish, or eggs and that I wasn't a cook but a photographer and writer.
Our conversation warmed, and as she spoke I inwardly laughed at my ludicrous mental image. Here was a likable, vivacious person who "wore her heart on her sleeve" (as her mother told her), had a penchant for violets, and excelled in and was devoted to her work. Despite my reticent nature and my habit of burying my heart somewhere beneath equipoise, she bore with me. After a few days she accepted an invitation to a homemade lunch.
Elaine's graciousness as a guest more than compensated for my inadequacies as a cook. When I pulled open a kitchen drawer where twenty-one spices were housed, each one in a small stainless-steel cup, her face lit up, revealing her enthusiasm for cooking. "What a wonderful idea you've given me for my new kitchen!" she exclaimed. Who wouldn't be delighted to entertain a guest who appreciates your food, your company, your child and even your banterings with your spouse? And we in turn enjoyed Elaine's ready wit and her stories about her work with the Inquirer.
Elaine and I met again the day after her "Cooking with the Krishnas" story was published, and her first question was "Did you survive the article?" I told her that I'd read it three times and had laughed each time. It was expertly written and honest. And after all, it had been fun to meet her and fun to have her over, so it was fitting to have an article that was fun to read. But most of all, it was fun to see how we'd both tossed out our preconceptions of each other and become friends.
Cooking with the Krishnas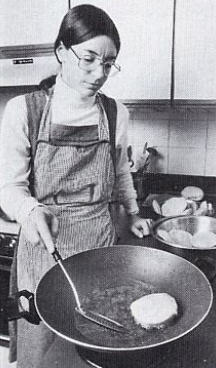 For devotees, there are three rewarding aspects of food: the preparation, the offering to the Gita, and the eating.
I would not have been surprised to hear drums and cymbals, to see an exotic woman swathed in a sari the color of a city sunset. Instead, Visakha Dasi (Hare Krishna women take the surname Dasi: Krishna men use the surname Dasa) arrived quietly, looking bookish. like a graduate student, in gray flannel and sensible wool stockings.
Visakha's appearance was reassuring, but she spoke in a steady, mantralike flow of words that reminded me of why I had been apprehensive about meeting with a member of the controversial religious sect. hadn't I fled from Krishna strangeness in airports, and from adherents in the streets? Hadn't I heard reports of child marriages and worse to a Krishna commune in west Virginia?
Visakha's voice betrayed no emotion not frustration when I resisted her early telephone efforts to schedule a meeting to talk about the vegetarian cookbook she had helped prepare for the Hare Krishnas, nor satisfaction when, after several months of stalling, I surrendered and said, "OK, let's do it."
Later, when she felt more comfortable with me and I with her I would notice that during our conversations, her voice lifted and lowered in much the same way that mine did in normal situations. I wondered: Had my own voice seemed small and controlled to her in those early, guarded conversations?
I had agreed to meet Visakha not at her Mount Airy home or at the nearby Krishna temple on Allens Lane, but at my office. If she was going to try to convert me and weren't Krishnas always trying to convert people? I reasoned that I would be better able to resist on my home ground.
The following recipes appeared in the Philadelphia Inquirer, along with Elaine Tait's article "Cooking with the Krishnas."
Cauliflower and Green Peas
(Phul Gobhi Sabji)
Preparation time: 30 minutes
Servings: 4-6
¼ cup ghee (clarified butter) or vegetable oil
1 ½ teaspoon fresh ginger, peeled and minced
1 ½ teaspoons cumin seeds
1 large cauliflower, trimmed, washed, and cut into florets
1 teaspoon turmeric powder
1 teaspoon salt
¼ teaspoon chili powder or paprika
1 cup fresh green peas
¼ cup heavy cream, sour cream, or yogurt
2 tablespoons fresh coriander or parsley leaves, minced
1. Heat the ghee in a four- or five-quart saucepan over a medium flame for one minute. Stir in the ginger and cumin, and fry until browned. Add the cauliflower. Sprinkle with turmeric, salt, and chili powder or paprika. Stir-fry until cauliflower is slightly browned. Add the peas and about two tablespoons of water. Cover and reduce the flame to low.
2. Cook, stirring occasionally, for 15 minutes or until the vegetables are almost tender. Remove the lid, raise the heat, and cook until dry. Fold in the cream, sour cream, or yogurt and sprinkle with coriander or parsley leaves. Offer to Krsna hot.
Tomato Chutney
(Tamatar Chatni)
Preparation time: 1 hour
Servings: 4-6
1½ tablespoons ghee or vegetable oil
½ dried red chili pod, seeded and broken into bits
½ tablespoon fresh ginger, peeled and minced
1 teaspoon black mustard seeds
1 ¼ pounds firm ripe tomatoes, cut into chunks
½ teaspoon salt
3 tablespoons brown sugar or equivalent sweetener
1/3 cup water
1. Heat the ghee in a 2 ½ – 3-quart saucepan over a medium flame until hot. Toss in the chili bits, ginger, and mustard seeds, and fry until the seeds crackle, sputter, and pop. 2. Immediately drop in the tomatoes and stir-fry four to five minutes. Add the salt, sugar, and water, reduce the flame to low and simmer, stirring occasionally, for 40 to 60 minutes or until the chutney has thickened. Remove the saucepan from the flame and allow chutney to cool to room temperature. Offer to Krsna.
Pea Soup
(Dal)
Preparation time: 1 hour 15 minutes
Servings: 4-6
5 cups water
¼ cup yellow split peas
1 teaspoon fresh ginger, peeled and minced
½ teaspoon hot green chilies, seeded and minced
2½ tablespoons fresh lemon juice
1 cassia leaf or bay leaf
½ teaspoon turmeric powder
¼ teaspoon salt
2½ tablespoons ghee or vegetable oil
1 teaspoon cumin seeds
1 teaspoon black mustard seeds
2 teaspoons sugar or mild honey
1. Wash the split peas and place them in a heavy saucepan with water, ginger, chilies, lemon juice, cassia leaf, turmeric, salt and one-half tablespoon of ghee. Bring to a boil over a high flame. Reduce to a medium flame, cover, and boil gently for about one hour, stirring occasionally and adding water if needed.
2. When the peas are soft, remove them from the flame, pick out the cassia leaf, and whip the peas with a rotary beater until creamy.
3. Heat the remaining ghee in a small pan over a medium flame. Stir in the cumin and black mustard seeds. Fry until the cumin seeds begin to darken. Add sweetener. Stirfry until the mixture turns reddish. Remove from the flame and pour into the peas. Stir, cover the mixture, and allow to steep for one minute. Offer to Krsna hot.
Rice Pilaf
(Pulao)
Preparation time: 30 minutes
Servings: 4-6
4 green cardamom pods
3 tablespoons ghee or vegetable oil
6 whole cloves
1 ½-inch cinnamon stick
1/3 cup slivered or sliced raw almonds
1 cup basmati or other good-quality long-grain white rice
2 cups water
½ teaspoon salt
1. Lightly tap each cardamom pod with a knife handle to partially crush. Remove the seeds. Heat the ghee in a heavy 1 ½-quart saucepan over a medium flame for one minute. Add the cloves, cinnamon, cardamom seeds, and almonds, and stir-fry until the almonds begin to turn golden-brown.
2. Add the rice and stir-fry for about four minutes. Pour in the water and salt. Stir, raise flame to high, and bring water to a full boil. Immediately reduce the flame to the lowest possible setting, cover the saucepan with a fight-fitting lid, and allow the rice to simmer without stirring for 15 to 25 minutes or until all the water is absorbed and the rice is tender and flaky. Offer to Krsna hot.
Deep-fried Puffed Breads
(Puris)
Preparation time: 40 minutes
Servings: 14
1 cup whole-wheat flour
1 cup white flour
½ teaspoon salt
2½ tablespoons butter, melted
½ to ¾ cup warm water
3 cups ghee or vegetable oil for deep-frying
1. Mix the flours in a mixing bowl. Add the salt and rub in the butter with your fingertips. Slowly add water while mixing to make a medium-stiff dough. Knead the dough until smooth. Cover and allow it to rest in a warm spot for 30 minutes.
2. In a wok or saucepan, heat the ghee over a medium flame. Meanwhile, smear a few drops of ghee on a rolling pin and a rolling surface. Shape the dough into 14 smooth patties and roll each into a thin, round, even disk about 3½ inches in diameter.
3. When the ghee is hot (around 360 degrees), lower the heat to a medium flame. Carefully slip a puri into the hot ghee. The pun will sink at first, then rise to the surface and sputter. If it fails to rise, your ghee is not hot enough. Using the back of a slotted spoon, gently press the puri into the ghee until it inflates like a balloon, about 30 seconds. Fry the other side for a few seconds until it is as crisp and golden as the first side. Remove the purr and place it in a colander to drain. Cook the remaining puris the same way.
Offer to Krsna hot.