"We finally had a Sunday school syllabus. Of course, most of it would never be used."
"May I go to the bathroom please?" piped a high squeaky voice, accompanied by much frantic hand waving.
I mentally calculated the odds of three kids feeling a compulsive call of nature within a few seconds. Probably the same as me getting struck by lightening or winning the lottery.
"Sure," I said, shrugging resignedly as the child almost instantaneously disappeared.
"Back to the lecture," I said quickly, a little alarmed by the calculating looks on the small faces of the other students.
Welcome to the Sunday school of ISKCON Washington, D.C.
The Beginning
The idea of a Sunday school started with a group of parents concerned about the need for the spiritual education of their children.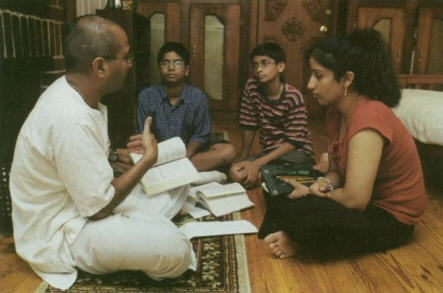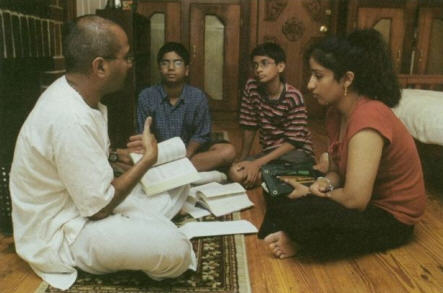 Some parents worried about the lack of devotee association, some wanted a more formal platform to address the spiritual queries of their children, while others wanted to see them imbibe more of the Vedic heritage. But above all, the parents wanted to share the sweet nectar of Krsna consciousness with the children in the community.
Thus the idea of the Sunday school was born. Not that it was a novel idea. There had been Sunday schools with varying levels of success. Owing to time constraints or lack of interest, however, the schools had eventually stopped. Now, once again, infused with enthusiasm and driven by needs, a group of parents was resuscitating the Sunday school.
The new school would be called "Sanskriti," to convey the essence of our desires to help the children strengthen their bonds with the rich Vedic heritage. The venue and the timings were decided fairly quickly. The school would be held in the cultural hall at the ISKCON temple in Potomac, Maryland, outside Washington, D.C. The classes would take place on Sunday evenings so parents could take part in the Sunday Feast program while the children attended school.
Big Ideas
The next task was deciding what to teach, how to teach, and when to teach. Each us has been given some free will by Krsna, and in discussing these questions, we parents all chose to exercise it to the fullest extent. While some of us wanted to control every aspect of what was taught and how, others demanded the right to improvise. Some wanted kirtanas and others the chanting of Vedic verses. Some wanted to focus on moral issues, others on spiritual topics. Still, despite several rounds of negotiations, bargaining, and tense debates, we always managed to keep Krsna in the center by consuming enormous quantities of prasadam. After several intense sessions, spanning many weekends, we finally emerged, battered and bruised but triumphant. We finally had a Sunday school syllabus. Of course, most of it would never be used.
We decided to start small. That would give the new teachers some experience and help us fine-tune the approach. We would start with the children of the temple congregation and wait for a semester before going city wide. (And a year before going national! And, perhaps, in a couple of years, international! And after all, we were all realistic, humble people.)
We Propose, The Kids Dispose
We decided to have a few classes and then hold a parent-teacher meeting to give and get feedback. But the children began giving us their feedback from the very first class. For instance, in the verses class, the five-to-nine-year-olds would spontaneously enter a self-induced trance. After a lot of goading and persuasion, they would briefly descend to mutter something inaudible under their breath and then relapse. But they more than made up for this with their enthusiasm during the activity class, as they molded clay into small deities, cut garments for them, and carefully strung jewelry to decorate them. So, verses were out and activities were in for the five-to-nine.
The older kids, supposedly on the thinking edge, refused to take part in our carefully crafted, thought-provoking discussions about vegetarianism, peer-pressure, and moral values. The painful expressions on their faces at our attempts to draw them into discussions would have put any self-respecting dentist to shame. Yet they seemed to get mysteriously rejuvenated in the verses class, far exceeding our most optimistic expectations. So, discussions were out and verses were in for the older kids.
The youngest kids came with their own set of challenges. Some of them would take one look at the teacher and burst into a paroxysm of tears, while the others would find it difficult to contain their giggles. If that was not disconcerting enough for the teachers, they also had to contend with the steely looks of some of the parents who chose to take part in the class with their kids. No wonder the burn-out rate in the teaching profession is so high.
So, finally, in the end the kids beat us into abject submission. They forced us to throw out all our carefully crafted strategies and comply with their demands. They showed what we as parents had always suspected: When the chips are down, they are the ones who really call the shots. I guess the old saying about God being present in children should be taken a lot more literally. One of the names of God is Isvara, the Supreme Controller, and we saw this potency fully manifested in our students.
Spiritual Advancement
The Vaisnava acaryas enjoin that the third verse of Caitanya Mahaprabhu's Siksastaka should be the object of constant meditation by devotees who want to perfect their spiritual lives. The verse states: "One can chant the holy name of the Lord in a humble state of mind, thinking himself lower than the straw in the street. One should be more tolerant than the tree, devoid of all sense of false prestige and ready to offer all respect to others. In such a state of mind one can chant the holy name of the Lord constantly."
Being a Sunday school teacher will automatically give you all the realizations described in this verse and more. After your students have walked all over you, literally and figuratively, even a straw on the street begins to look exalted. A tree is considered the ultimate symbol of tolerance because it does not complain even when cut down, but unlike a Sunday school teacher, it doesn't have to pretend to enjoy it. And after having spent enough hours unsuccessfully begging and cajoling the kids to do some particular thing, all prestige, true or false, will automatically take leave of you.
So, my earnest recommendation to all you aspiring spiritualists eager to make progress is to become a Sunday school teacher.
Krsna Delivers
Krsna promises that any austerity for His pleasure will be rewarded. And rewarded we were when the children staged their own Rathayatra festival.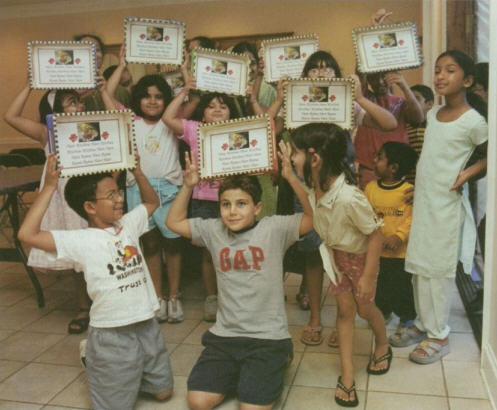 The sight of our students enthusiastically pulling the Rathayatra cart on which sat beautiful deities of Lord Jagannatha, Lord Baladeva, and Subhadra Devi, resplendent with jewelry and clothes painstaking made by the students' young fingers, melted the hearts of our congregation. The spectacle of the toddlers earnestly chanting Vaisnava prayers, of the older kids confidently quoting Sanskrit verses from the Bhagavad-gita, and of the beaming parents proudly looking on as their children performed, suddenly made all our effort worthwhile. So much so, that we eagerly look forward to doing it all over again.
Bhayahari Dasa, a disciple of His Ho-liness Romapada Swami, lives in Gaithersburg, Maryland, with his wife, Indulekha Devi Dasi, and their seven-year-old son, Dhruv. He works in information technology and can be reached at
Sunday School Curriculum Available
FOR ANYONE interested in beginning a local Sunday school program, a complete curriculum is available for children ages 6 through 14. The comprehensive program is designed to provide a fun, hands-on approach to Krsna consciousness. Reproducible student workbooks contain skits, puzzles, art projects, and more, offering Vedic knowledge in an age-appropriate manner. The step-by-step teacher's guides that accompany the student workbooks contain worksheets, games, quizzes, and tips for making instruction more effective and rewarding. Most important, the Hare Krishna Sunday School program teaches students of all ages to apply the philosophy of Krsna consciousness to their everyday lives.
Also available (via e-mail at no cost): "How to Start Your Own Hare Krishna Sunday School An Introductory Packet," with detailed instructions for starting a school in your community.
Contact:
Tapasvini Devi Dasi
Hare Krishna Sunday School
4218 NW 234th Ave.
Alachua, FL 32615, USA